Faculty that share your passion
Although Detroit earned the nickname "Motor City" because it's a hub for automobile production, it also hints at another truth. Those of us who live in Michigan love to drive.
There are about 286 million vehicles registered in the U.S. and nearly 3 million of them are in our own Great Lakes State. That's a lot of tires to rotate, diagnostics to run and transmissions to rebuild.
If you've always been happiest with your head under the hood of an automobile, the faculty in our Automotive Technology program know exactly how you feel.
With their practical experience and industry contacts, they can help you turn your passion for everything with a chassis and a drivetrain into a career as a much sought-after, highly skilled automotive service technician.
For a look at all the courses in our program, consult the course list.
Get Started
Ask Admissions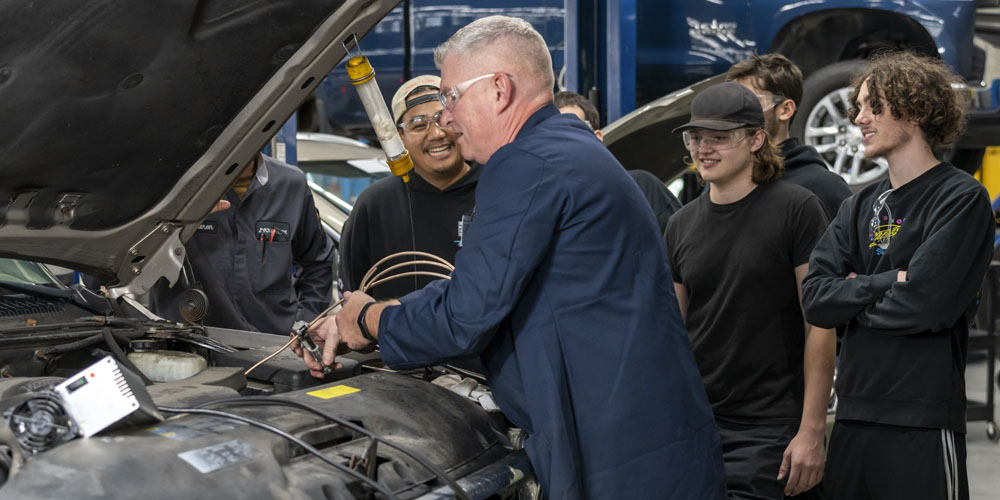 Driven by industry standards
Certified by the National Institute for Automotive Service Excellence, our program also gets two thumbs up from industry. After all, we work with them to make sure we get it right and they, in turn, hire our students and graduates.
Our labs are held in modern service bays where you will train on the most up-to-date diagnostic and repair tools available.
You will learn about every system and sensor that keeps a modern-day automobile running safely and smoothly.  By the time you complete the program, you will be skilled in automobile maintenance, troubleshooting and repair.
Repair facilities and dealerships are waiting for you.
Revved up and ready to go?
Great! Our Automotive Technology faculty are ready to tell you more:
Check out your options
Earn an associate of applied science degree, with credits that transfer if you decide to pursue a bachelor's degree.
As a matter of fact, Ferris State University offers a Bachelor of Science in Automotive Management program at Macomb's University Center on Center Campus.
If you have a specialization in mind, we offer certificate options in:
Brakes and Suspension
Driveability and Diagnosis
Driveline
Electrical and Air Conditioning
Engines and Alternative Fuel
If you'd like to look under the hood of our program, visit the College Catalog.
And Career Services is here to help you polish your resume and interview skills, as well as find a job.
That is, if you haven't been hired by a repair facility or dealership before you graduate!
Take a look at the data we've pulled together about openings for automotive technicians and the average salary you can expect.
Additional Information
The General Motors Automotive Service Educational Program (GM ASEP) is an unique opportunity to earn an associate degree through combined studies in Macomb classrooms and labs and on-the-job training at a sponsoring GM-approved automotive service facility.
Learn more in the GM ASEP Brochure and fill out the Interest Form if you would like to be considered for sponsorship.