Command central
The new manufacturing industry is a dynamic, interconnected network of technical know-how.  It's fast-paced, precise and never boring.
As a highly skilled mechatronics technician, you'll be at the center of all of it.
Imagine coordinating mechanical, electrical and computer-controlled robotics into one unified function that drives the manufacturing process and produces a superior product.
Forget Jack of all trades. You'll be a master of all of them!
For a look at all the courses in our program, consult the course list.
Get Started
Ask Admissions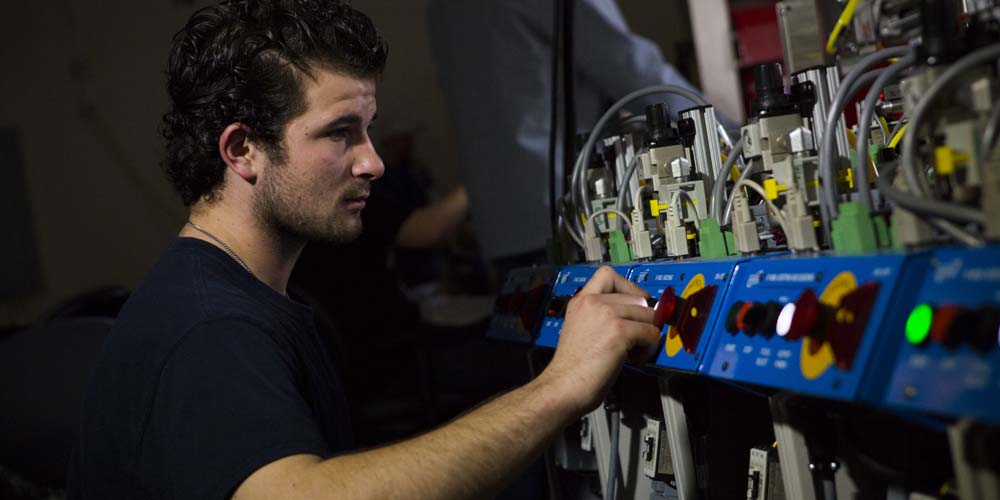 Industry-driven training
Our Mechatronics faculty work with manufacturers to ensure that when you complete our program, you're ready to go to work for them.
You'll train in state-of-the art labs on the same systems, software and equipment that's used in the industry. 
That means you'll work with electrical sensors, semiconductors, robotic programmers, hydraulics, pneumatics, microcontrollers and the list goes on.
You'll even use a Programmable Logic Controller (PLC) to write and troubleshoot programs for an actual assembly line that manufactures a product that you'll be able to hold in your hands. 
Choose to earn a certificate or an associate degree with confidence that you'll be up to speed on the latest manufacturing technology and that the credits earned will transfer if you decide to pursue a bachelor's degree.
Skills that are in high demand
The manufacturing industry relies upon interconnected automated systems to streamline processes, lower costs and retain its global competitiveness.
That translates into career opportunities greater than in most other manufacturing fields.
Take a look at the data we've pulled together to show you the jobs and average salaries for those skilled in mechatronics. We think you'll be pleasantly surprised!. 
And our Career Services is here to help you find a job, as well as polish your resume and interview skills so you make a good impression when you meet with hiring employers.