Express yourself!
No one needs to prove to you how important art is to life. You wouldn't be on this page if you didn't realize its power to enlighten, enrich and inform. 
As well as a way to express yourself.
So what is your medium of choice?  Do you want to paint, draw, sculpt, throw clay, weld metal, cast in bronze?
In our Art program, you can explore all those areas and more!
We also offer classes in art appreciation and art history to give you a behind-the-scenes look at some of the driving forces in the world of art, past and present.
And our credits transfer to (among many others) the College for Creative Studies, one of the premier art schools in Michigan.
Get Started
Ask Admissions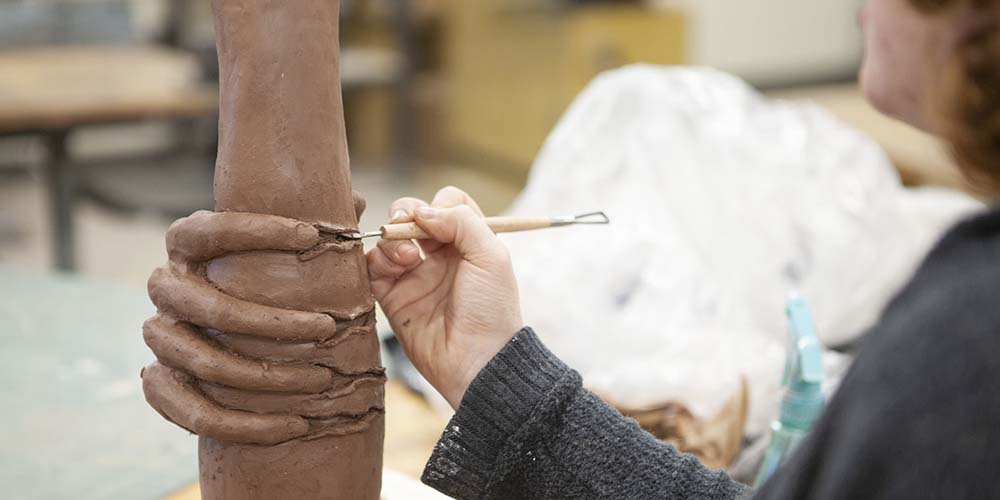 Explore careers
While developing your talent and skills in our Art courses, you will also be introduced to a few career possibilities.
Of course you could become a professional artist and be represented by a studio, but your art training also prepares you to become an animator, cartoonist, drafter, graphic design illustrator, media illustrator and, even, a tattoo artist.
Getting inked, after all, is a form of self-expression for both artist and collector.
Study art abroad
Dream of visiting the Louvre, Uffizi or Prado? 
These famous museums are on the itineraries of the annual Fine Art Appreciation Travel Abroad course conducted every year for college credit by our Art faculty.   
It could be Paris one year, Florence the next or maybe Madrid.
Just think, you could stand in front of the masterpieces that you've only been able to get a one-dimensional glimpse of in a textbook.
But don't get your hopes up about the Mona Lisa unless it's a really slow day at the Louvre!
One-of-a-kind art foundry
Mona Lisa is the painting that Leonardo da Vinci is famous for. But his abandoned plans for casting a statue of a 24-foot-tall stallion* in bronze for the Duke of Milan would have been by most accounts his greatest work.   
If you take one of our Jewel and Metalworks classes, you'll learn the "lost wax" process that this Renaissance artist would have used to cast his bronze masterpiece.    
And we mean learn as in hands-on. We are one of the few art programs around that has its own art foundry for casting bronze and forging steel. And that's in addition to our studios for painters, potters and sculptors.
For a look at all the Art courses we offer, visit the College Catalog.
*If you would like to see da Vinci's fabled horse brought to life, Meijer Gardens in Grand Rapids has one of two cast in the late 20th century from the artist's original plans. The other is, finally, at home in Milan.