Macomb Community College's new Dental Science program will prepare residents for great careers with great futures and provide low-cost oral health care services
– Tuesday, September 21, 2021 2:00PM
Macomb Community College offered a first look at its new Dental Science program and state-of-the-art dental clinic to a small group of community leaders on Sept. 17. Macomb President James O. Sawyer IV, Ed.D., was joined by Macomb County Executive Mark Hackel, Warren Mayor James Fouts and Dr. Christopher Gorecki, executive director, Macomb Dental Society, to talk about the opportunity the new programs and facility offer to community residents, including education and training for high-demand careers and low-cost preventative dental services. 
"Macomb Community College is about creating transformative opportunity for our residents and community" said Sawyer. "Macomb's new Dental Science program will equip residents with the education and training for a rewarding high-demand, high-growth field, while supporting our community with quality, low-cost dental health services."
Locally, there is current significant demand for both dental assistants and dental hygienists. An October 2019 search of Detroit-area job openings covering the previous 12 months resulted in 550 job postings for dental assistants and 250 for dental hygienists.  A 10-year growth rate of 7% is being projected for both types of positions.*
The first cohort of Macomb's Dental Assisting program started classes on Aug. 23. The noncredit program prepares individuals over the course of 16 weeks for an entry-level position as a chairside assistant in a dental office.  On-the-job responsibilities include preparing patients for dental work; sterilizing equipment; preparing instrument trays; collecting and recording patient medical and dental histories, and patient vital signs; developing dental X-rays for dental diagnosis; providing patients with information on dental hygiene, oral health care and plaque control; and assisting dental hygienists. Median salary for a dental assistant is $35,360*.
Through the two-year Dental Hygienist program, graduates earn an associate of science degree and prepare for the exams for licensure. Beyond the duties that can be conducted by a dental assistant, a dental hygienist also can perform procedures such as scaling and root debridement, delivery of local anesthesia, nitrous oxide sedation, topical fluoride, applying antibiotic and antimicrobial medications, taking impressions, developing diagnostic models, taking dental X-rays, providing dental education and nutritional counseling, and various laboratory procedures. Median salary for a licensed dental hygienist is $65,060*.
Macomb's dental hygienist program has entered the Commission of Dental Accreditation's process. The college's application is under review. The program's first cohort is expected to begin Fall 2022, pending accreditation approval.
"A lack of appropriate staffing in dental offices has been a serious issue even prior to the COVID pandemic," said Christopher Gorecki DDS, executive director, Macomb District Dental Society. "With this new program for assistants and dental hygienists, dentists throughout southeast Michigan will be better staffed and able to better serve our communities."
Macomb renovated a college facility, adjacent to Macomb Community College's South Campus in Warren, to support the unique educational, training and community service needs of its new Dental Science program. The college invested $5.6 million in creating the 12,000-square-foot educational and community clinic facility, which is designed to optimize the latest in technology and real-world experience so that graduates are fully prepared for their roles in dental offices. The facility will also function as a community dental clinic, providing quality, low-cost preventative care services to residents, helping address the displacement of more than 3,000 patients of a Macomb County preventative care clinic that is closing.
The facility features a student education center, including a student laboratory with 13 dental simulators, classrooms that can project 360-degree images from the lab and a teaching patient station in the clinic, and a computer lab with 36 stations. There are 20 patient stations (operatories) and multiple X-ray rooms, including a panoramic machine that captures the entire mouth in a single two-dimensional image of the teeth, upper and lower jaws, surrounding structures and tissues.
"Supporting Macomb's new Dental Science program is not only about expanding educational and career opportunities for our students, but is also a tangible step forward in supporting the health and well-being of Macomb County residents," said Katherine Lorenzo, chair, Macomb Community College Board of Trustees. 
Macomb plans to provide a wide range of low-cost preventative services for residents, including cleanings and X-rays, sealants for young patients, fluoride treatments, sports and night guards, bleaching and bleaching trays, and impressions for study models. The costs for services have not yet been determined.  It is expected that the clinic will open to patients January 2023, pending accreditation approval. A supervising dentist will oversee students working with patients in the dental hygienist program and will be available to consult with patients, referring them for further services if their needs exceed the services available at the clinic.
For more information about Macomb's dental assisting and dental hygienist programs, call 586.226.4847 or email dental@macomb.edu.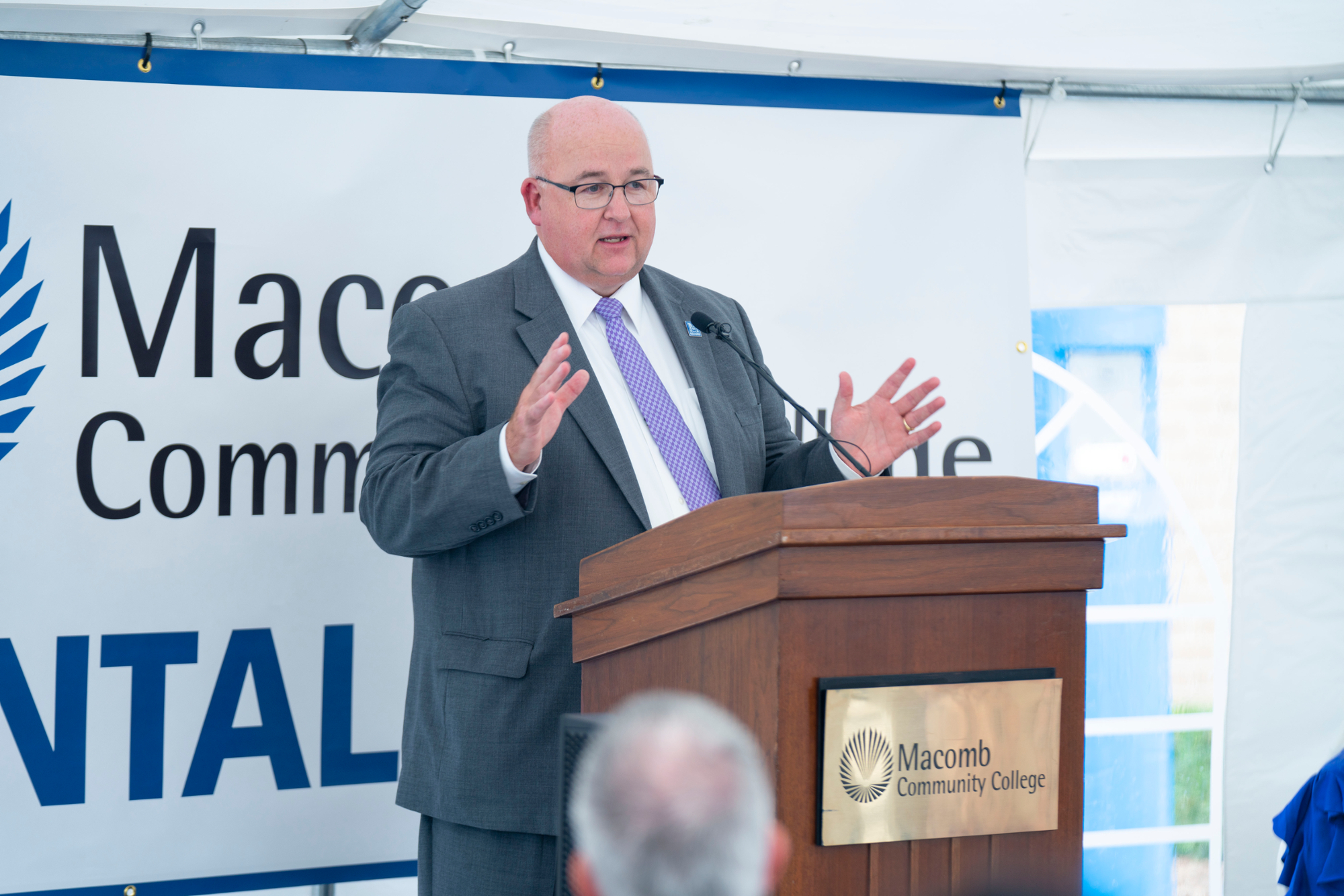 Macomb Community College President James O. Sawyer IV, Ed.D., welcomed local dignitaries to the unveiling of the college's new dental clinic and discussed the opportunity the new programs and facility offer to community residents, including education and training for high-demand careers and low-cost preventative dental services.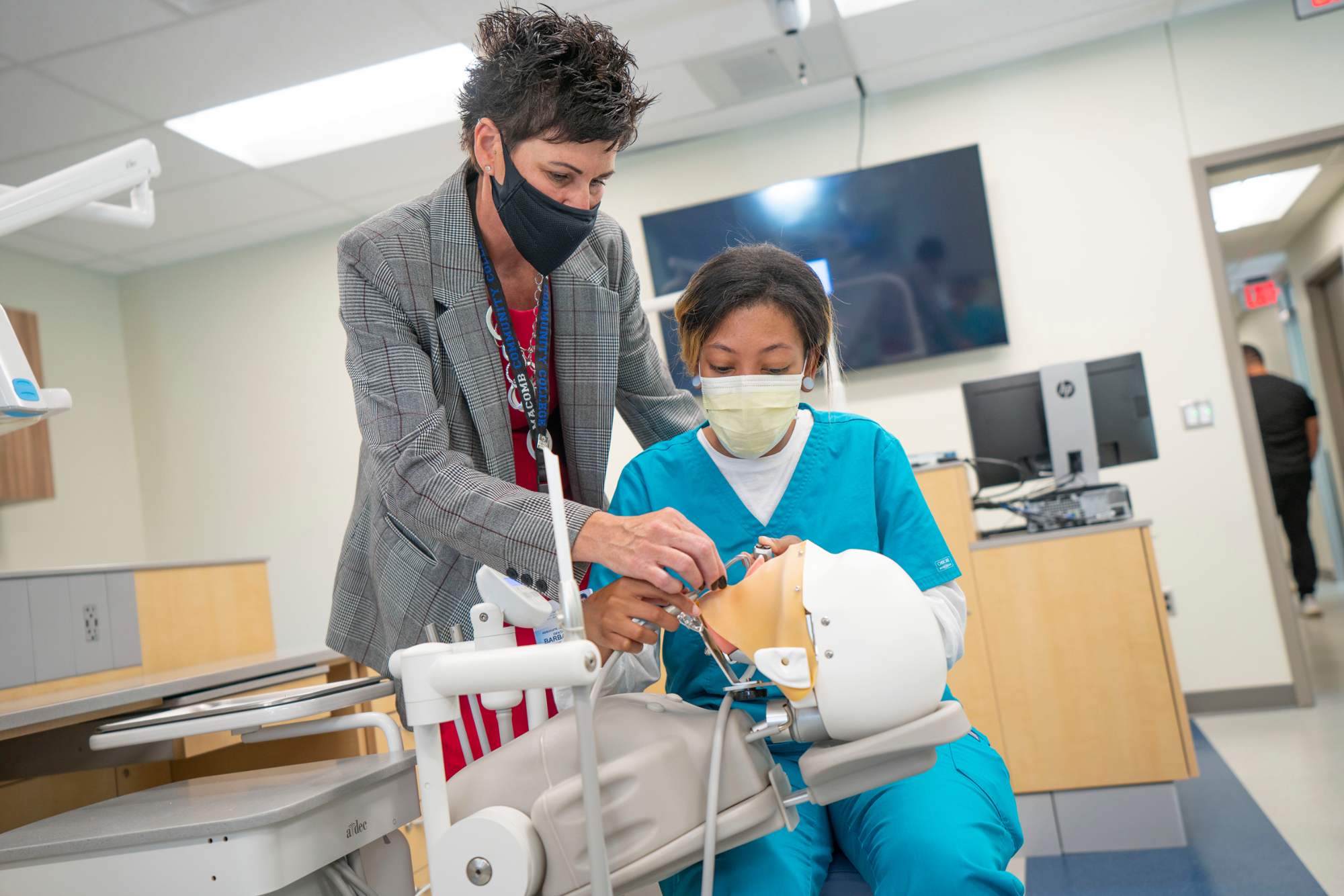 Dr. Barbara Ellis, associate dean of Macomb's new Dental Science program, directs student Willnisha Bridgmon, 26, of Clinton Township in the use of the new dental patient simulators during the recent unveiling of the new facility.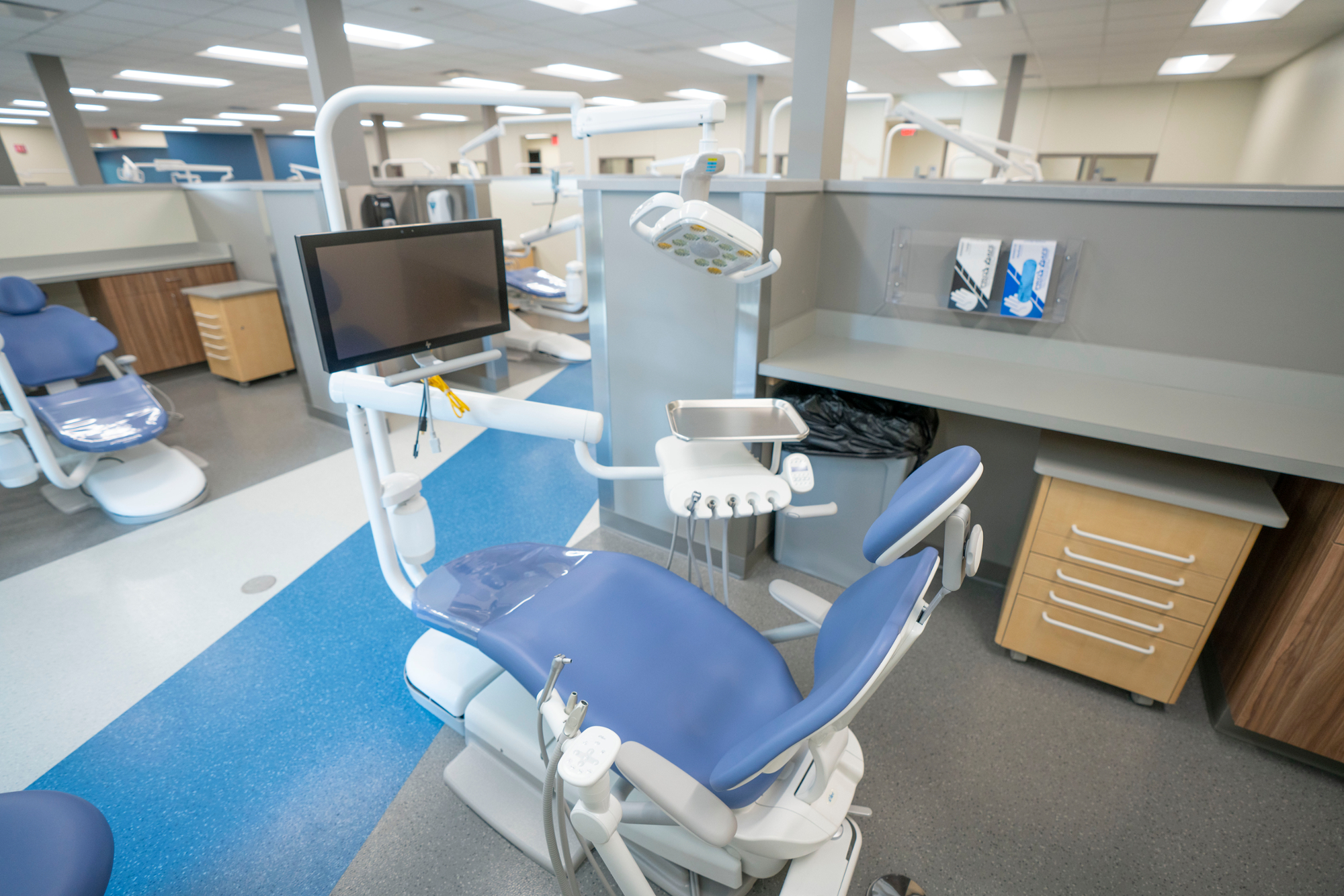 Macomb Community College's new state-of-the-art dental health clinic features 20 patient stations (pictured here) and is designed as both a teaching facility and a clinic offering low-cost preventative dental services to residents of Macomb County.
* The U.S. Bureau of Labor Studies Employment Statistics, May 2018
About Macomb Community College
Macomb Community College (www.macomb.edu) is one of the nation's leading community colleges. Macomb nationally ranks in the top two percent in the number of associate degrees awarded by community colleges and is one of the largest grantors of associate degrees in Michigan. The college's comprehensive educational programming includes pre-collegiate experiences, university transfer and career preparation programs, bachelor-degree completion and graduate degree programs, workforce training, professional education and certification, and continuing education and enrichment opportunities.
Media contact: Sean M. Patrick, 586.445.7271, patricks28@macomb.edu