Retired Marine designs winning logo for the 2019 Shorewood Kiwanis Harper Charity Cruise
– Tuesday, January 29, 2019 10:00AM
Approximately 60 Macomb Community College design students participated
Macomb Community College student Jeff Sornig, 48, of Chesterfield, designed the winning logo for the 2019 Shorewood Kiwanis Harper Charity Cruise. Sornig's logo was chosen from approximately 60 entries in a contest involving four classes from the college's media and communication arts program. The logo, featuring the image of a 1959 Corvette, will adorn the t-shirts that will be sold during the charity cruise to raise funds for six local charities.
Sornig retired from the Marines in 2012 after 23 years of service and relocated back to Macomb County. Shortly after, he came to Macomb Community College to study imaging and illustration. His college career was interrupted when he moved to California to accept an animation internship with Nickelodeon. The 13-week internship quickly turned into a two-year stint at the network. Sornig returned to Macomb in 2018 to continue his education and plans to graduate this year.
"I'm a big animation fan," said Sornig. "I was inspired by the United Productions of America style when designing the logo. I like that mid-century style. "
The designers of the top three logos each received a cash award donated by the Shorewood Kiwanis and Kiwanis corporate sponsor Roy O'Brien Ford, which was matched by a scholarship from the Foren Family Foundation Engineering and Advanced Technology Fund from the Macomb Community College Foundation.  Sornig received a $1,000 award for his first-place logo and a $1,000 scholarship.  
Second prize went to Allison Ray, 20, of Harrison Township, who is studying design and layout at Macomb and plans to graduate in May 2019. She was awarded a $650 prize and a $650 matching scholarship.  After graduating, Ray hopes to work in corporate identity and photo editing.
Jeannie Skirpan, 23, of Harrison Township, took third place in the contest and was awarded $350 and a matching scholarship. Skirpan is studying photography and plans to graduate in May 2019.
The Shorewood Kiwanis Harper Charity Cruise is traditionally held the fourth Wednesday of August along Harper Avenue in St. Clair Shores. A portion of the proceeds of the sale of the cruise t-shirts will benefit Lake House, CARE of Southeast Michigan, Lakeshore Family YMCA, Wigs 4 Kids of Michigan, Macomb Chamber Music Society and the St. Clair Shores Cultural Committee.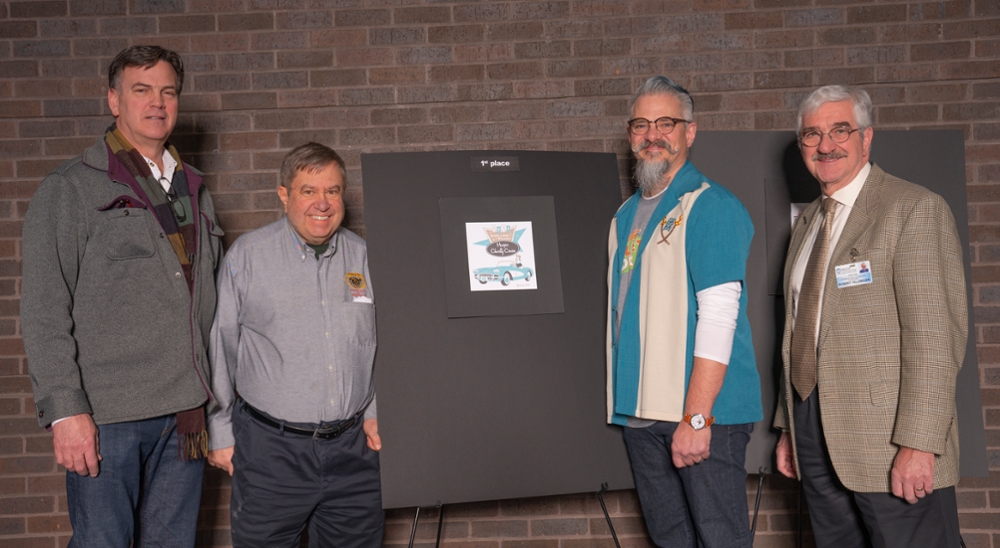 Pictured left to right: Mark O'Brien, chairman, Roy O'Brien Ford; Dr. Carl Papa DDS, past president, Shorewood Kiwanis; Jeff Sornig, first-place logo contest winner; Robert Feldmaier, temporary dean, Engineering and Advanced Technology, Macomb Community College.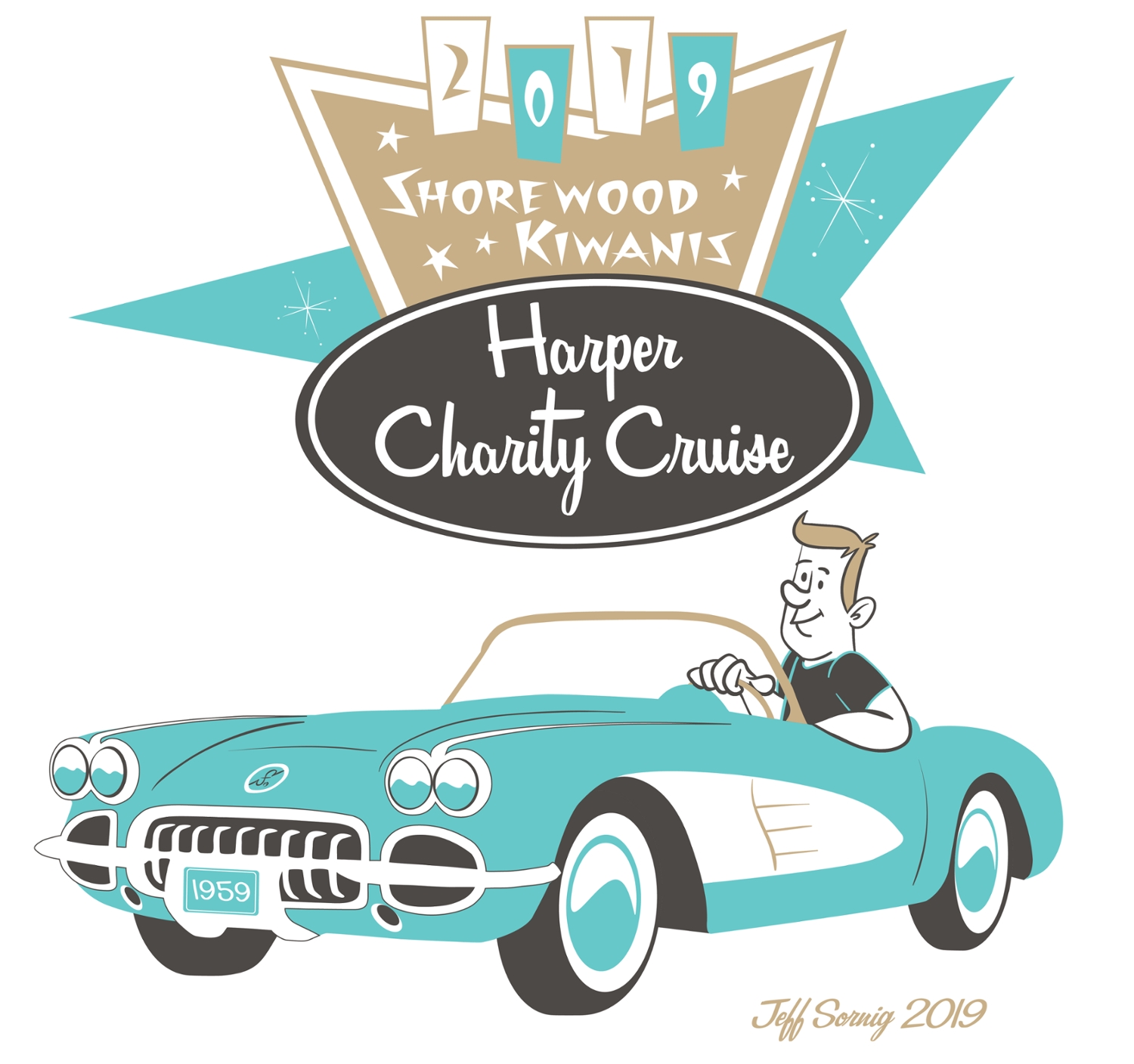 Winning logo designed by Macomb Community College student Jeff Sornig for the 2019 Shorewood Kiwanis Harper Charity Cruise.
About Macomb Community College
Macomb Community College (www.macomb.edu) is one of the nation's leading community colleges, providing learning experiences to nearly 38,000 students annually. Macomb nationally ranks in the top two percent in the number of associate degrees awarded by community colleges and is the largest grantor of associate degrees in Michigan. The college's comprehensive educational programming includes pre-collegiate experiences, university transfer and career preparation programs, bachelor degree completion and graduate degree programs, workforce training, professional education and certification, and continuing education and enrichment opportunities.
Media contact:  Sean M. Patrick, 586.445.7271, patricks28@macomb.edu