Macomb Community College graduates first students from Tesla START program
– Monday, December 10, 2018 10:00AM
Macomb Community College has graduated its first class from the Tesla START program, an intensive 12-week technical training program designed to provide students with the skills necessary for job placement with Tesla as service technicians. Seven students who successfully completed the advanced service technician program have been assigned to Tesla Service Centers across the United States.
 "We're serious about developing new ways to connect people with good jobs and futures, and business and industry with the talented workforce they need to prosper," said James O. Sawyer IV, president, Macomb Community College. "That's why we're excited about the Tesla START program. It provides our students with a unique opportunity to strategically position themselves for the future of the automotive industry."
The graduates of Macomb's first Tesla START program and their assignments: Brian Davis, 34, of Cincinnati, Ohio, to the Tesla Service Center in Cincinnati; Christopher Merle, 21, of Fort Wayne, Indiana, to Cincinnati; Patrick Henig, 21, of Shelby Township, mobile technician in Farmington Hills; Zachary Noland, 23, of Fairfield, Ohio, to Tucson, Arizona;  Nikoll Sinishtaj, 25, of Shelby Township, to Buena Park, California; Vishal Tiwari, 22, of Shelby Township, to Sunny Vale, California; and Ryan VanSluytman, 25, of Estero, Florida, to Nashville, Tennessee.
"I was never one to shy away from efficiency and see the future as unlimited," said graduate Christopher Merle who spoke on behalf of all the graduates. "Tesla is the future of automation. The way they are stepping forward to make the world a safer place. It really is something I'm proud to be a part of."
Electric vehicle manufacturer Tesla provides the curriculum and instructors, and works with the students on placement at a Tesla service center upon successful completion of the program. The students train on Macomb's South Campus in a space designed to simulate a Tesla Service center with three Tesla all-electric vehicles: Model S, Model X and Model 3. During the course of the program, students develop technical expertise and earn certification through a blended approach of classroom theory, hands-on labs and self-paced learning.
"Tesla is working with some of the best automotive education programs in the country to prepare students for a successful career in the emerging electric vehicle industry," said Heidi Brandow, head of Global Learning and Talent Development, Tesla. "Tesla START is hands-on and immersive, giving students a unique approach to training and leadership development even before their careers begin. We're incredibly proud of the students for their hard work and are pleased to welcome them to the Tesla family."
Macomb is one of five community colleges in the U.S. that offer the Tesla START program and plans to run three cohorts a year to coincide with the college's regular semester schedules. The school fee for the program is $1,500. Students accepted into the program are considered Tesla interns and earn a competitive hourly wage as they learn. The program runs eight hours a day, five days a week. The ideal candidate for the program is a graduate or soon-to-be graduate of a certified automotive education program with an interest in working on electric vehicles. For more information on the Tesla START program at Macomb, call 586.498.4100 or visit tesla.com/careers/tesla-start.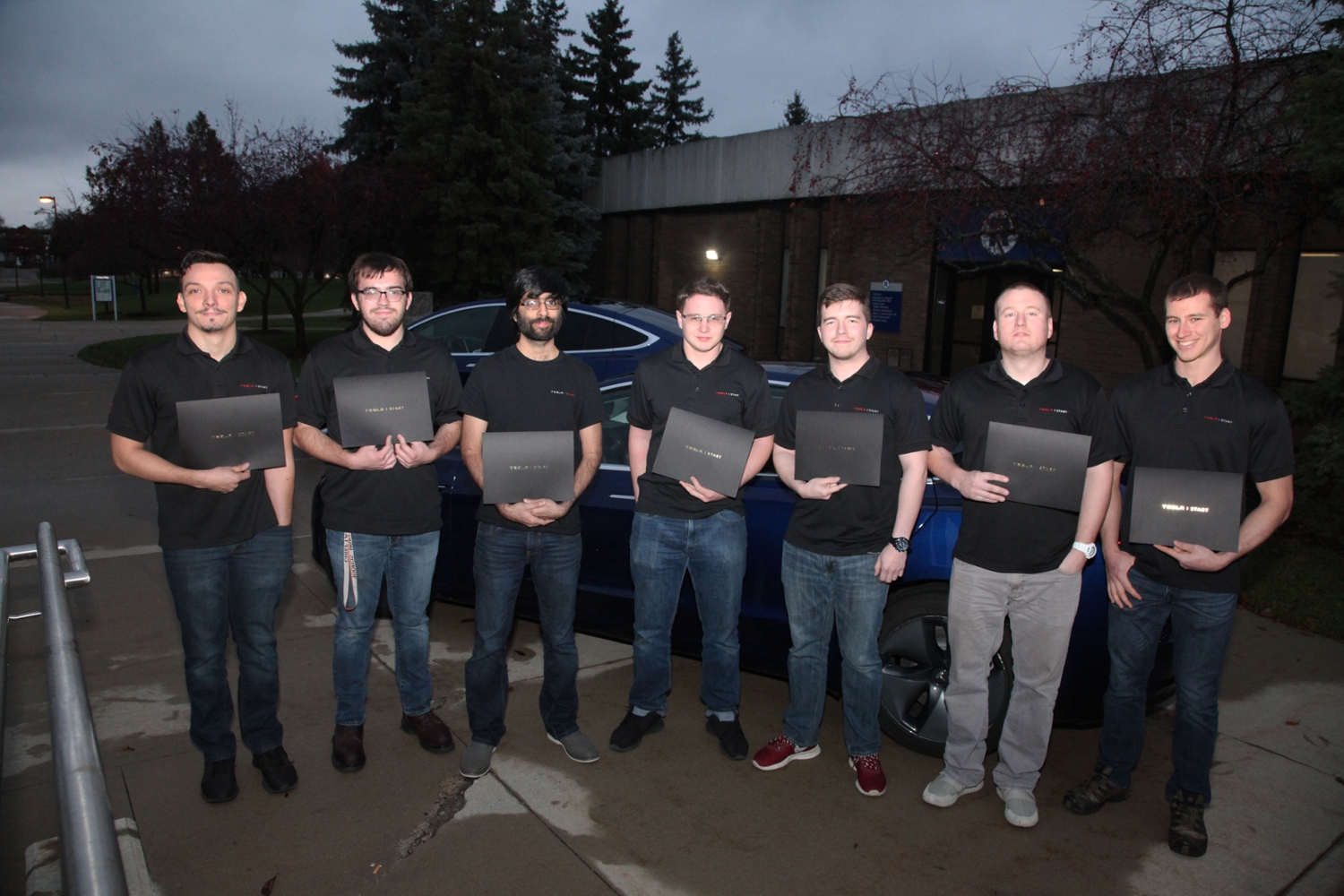 Macomb's Tesla START Service Technician graduates (L to R): Nikoll Sinishtaj, Patrick Henig, Vishal Tiwari, Christopher Merle, Zachary Noland, Brian Davis and Ryan VanSluytman.
About Macomb Community College
Macomb Community College (www.macomb.edu) is one of the nation's leading community colleges, providing learning experiences to nearly 38,000 students annually. Macomb nationally ranks in the top two percent in the number of associate degrees awarded by community colleges and is the largest grantor of associate degrees in Michigan. The college's comprehensive educational programming includes pre-collegiate experiences, university transfer and career preparation programs, bachelor degree completion and graduate degree programs, workforce training, professional education and certification, and continuing education and enrichment opportunities.
Media contact: Sean M. Patrick, 586.445.7271, patricks28@macomb.edu