Macomb Community College Foundation raises more than $50,000 at fifth annual Comedy & Cocktails
– Thursday, October 25, 2018 10:00AM
Annual event benefits arts and cultural programming at the college
Macomb Community College Foundation's fifth annual Comedy & Cocktails was held on October 19, attracting more than 250 attendees and raising more than $50,000 for arts and cultural programming at the college. This is the most this annual event has raised since its inception in 2014.
"It's support like this that helps make it possible for the college to continue to provide meaningful arts and cultural experiences for our community," said Dr. James O. Sawyer IV, president, Macomb Community College.  "We are committed to reaching out to all segments of our community, no matter their age or background, to provide programming that entertains, educates and enriches their lives."
Comedy & Cocktails, presented by First State Bank, featured a Champagne Reception, silent action and seated dinner at the Lorenzo Cultural Center, capped off by a performance at the Macomb Center for the Performing Arts of Broadway's Next H!T Musical, an unscripted theatrical show in which audience members provided made-up song titles and the performers ad-libed the "nominated songs." The audience then voted for their favorite song and watched as the cast improvised an entire Broadway musical with plot twists, memorable characters and humorous dialogue.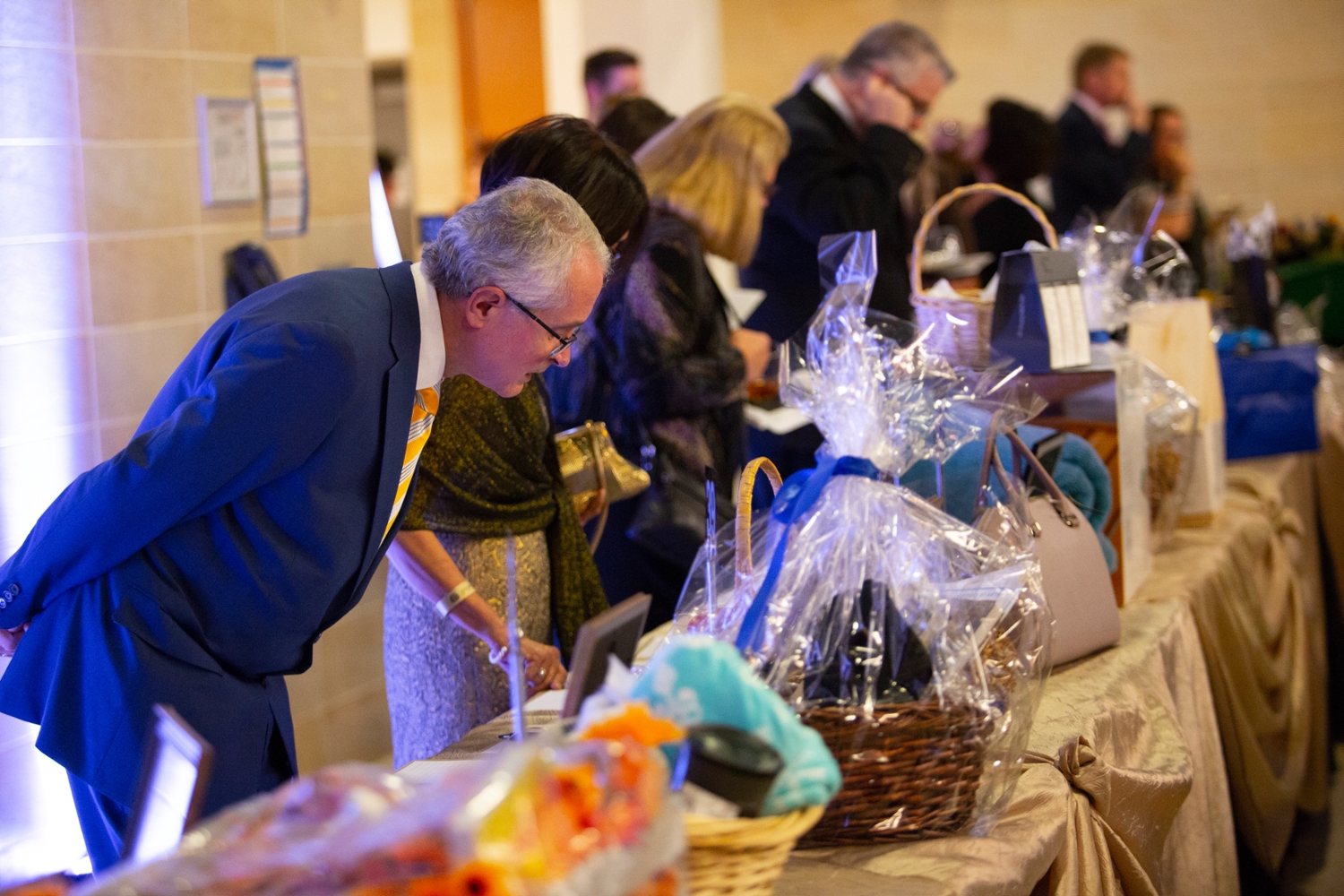 Gene Lovell, president and CEO, First State Bank (left), Presenting Sponsor of Comedy & Cocktails, along with other guests inspect the silent auction items at Macomb Community College Foundation's fifth annual fundraiser, benefiting arts and cultural programming at the college.
About Arts and Cultural Programs at Macomb
Macomb Community College provides a breadth of cultural enrichment opportunities to more than 100,000 individuals annually with programming that supplements educational objectives, spans generations and enriches community life.
About the Macomb Community College Foundation
Established in 1999, the Macomb Community College Foundation is a 501(c)(3) nonprofit organization that manages contributions from individuals, foundations and corporations for the educational purposes and objectives of the college.
About Macomb Community College
Macomb Community College (www.macomb.edu) is one of the nation's leading community colleges, providing learning experiences to nearly 40,000 students annually. Macomb nationally ranks in the top two percent in the number of associate degrees awarded by community colleges and is the largest grantor of associate degrees in Michigan. The college's comprehensive educational programming includes pre-collegiate experiences, university transfer and career preparation programs, bachelor degree completion and graduate degree programs, workforce training, professional education and certification, and continuing education and enrichment opportunities.
Media contact:  Sean M. Patrick, 586.445.7271, patricks28@macomb.edu