Macomb Community College veterinary technician program achieves prestigious AAHA re-accreditation
– Wednesday, October 24, 2018 12:00AM
Program is one of only six in North America to earn this accreditation
Macomb Community College's veterinary technician program has once again earned accreditation from the American Animal Hospital Association (AAHA), making it one of only six programs in the United States and Canada to be AAHA accredited. The accreditation process involves a rigorous review of a program's education, protocols, medical equipment, facility and service. 
"The AAHA accreditation recognizes Macomb's program as among the very best in North America," said Lori Renda-Francis, director of the veterinary technician program, Macomb Community College. "This is a reflection of our faculty, staff, alumni and local veterinary community's commitment to ensuring the excellence of Macomb's program, distinguishing our graduates in the job market and preparing them for career success."
AAHA grants accreditation to educational programs and veterinary hospitals based on approximately 900 quality standards above and beyond basic state regulations, ranging from patient care and pain management to staff training and advanced diagnostic services. AAHA standards are continuously reviewed and updated to keep accredited practices on the cutting edge of veterinary excellence.
Graduates of Macomb's program, which also is accredited by the American Veterinary Medical Association, have consistently exceeded the national average of the Veterinary Technician National Examination. Their scores are 15 to 20 percent higher than the national average, with an average pass rate of 94 percent.
A veterinary technician is often the first in line to examine an animal and discuss their medical needs with its owner. Working under the direction of a licensed veterinarian, technicians also provide nursing care and emergency first aid treatments, monitor and record progress, and provide information on animal care and nutrition to owners.
In Macomb's associate degree program, students learn about animal handling and restraint, conducting examinations, collecting and analyzing specimens, assisting in surgeries, administering anesthesia, and pre- and post-operative care. They also have the opportunity to work alongside program alumni and faculty in several service learning projects, including a Kitten Raising Program and the annual People, Pets and Vets event, cohosted each year with the Michigan Veterinary Medical Association.
For more information about the veterinary technician program at Macomb, contact Renda-Francis at 586.286.2096 or renda-francisl@macomb.edu.
About Macomb Community College
Macomb Community College (www.macomb.edu) is one of the nation's leading community colleges, providing learning experiences to nearly 40,000 students annually. Macomb nationally ranks in the top two percent in the number of associate degrees awarded by community colleges and is the largest grantor of associate degrees in Michigan. The college's comprehensive educational programming includes pre-collegiate experiences, university transfer and career preparation programs, bachelor degree completion and graduate degree programs, workforce training, professional education and certification, and continuing education and enrichment opportunities.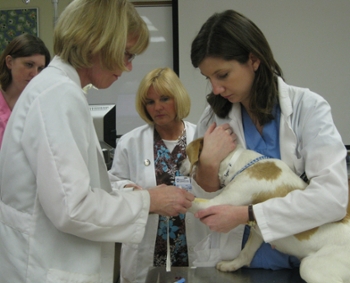 Lori Renda-Francis (center), director of the veterinary technician program, Macomb Community College, observes as students in the college's veterinary technician program practice bandaging a dog's paw. Macomb's program is one of only six in North America accredited by the American Animal Hospital Association, as well as by the American Veterinary Medical Association.