Middle-school students engage in STEAM-related activities at Macomb Community College weeklong summer camp
– Thursday, July 26, 2018 12:00AM
Twenty-one area middle school students explored the possibilities of STEAM careers through interactive, hands-on activities at Macomb Community College's weeklong STEAM Camp.  Activities focused on the STEAM – science, technology, engineering, art and mathematics – subject areas.
Macomb faculty members who teach the STEAM subjects engaged the students in hands-on experiments and activities and explained how they apply to STEAM careers. Science activities include examples of chemical transformations – one using a chemical solution and one using heat – to change a penny's color from copper to gold, and a physical transformation by freezing a rose with liquid nitrogen and smashing it.
Technological activities focused on automotive engineering that included building fuel-cell car kits and designing and building "edible cars" from food items and testing their mobility. The camp was funded by a grant from General Motors.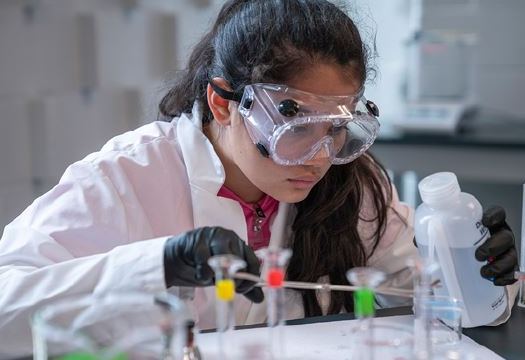 Alayna Holland, 14, a student at Anchor Bay Middle School, performs a chemistry experiment by pouring a chemcial solution over a penny and watching its color change from copper to gold.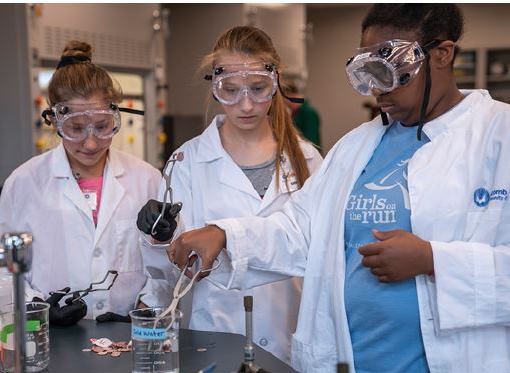 (l to r) Jennifer McWethy, 12, and Isabel Biermann, 13, both from Malow Middle School, and Brieanna Love, 12, of L'Anse Creuse Middle School North, observe a chemical transformation by using heat to change a penny's color during a science experiments as part of the STEAM Camp at Macomb Community College.
About Macomb Community College
Macomb Community College (www.macomb.edu) is one of the nation's leading community colleges, providing learning experiences to nearly 40,000 students annually. Macomb nationally ranks in the top two percent in the number of associate degrees awarded by community colleges and is the largest grantor of associate degrees in Michigan. The college's comprehensive educational programming includes pre-collegiate experiences, university transfer and career preparation programs, bachelor degree completion and graduate degree programs, workforce training, professional education and certification, and continuing education and enrichment opportunities.
Media contact: Tish Wirth, wirthp@macomb.edu, 586.445.7560