AT&T supports Macomb Community College Career Academies with $10,000 contribution
– Sunday, July 1, 2018 2:00PM
AT&T is supporting area teens with a $10,000 contribution to Macomb Community College's Career Academies, a hands-on summer program that helps high school students explore potential career paths. 
"One of the best things we can do for youth is to help them find and develop interests and talents, and that's our goal with the Career Academies program," said James O. Sawyer IV, president, Macomb Community College. "Thanks to AT&T's generous support, we'll be able to expose more high school students to career paths that have sparked their interest, and that kind of experience at such a young age is invaluable."
Macomb's Career Academies span fields such as public service, culinary, information technology and robotics.  Each academy, guided by experts in the field, provides hands-on exploration activities and allows high school students the chance to experience for themselves what a chosen field has to offer and if it is a good match with their skills and interests.
"How to best develop Michigan's next generation of talent should always be a priority for our state's decision-makers," said State Representative Henry Yanez, who was present at the check presentation. "And in today's diverse, fast-moving economy, it's important to embrace innovations like Macomb Community College's Career Academies program, which does a fantastic job of introducing our area's young students to the wealth of career opportunities available in today's job market."
AT&T has been a longtime supporter of Macomb Community College, contributing a total of $82,000 to the college since 2009.
"AT&T is proud to support Macomb Community College and their efforts to develop the talents of Michigan's future workforce," said David Lewis, president of AT&T Michigan. "The young students enrolling in Macomb's Career Academies are our state's future, and we are more than happy to play a role in helping them find and develop the skills and talents that will eventually carry Michigan forward."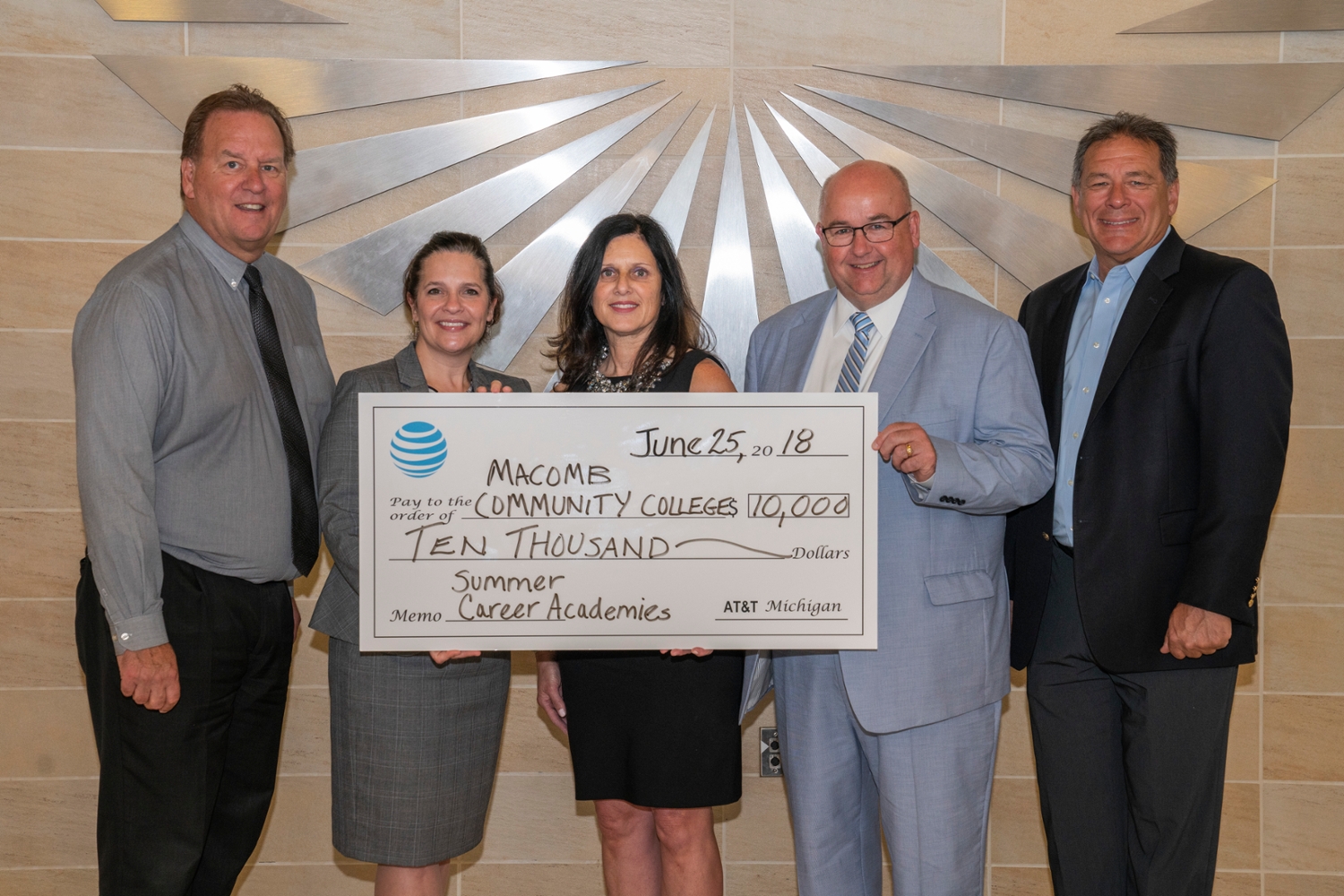 Pictured (left to right) Edward Stanton, director, Admissions, Macomb Community College; Jill Thomas-Little, vice president, Student Services, Macomb Community College; Lori Doughty, director external affairs, AT&T;  James O. Sawyer IV, president, Macomb Community College; Representative Henry Yanez, , 25th District, Michigan House of Representatives
About Macomb Community College
Macomb Community College (www.macomb.edu) is one of the nation's leading community colleges, providing learning experiences to nearly 40,000 students annually. Macomb nationally ranks in the top two percent in the number of associate degrees awarded by community colleges and is the largest grantor of associate degrees in Michigan. The college's comprehensive educational programming includes pre-collegiate experiences, university transfer and career preparation programs, bachelor degree completion and graduate degree programs, workforce training, professional education and certification, and continuing education and enrichment opportunities.
Media Contact: Sean M. Patrick, 586.445.7271, patricks28@macomb.edu