New rain gardens at Macomb Community College's M-TEC will reduce stormwater runoff into Clinton River watershed
– Monday, June 11, 2018 12:00AM
State environmental grant funds ecological effort and educational components
To the casual passersby, the gardens planted today at Macomb Community College's Michigan Technical Education Center (M-TEC)in Warren are aesthetically pleasing. However, the reality is that they are much more; they are environmentally designed rain gardens that will treat and reduce stormwater runoff into the Clinton River watershed.
The rain gardens are part of a greening project funded by a nearly $66,000 Michigan Department of Environmental Quality grant to Macomb Community College to improve water quality in the Red Run tributary. It is expected that the rain gardens will capture and naturally filtrate any rainstorm of three inches or less, thus eliminating as much as 12,000 gallons of water from entering the stormwater system.
"The positive impact these rain gardens will have on our local environment is impressive," said James O. Sawyer, IV, president, Macomb Community College. "Macomb Community College is pleased to be able to contribute to supporting a healthy local ecosystem while also creating a relevant and tangible resource for our faculty who teach sustainability as part of their curriculum."
Preparation for the approximate 1,200 square foot gardens began with the installation of an underdrain and the cultivation of a soil mixture that consists of sand, compost and a soil specifically designed to retain and treat stormwater.  The gardens feature three zones, based on habitat preference, ease of upkeep, color throughout the seasons and ability to develop a deep root system. The lowest elevation zone (18 inches) features plants that thrive in wet conditions, the next level of plants prefer semi-wet conditions and the top level has plants with lower wetness preference. The soil mixture, combined with the plants' root system, will filter out oil and grease as well as capture nutrients so they don't enter the waterway.
The project also includes educational components, with Macomb Community College faculty in the architecture, construction, civil technology and land surveying programs incorporating the rain gardens in their course curriculum. The college's continuing education also plans to use the gardens as a living laboratory and examples of sustainable sites.
About Macomb Community College
Macomb Community College (www.macomb.edu) is one of the nation's leading community colleges, providing learning experiences to nearly 40,000 students annually. Macomb nationally ranks in the top two percent in the number of associate degrees awarded by community colleges and is the largest grantor of associate degrees in Michigan. The college's comprehensive educational programming includes pre-collegiate experiences, university transfer and career preparation programs, bachelor degree completion and graduate degree programs, workforce training, professional education and certification, and continuing education and enrichment opportunities.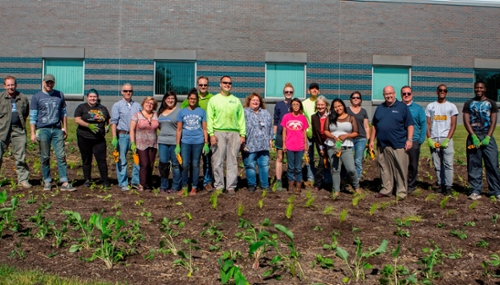 James O. Sawyer, IV, president, Macomb Community College, (fourth from right) along with students, faculty and staff volunteers planted six species of native plants in two rain gardens on the grounds of the college's Michigan Technical Education Center. The gardens will filtrate and reduce stormwater runoff into the Clinton River Watershed.
Media contact: Tish Wirth, 586.445.7560, wirthp@macomb.edu