Logo contest presents unique learning opportunity for Macomb Community College students
– Thursday, June 7, 2018 9:00AM
When Macomb Community College Professor of Culinary Arts Jeff Wolf needed a new logo designed for his business, Finesse Ice, he turned to the college's media and communication arts classes for help. He had seen what these students could do at the annual SkillsUSA occupational education competition, and he was confident he could find what he needed right at home.
Wolf turned to Professors Kris Mellebrand and Mary Bush to ask if they could run a contest for developing the best logo design for his ice carving business. Mellebrand and Bush translated Wolf's request into an assignment and gave students in three of their classes --design 3, advanced digital layout and typography -- approximately two weeks to develop a design.
"It was a pretty tall order," said Mellebrand. "The design had to be workable in black and white and color, able to be embroidered on wearables, work on business cards, letterhead and envelopes, and be suitable for a website and in social media. The students had to take everything they've learned and pull it all together."
Samantha Minchey, 22 of Warren, rose to the challenge, winning first place in the contest and taking home a $300 cash prize awarded by Wolf. The prize was matched with a $300 scholarship from the Macomb Community College Foundation. In addition, Khoa Pham, of Clinton Township, received $200 and a matching scholarship for second place, and Hannah Coy, of Ferndale, took home $100 and a scholarship for third.
Minchey said her inspirations were Wolf's ice carvings themselves. "I reviewed his sculptures that he showed us in class and on his website that had more of an organic feel to them. I wanted to show his personal brand through the logo, something simple but elegant at the same time."
Wolf said he had a hard time picking the winner. "All of the entries were very good," said Wolf. "There were some in which the students had brought in aspects of ice and water I hadn't thought of before. I told Kris, 'This is too hard, why don't you pick for me,' but she wouldn't let me get away with it."
The contest presented a unique challenge for the students. Ordinarily, they work on projects developed by their professors and are given more direction as to the desired results. However, in this case, the project was more like an actual business situation, complete with a client and tight deadline. The students had to do their own research, develop conceptual thumbnail drawings and color schemes, and produce the final presentation.  The contest gave the students real -world experience and a chance to build their portfolios.
"Because it was an actual client, it was different than working on a scenario from a teacher," said Minchey. "The timetable and details were very specific verses an assignment. It also allowed us to put our own spin on it."
Minchey is pursuing an associate degree in design and layout, and interactive web media. She expects to graduate next year and then hopes to pursue a bachelor's degree at an area university.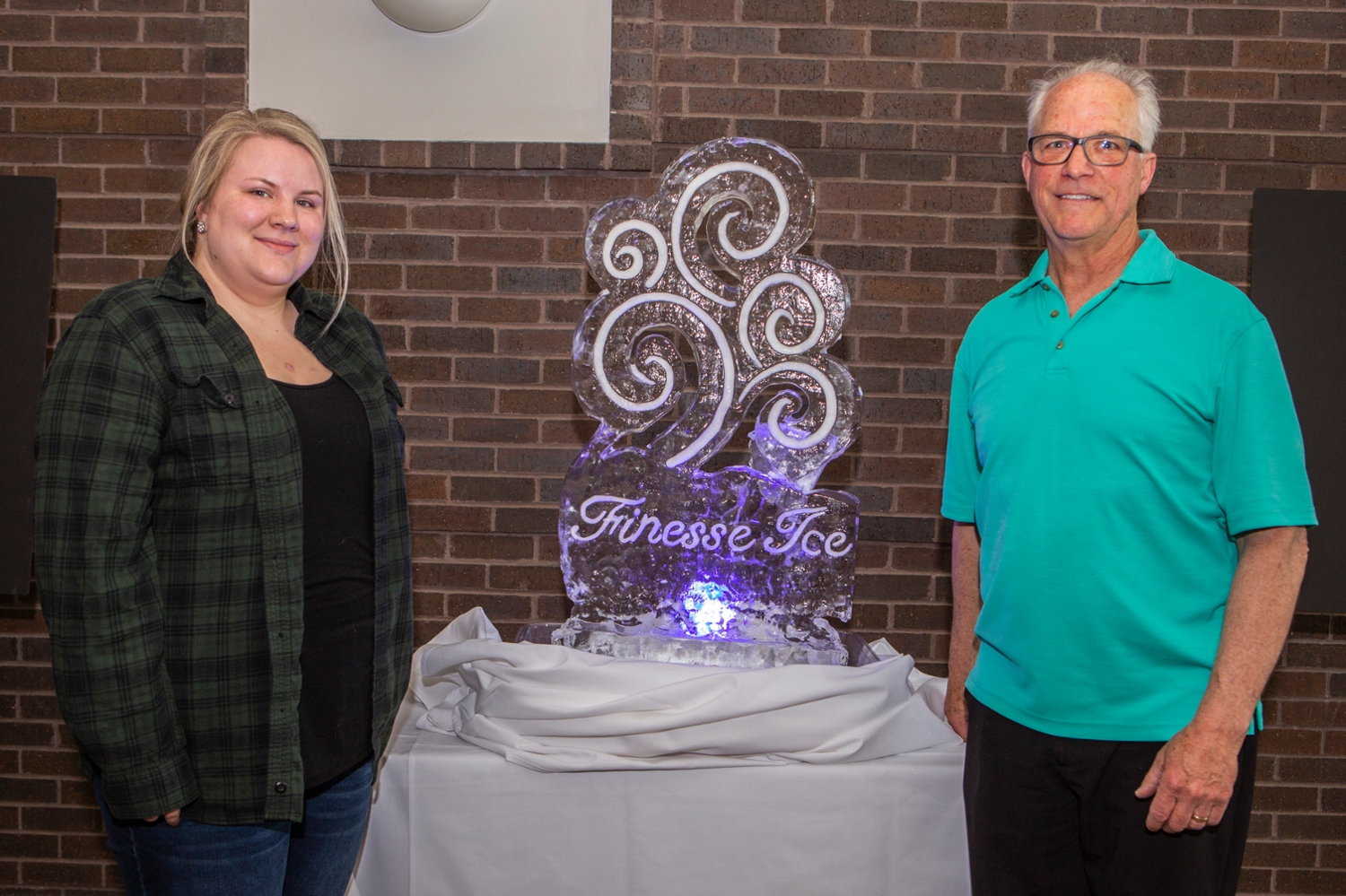 Contest winner Samantha Minchey (left) with Finesse Ice owner Jeff Wolf (right) pictured with her winning design carved in ice.
About Macomb Community College
Macomb Community College (www.macomb.edu) is one of the nation's leading community colleges, providing learning experiences to nearly 40,000 students annually. Macomb nationally ranks in the top two percent in the number of associate degrees awarded by community colleges and is the largest grantor of associate degrees in Michigan. The college's comprehensive educational programming includes pre-collegiate experiences, university transfer and career preparation programs, bachelor degree completion and graduate degree programs, workforce training, professional education and certification, and continuing education and enrichment opportunities.
Media contact: Sean M. Patrick, 586.445.7271, patricks28@macomb.edu