Macomb Community College nursing program celebrates 50 years
– Tuesday, April 17, 2018 9:00AM
Macomb Community College's associate degree nursing program reaches a milestone this year, marking 50 years of training our community's nurses. Since the first graduating class in 1968, the Macomb Community College nursing program has played a vital role in ensuring Macomb County's health care facilities are manned with high-quality nursing staff, granting more than 5,200 associate degrees.
"This is a landmark year for the nursing program," said Bernadette Pieczynski, acting dean, Health and Public Services, Macomb Community College. "For 50 years, we have been preparing the special kind of people who are at your bedside when you need them the most.  We've had an abundance of caring professors and dedicated students committed to providing our community with the best health care possible."
The founding of Macomb's program came at a time when there was a national push by the medical community for community colleges to create a degree pathway to help credential and fill a growing need for more nurses to serve a burgeoning population.
Rosanna Sassin, manager, Nursing and Patient Education, St. John Hospital and Medical Center, a nursing educator for 20 years, speaks highly of Macomb's program. 
"I think the Macomb program is a great beginning for someone who wants to be a nurse," said Sassin.  "They give you a strong foundation. They teach both the art and the science of nursing, and the students come out very well prepared with very high scores on the National Council Licensure Examination compared to other programs across the country. They are constantly challenging you to grow and learn."
Through the many Macomb nursing students who have done their clinical practicum at St. John, Sassin says you can see their preparedness in the way they adapt to the ever-changing clinical environment. 
Rosemary Lake was a professor with Macomb's nursing program from nearly the beginning, starting at Macomb in 1971 and retiring after 35 years of teaching in 2006. She recalls the early days of the program fondly.
"The college was surrounded by farms. It was a beautiful little campus," said Lake. "We didn't have formal labs or a lot of advanced equipment, so we converted classrooms to create a laboratory experience to prepare the students for a hospital setting. It was bare bones."
Since then, Center Campus has grown considerably along with the nursing program that now utilizes modern equipment, facilities and the latest teaching techniques to train highly skilled nurses to meet local community needs.
Macomb's decision to structure the nursing program into a cohort system drew Lake's praise. She notes that early in the program, it was decided that all students would follow the same progression through classes, ensuring consistency in the material presented and giving the professors the ability to build on what was taught during previous semesters. Lake felt this consistency allows for a strong base knowledge as the student progresses through the program.
Retired professor Vicky Mendler taught at Macomb from 1989 until July 2017. She first became aware of the college's nursing program through Macomb students working on her ward when she was at South Macomb Hospital. It was her mentor, Marie Baeckeroot, also a professor in Macomb's program, who encouraged her get her master's degree and teach at Macomb. Mendler credits the program's high standing to constant reevaluation.
"We were constantly looking at the program in response to changes in the medical profession," said Mendler. "We would constantly adapt to the workforce through our clinical partnerships. We would meet multiple times a year with the heads of all the clinical agencies to find out what they saw as needed in our students and would make sure we were meeting those needs."
One of the advances she saw having the biggest impact was the introduction of human patient simulation mannequins, which can be programed to simulate numerous medical situations and provide students the opportunity to practice responding to high-risk situations in a safe and controlled environment.
"We could take our students into emergency situations that they would never be exposed to otherwise," said Mendler. "It's a way of gaining experience without risking harm to a patient. This took our training to another level."
Recent graduate Ed Parker, 50, of Center Line, was a flight medic while in the Air Force and worked in information technology after leaving the service. When his position was outsourced, he decided to return to health care to make a real difference in people's lives.
"I would absolutely encourage people to go into nursing," said Parker. "You experience the whole human experience. It's being with people when they're at their best and comforting them when they are at their lowest. "
Parker, currently a hospice nurse, was grateful for the variety of options available to him on graduation.
"The instructors and Career Services were very helpful in helping people find a position after graduation," said Parker. "They would bring in people from a lot of different organizations so students could see what options were available to them."
According to Pieczynski, 90 percent of Macomb nursing students have found nursing positions before graduation and all Macomb nursing graduates have found positions within six months of completing their degree. Approximately 95 percent of the graduates stay in Michigan.
"I've had many nurse executives tell me that Macomb graduates are prepared to hit the ground running when they hire them." said Pieczynski.
A reunion for all Macomb nursing program graduates is being held on Tuesday, May 22, 6 p.m. – 8 p.m. at the Lorenzo Cultural Center. For more information about the Nursing Alumni 50th Anniversary Celebration, call 586.445.7302 or email alumni@macomb.edu.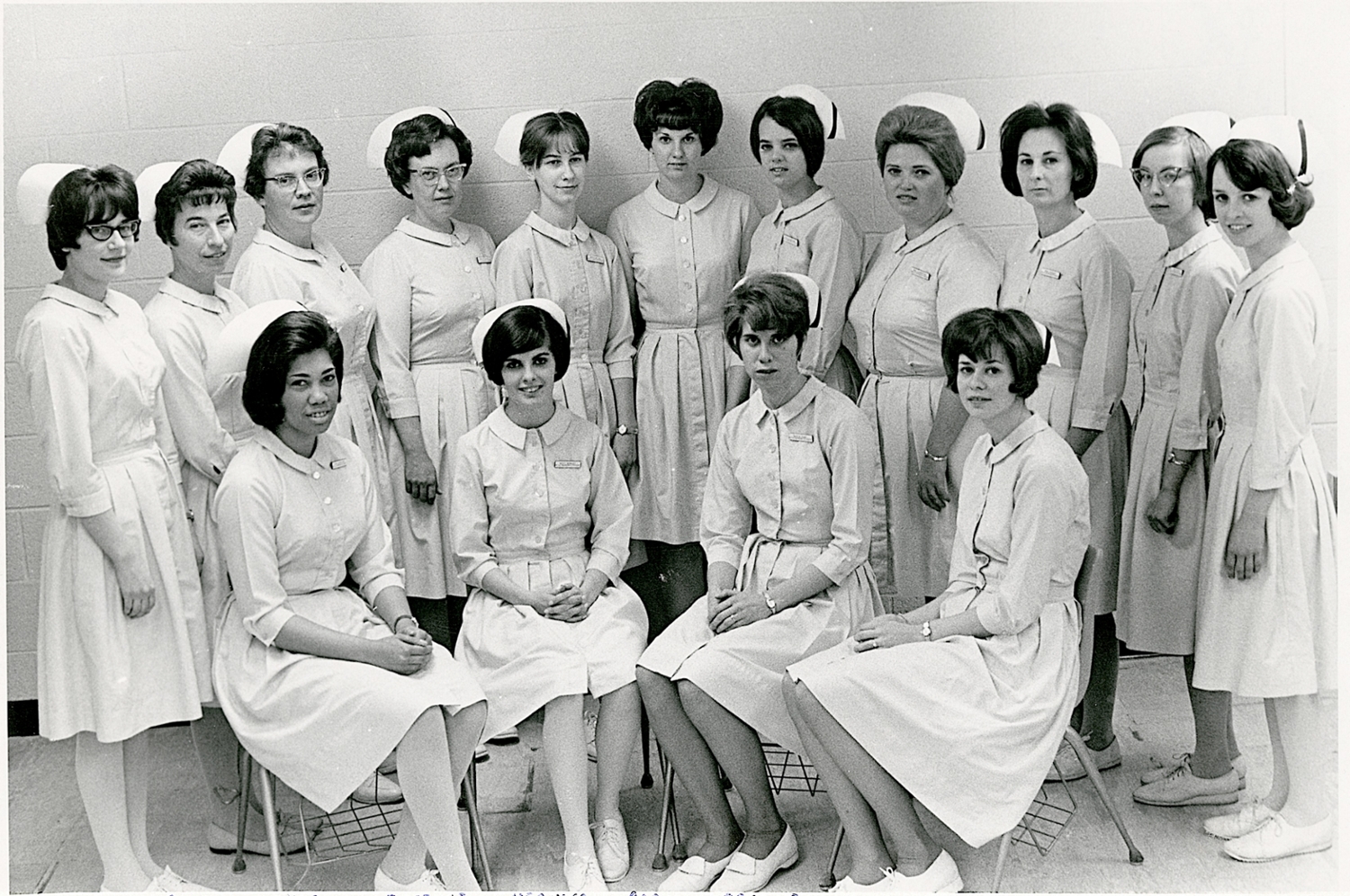 The Macomb nursing program graduating class of 1968
About Macomb Community College
Macomb Community College (www.macomb.edu) is one of the nation's leading community colleges, providing learning experiences to nearly 40,000 students annually. Macomb nationally ranks in the top two percent in the number of associate degrees awarded by community colleges and is the largest grantor of associate degrees in Michigan. The college's comprehensive educational programming includes pre-collegiate experiences, university transfer and career preparation programs, bachelor degree completion and graduate degree programs, workforce training, professional education and certification, and continuing education and enrichment opportunities.
Media contact:  Sean M. Patrick, 586.445.7271, patricks28@macomb.edu