Macomb Community College hosts professional-wear fashion show with a budget-conscious flair
– Thursday, April 12, 2018 12:00AM
Students modeled clothing purchased at secondhand stores
Suits with Italian labels and outfits accessorized with pearls don't have to be budget breakers. That was one take away from the fashion show featuring professional clothing hosted recently by Macomb Community College's Arts & Sciences Department, with  26 students modeling outfits that they selected at secondhand stores and cost as little as $10.
"The fashion show gave the students a visual context of how they can put together a professional wardrobe on a budget by shopping at low-cost stores such as Goodwill, Salvation Army and St. Vincent de Paul," explained Angie Williams-Chehmani associate dean for communications & humanities at the college. "These stores, along with other secondhand retailers such as Plato's Closet and Second Hand Rose, offer gently used, quality clothing at very reasonable prices."
The fashion show also stressed the importance of recycling clothing. "Americans send 10.5 million tons of clothing to landfills every year," Williams-Chehmani said. "Clothing that isn't suitable for resale can be shredded and reused for things like furniture stuffing."
Macomb student Michael Ferrell, 46, of Warren, modeled a Neiman Marcus suit that was made in Italy.
"I found a really nice suit, shirt and tie for $15.90. It looked really nice," said Ferrell. "I think most students are like me and are not aware of the quality of the clothes that are available at these stores and the affordable prices they have. The fashion show was a nice service by the college to help students."
Second-year student Sariyah Khaldi, 20, of St. Clair Shores, modeled a black dress, beige jacket and pearl necklace that she found at a Salvation Army resale shop. It cost less than $20. 
"I was looking for something that would be appropriate to wear for an interview," Khaldi said. "The fashion show was a fun way to show that it's possible to purchase outfits that look professional for low cost."
Williams-Chehmani noted that the fashion show was purposefully scheduled just prior to the college's annual Spring Job Fair on April 18 at the Sports & Expo Center on the college's South Campus in Warren.
About Macomb Community College
Macomb Community College (www.macomb.edu) is one of the nation's leading community colleges, providing learning experiences to nearly 40,000 students annually. Macomb nationally ranks in the top two percent in the number of associate degrees awarded by community colleges and is the largest grantor of associate degrees in Michigan. The college's comprehensive educational programming includes pre-collegiate experiences, university transfer and career preparation programs, bachelor degree completion and graduate degree programs, workforce training, professional education and certification, and continuing education and enrichment opportunities.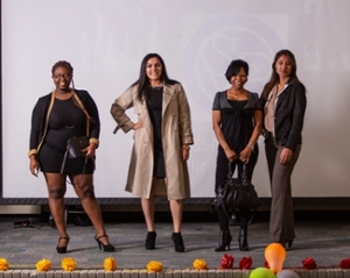 Macomb students model outfits purchased at secondhand stores for a fashion show demonstrating professional wardrobes can be affordable.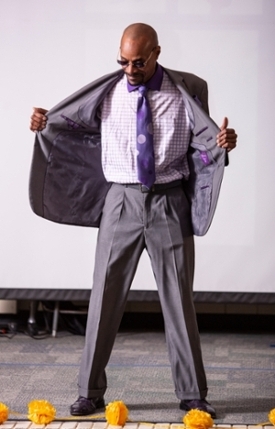 Macomb student Michael Farrell models an Italian-made suit purchased at a secondhand store.
Media contact: Tish Wirth, 586.445.7560, wirthp@macomb.edu