Macomb Community College ensemble competes in International Championship of Collegiate A Cappella competition
– Monday, February 19, 2018 9:00AM
Macomb was the only community college competing among eight university teams
Macomb Community College's Expressions, an a cappella pops ensemble, took fourth place in the Great Lakes Quarterfinals of the International Championship of Collegiate A Cappella (ICCA) competition held recently at the University of Michigan Power Center. A first time competitor, Macomb was the only community college, competing against eight university ensembles that included groups from Oakland University, Wayne State University, Grand Valley State University and the University of Michigan. Expressions member Andrew Montano, 20 of Macomb Township, was named outstanding soloist for the competition.
"The ICCA competition is not only a great motivation for students to press forward for excellence, but it is also a fantastic experience increasing their love for the a cappella art form," said Todd Moses, director of choral activities, Macomb Community College. "I witnessed an immense growth in enthusiasm and confidence in this year's members.  The competition ignited a passion for learning and improving one's skills that has been unparalleled by other performances."
Expressions, founded in October 2017, is non-credit direct study program for Macomb Community College students who must audition to participate. The nine current members have performed in the community including a performance at the Troy Historical Village.
Founded in a college dorm room in 1996, ICCA has grown to include approximately 450 groups competing in nine regions in the U.S. and Europe. This is the third year for the Great Lakes Quarterfinals. 
"With this being our first year in the competition, we entered expecting only to have a great time and entertain an audience," said Moses.  "Taking fourth place was unbelievable, especially considering the great competition. Our students really out did themselves."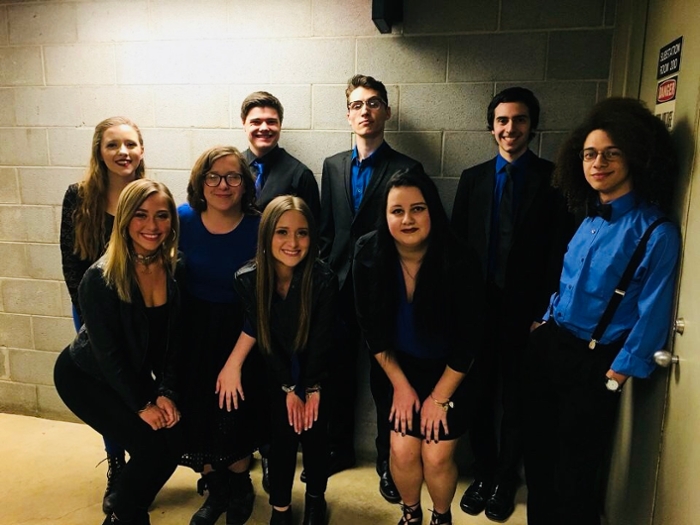 The Expressions, (front row, left to right) Madison Meatte, Faith Truba, Alexis Schuchert, April Shandor, Jarod Baker; (back row, left to right) Myranda Nichter, Jack Clonan, Christian Boni, Andrew Montano
About Macomb Community College
Macomb Community College (www.macomb.edu) is one of the nation's leading community colleges, providing learning experiences to nearly 40,000 students annually. Macomb nationally ranks in the top two percent in the number of associate degrees awarded by community colleges and is the largest grantor of associate degrees in Michigan. The college's comprehensive educational programming includes pre-collegiate experiences, university transfer and career preparation programs, bachelor degree completion and graduate degree programs, workforce training, professional education and certification, and continuing education and enrichment opportunities.
Media contact:  Sean M. Patrick, 586.445.7271, patricks28@macomb.edu