Macomb Community College student design to benefit Shorewood Kiwanis club-sponsored charities
– Tuesday, January 23, 2018 2:00PM
Winning design to be featured on T-shirt sold at the 2018 Harper Charity Cruise
Mark Hock, of Lincoln Park, created the winning design for the 2018 Shorewood Kiwanis charity T-shirt to be sold during this year's Harper Charity Cruise, traditionally held the fourth Wednesday of August, with a portion of the proceeds to benefit five local charities. Hock's design emerged as the winning entry in a competition among the students of five media and communication arts classes at Macomb Community College.
The inspiration for the winning design came from Hock's love for classic cars. Last fall, he noticed a 1957 Chevrolet Bel Air, owned by Bob Feldmaier, director of Macomb's Center for Advanced Automotive Technology, parked at the college and took a few pictures. When the contest came up in class, he turned to those pictures as the basis for his design.
"I've always loved classic cars," said Hock. "I use to own a 1972 Olds Cutlass."
A portion of the proceeds the Shorewood Kiwanis Club generates from the sale of the T-shirt will go to support the youth programs at five local charities including CARE of Southeast Michigan, Lakeshore Family YMCA, Macomb Chamber Music Society, St. Clair Shores Cultural Committee and Wigs 4 Kids. The Kiwanis club has been working with Macomb on the design contest since 2012.
"The caliber of this art is what people would invest in for their homes, for their man or woman cave," said Mark O'Brien, Roy O'Brien Ford, who sponsored the contest with cash awards for the winners. "I am envious of people who have gifts like this."
Hock received a $1,000 cash award from Roy O'Brien Ford and a matching Macomb scholarship from a private donor for his first-place design. In addition, Marianne Pupka, of Shelby Township, received $650 and a matching scholarship for second place, and Jon Hardy, of St. Clair Shores, took home $350 and a scholarship for third.
After working in community access television, Hock returned to school to sharpen his skills with hopes of working in interactive graphic design. He is pursuing an associate degree in interactive media.
"Coming to Macomb is just one of those things. I feel like I'm around friends and family here," said Hock. "When I got my Pell grant, I looked around at a few places and easily decided on Macomb."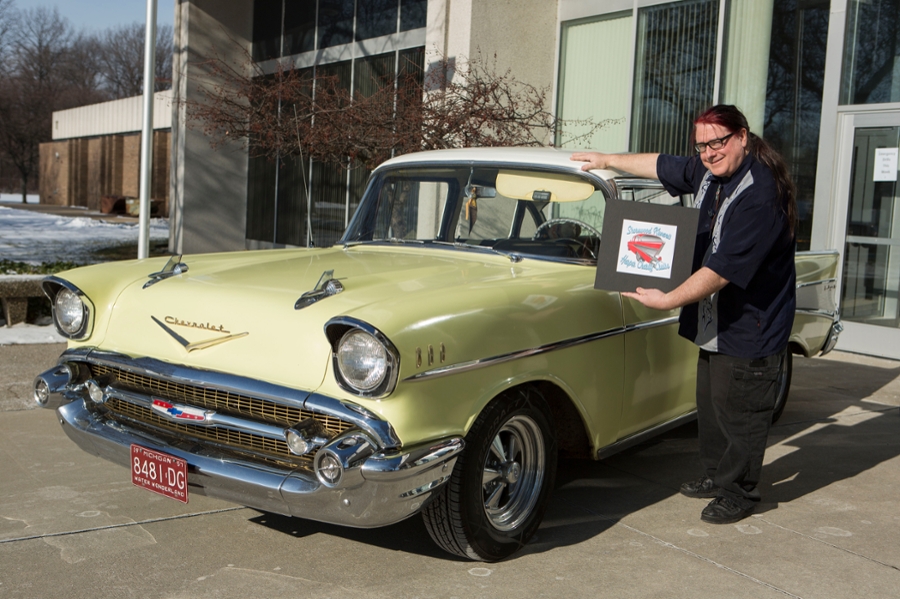 Mark Hock pictured with the 1957 Chevrolet Bel Air that was the inspiration for his winning design.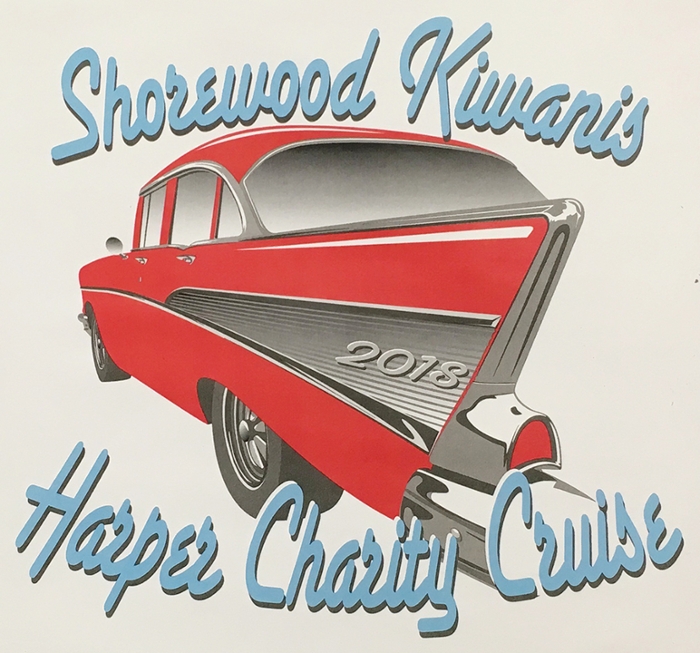 Winning T-shirt design
About Macomb Community College
Macomb Community College (www.macomb.edu) is one of the nation's leading community colleges, providing learning experiences to nearly 40,000 students annually. Macomb nationally ranks in the top two percent in the number of associate degrees awarded by community colleges and is the largest grantor of associate degrees in Michigan. The college's comprehensive educational programming includes pre-collegiate experiences, university transfer and career preparation programs, bachelor degree completion and graduate degree programs, workforce training, professional education and certification, and continuing education and enrichment opportunities.
Media Contact: Sean M. Patrick, 586.445.7271, patricks28@macomb.edu