Macomb Community College student design to grace local ice cream truck of alumnus
– Wednesday, December 20, 2017 9:00AM
When Tim Dilla's ice cream truck, American Dream 2, hits the streets, it will be adorned with a graphic design created by Rebekah Witt, 21, of Roseville, a student in Macomb Community College's media & communication arts program. Witt's design was chosen as the winning entry in a competition held as the final 3D design project for the advanced design class, with Dilla and college faculty serving as judges. The design won Witt a $1,000 prize, with $500 awarded by Dilla and a matching amount provided by a private college donor.
After building American Dream 2 from the ground up, Dilla, a Macomb alumnus, wanted a design for his new truck that would draw attention to the truck, promote his business and be consistent with the existing branding on his first truck, American Dream 1. He turned to his alma mater for help.
"I wanted to give back to the school and at the same time knew I could find the talent there that I needed," said Dilla, a sheet metal worker with Local 80. "The interaction with the students was amazing. They took a lot of time to review what I wanted and really put their hearts into it."
Creating a design for an actual client gave the students real-world experience and a taste of what they could expect when they enter the workforce.
"The students were excited, but a little nervous at the same time," said Macomb instructor Mary Bush. "Our assignments are usually more flexible, but this project had real life client restrictions. Tim had some guidelines and wanted to stay consistent with existing branding, but opened the window for individual creativity."
"Usually in our school projects we just do whatever we want," said Witt. "It was really different to do what he wanted. It was a real experience for me. He was kind of open-ended, but I still tried to get him what he was looking for and I guess that ended up working out."
For her design, Witt, who is pursuing associate degrees in design and layout, and photographic technology, expanded on a beach scene from American Dream 1, incorporated product signage, the company logo and a blue flame to give the vehicle a muscle car feel.
"It was hard to pick the top design," said Dilla. "What won me over was the attention to detail. She clearly listened to everything I said and completely understood the requirements."
Trophies and cash awards provided by Dilla and matched by a private college donor were given to the top three entries. In addition to Witt's first prize, Jade Stirling, of Fraser, took second prize and a $400 award, and Rachel Clerebout, of Roseville, took third prize and a $200 award.
Macomb Community College's media & communication arts program helps students develop creative, traditional, digital and multimedia skills required for a variety of media-related industries.  The program core consists of both traditional and digital courses. Students then select from one of the eight specialty areas to earn either a certificate or an associate of applied science degree.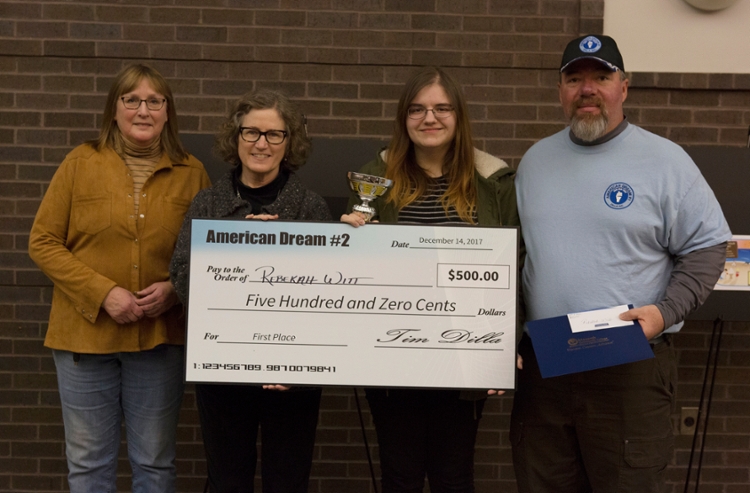 Pictured left to right are Macomb faculty Kris Mellebrand and Mary Bush, Rebekah Witt, winner of the design competition, and Tim Dilla, Macomb alumnus and owner American Dream 2.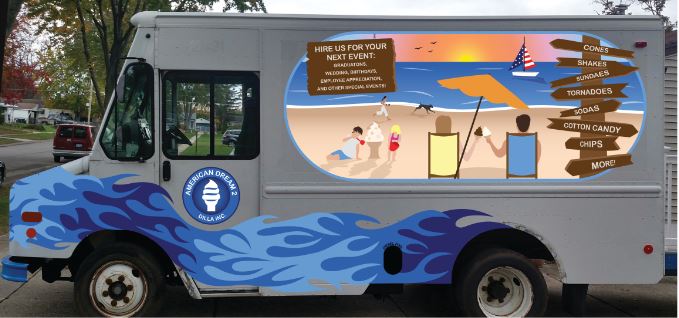 Rendering with Rebekah Witt's winning design emblazoned on American Dream 2
About Macomb Community College
Macomb Community College (www.macomb.edu) is one of the nation's leading community colleges, providing learning experiences to nearly 40,000 students annually. Macomb nationally ranks in the top two percent in the number of associate degrees awarded by community colleges and is the largest grantor of associate degrees in Michigan. The college's comprehensive educational programming includes pre-collegiate experiences, university transfer and career preparation programs, bachelor degree completion and graduate degree programs, workforce training, professional education and certification, and continuing education and enrichment opportunities.
Media contact: Sean M. Patrick, 586.445.7271, patricks28@macomb.edu