First responders learn emergency animal care at Macomb Community College veterinary first-aid clinic
– Thursday, December 7, 2017 12:00AM
For first responders, saving lives involves more than human beings. Emergency situations oftentimes include rescuing animals, and that's why nearly two dozen area first responders attended a recent animal first aid and CPR clinic at Macomb Community College to learn basic skills in animal emergency care.
The college's veterinary technician program hosted the clinic and provided training on how to assess an emergency, safely restrain injured animals, bandage wounds, and perform temperature, pulse and respiration assessments. Participants learned how to perform CPR on different size cats and dogs using stuffed animals that where hooked to monitoring devices, as well as practicing bandaging on the program's mascot, a boxer named Quiz.
"It's important for first responders to know how to assess an animal emergency, like determining whether the animal is aggressive or just frightened," explained Lori Renda-Francis, director of Macomb Community College's veterinary technician program and professor. "Not only do we want the first responders to have the basic skills to treat an injured animal until they can get it to an animal hospital, but we want them to know how to perform these skills safely."
Participating organizations also received a basic animal first-aid kit.
Organizations that took part in the clinic included: Chesterfield Township and Utica fire departments, Fraser and St. Clair Shores police departments, Grosse Ponte Public Safety, Macomb County Sheriff Department, Michigan State Police and Sterling Heights, Oakland County and Genesee County animal control.
About Macomb Community College
Macomb Community College (www.macomb.edu) is one of the nation's leading community colleges, providing learning experiences to nearly 40,000 students annually. Macomb nationally ranks in the top two percent in the number of associate degrees awarded by community colleges and is the largest grantor of associate degrees in Michigan. The college's comprehensive educational programming includes pre-collegiate experiences, university transfer and career preparation programs, bachelor degree completion and graduate degree programs, workforce training, professional education and certification, and continuing education and enrichment opportunities.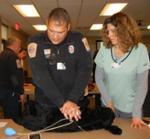 Julie Delauter, professor, Macomb Community College veterinary technician program, instructs Chesterfield Township Fire Lt. Mike Scalici on the proper way to perform CPR on a dog.

Media contact: Tish Wirth, 586.445.7560, wirthp@macomb.edu