Macomb Community College Associate Dean Michele Kelly chosen for mentorship program
– Thursday, October 12, 2017 9:00AM
Michele Kelly, Ph.D., associate dean, Arts & Sciences, Macomb Community College, was chosen as one of five women to participate in the Michigan ACE Women's Network Senior-Level Leadership Shadow Program for this academic year.
"Michele is a valuable member of our academic leadership team," said Dr. Marie Pritchett, dean, Arts & Sciences, Macomb Community College. "Her drive to continue learning and developing speaks not only to her commitment to education, but also to Macomb Community College, our students and their success."
The Michigan American Council on Education (ACE) Senior-Level Leadership Shadow Program provides mid-level women aspiring to senior-level positions the opportunity to learn from mentors, gain diverse institutional perspectives and develop advanced knowledge and skills. The program utilizes best practices from a variety of existing fellowship and job shadow opportunities, creating a unique experience for select women in higher education in Michigan. Michael McDonald, provost, Kalamazoo College, will serve as Kelly's mentor.
"This program is a great opportunity for me to get a better understanding of the trends in higher education that transcend specific institutions," said Kelly. "Whether you are at a four-year university or a two-year community college, many of the issues are the same, including accountability and access. I look forward to learning from Dr. McDonald and bringing those lessons home to Macomb Community College."
Michigan ACE is committed to identifying and developing the leadership capabilities of women in higher education throughout the state. Membership is open to all Michigan public and private, two- and four-year institutions. Professional development, networking, mentoring and advocacy in Michigan's higher education system are provided through the network.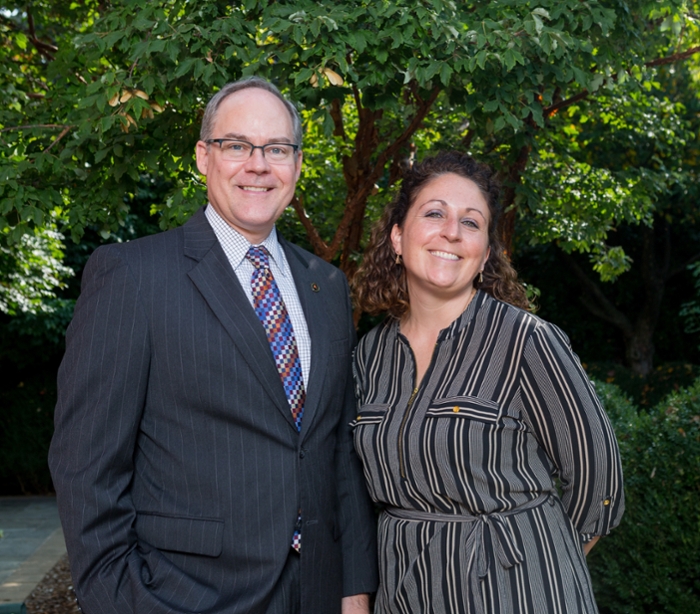 Michael McDonald, provost, Kalamazoo College, with Michele Kelly, associate dean, Arts & Sciences, Macomb Community College.
About Macomb Community College
Macomb Community College (www.macomb.edu) is one of the nation's leading community colleges, providing learning experiences to nearly 40,000 students annually. Macomb nationally ranks in the top two percent in the number of associate degrees awarded by community colleges and is the largest grantor of associate degrees in Michigan. The college's comprehensive educational programming includes pre-collegiate experiences, university transfer and career preparation programs, bachelor degree completion and graduate degree programs, workforce training, professional education and certification, and continuing education and enrichment opportunities.
Media Contact: Sean M. Patrick, 586.445.7271, patricks28@macomb.edu