Fourth annual Comedy & Cocktails gala raises $45,000 to benefit arts and cultural programming at Macomb Community College
– Wednesday, September 20, 2017 2:00PM
Comedy & Cocktails, a fundraiser presented by the Macomb Community College Foundation on Sept. 15, attracted more than 300 attendees and raised in excess of $45,000 to benefit the college's arts and cultural programming. This is the highest amount raised in the four-year history of the event.
"This support is important to sustaining a diverse range of programs that not only entertain but also enrich, helping educate, building community and contributing to economic vibrancy," said Dr. James O. Sawyer IV, president, Macomb Community College. "Macomb Community College is dedicated to providing meaningful arts and cultural experiences to community members of all ages and backgrounds." 
Presented by First State Bank, the event began with cocktails, hors d'oeuvres and the dedication of the Delia Rendon-Martin Lobby of the Lorenzo Cultural Center in recognition of her generous contributions to the college including an endowed scholarship for Macomb culinary students and support for both the Macomb Center and Lorenzo Cultural Center. Rendon-Martin is an active local philanthropist, who with her late husband, opened El Charro Restaurante Mexicano in Fraser and expanded to four locations in the area.
Following dinner, the event continued in the Macomb Center where an additional 300 guests joined the gala participants and were treated to a performance by Forbidden Broadway, a musical revue that parodies Broadway theater.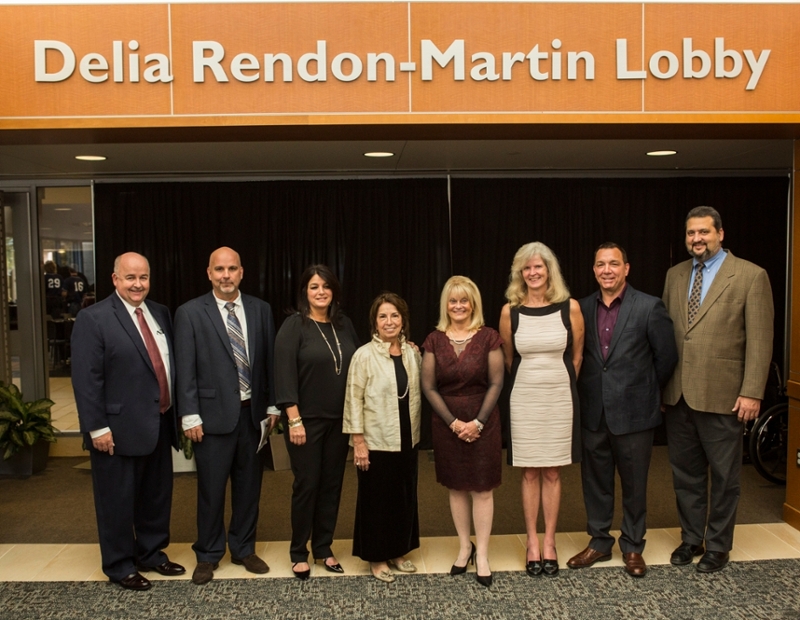 Pictured left to right: Dr. James O. Sawyer IV, president, Macomb Community College; Mark Martin; Connie Rendon-Gregson; Delia Rendon-Martin; Katherine Lorenzo, secretary, Macomb Community College Board of Trustees; Kristi Dean, trustee, Macomb Community College Board of Trustees; Jeff Martin; Frank Cusumano, vice chair, Macomb Community College Board of Trustees.
About Arts and Cultural Programs at Macomb
Macomb Community College provides a breadth of cultural enrichment opportunities to nearly 120,000 individuals annually with programming that supplements educational objectives, spans generations and enriches community life.
About the Macomb Community College Foundation
Established in 1999, the Macomb Community College Foundation is a 501(c)3 nonprofit organization that manages contributions from individuals, foundations and corporations for the educational purposes and objectives of the college.
About Macomb Community College

Macomb Community College (www.macomb.edu) is one of the nation's leading community colleges, providing learning experiences to nearly 40,000 students annually. Macomb nationally ranks in the top two percent in the number of associate degrees awarded by community colleges and is the largest grantor of associate degrees in Michigan. The college's comprehensive educational programming includes pre-collegiate experiences, university transfer and career preparation programs, bachelor degree completion and graduate degree programs, workforce training, professional education and certification, and continuing education and enrichment opportunities.
Media Contact: Sean M. Patrick, 586.445.7271, patricks28@macomb.edu