Macomb Community College students take charge of Sept. 15 -16 occupational therapy conference
– Wednesday, August 30, 2017 9:00AM
Conference marks 20th anniversary of Macomb's occupational therapy assistant program and 100th anniversary of the profession
Advocate & Educate 2017, an occupational therapy conference to be held at Macomb Community College Sept. 15 and 16, is the handiwork of the students in the college's occupational therapy assistant (OTA) program. These students, members of the OTA Student Leadership Organization, are handling all of the conference details from marketing the event and securing meeting rooms to making sure everyone gets their right meal.
"The conference this year is very important because it's the 20th anniversary of the OTA program at Macomb Community College and the 100th anniversary of the profession," said Samantha Elsesser, 24, of St. Clair Shores, an officer with the OTA student leadership organization and member of the planning team. "We're really trying to make this year something special."
Advocate & Educate 2017 will provide occupational therapists, assistants and program students the opportunity to acquire up to 11 professional development units to apply toward continuing certification.  Over the two-day conference, participants will learn from a variety of experts, including this year's keynote speaker, Alex Lopiccolo, an alumnus of Macomb's OTA program and expert in sensory integration.
This is the fifth year Macomb has held the conference.  The committee expects more than 100 attendees this year.
Under the guidance of Pennie Wysocki-Dubay and Sue Robosan-Burt, Macomb OTA instructors and co-advisors to the student organization, Elsesser and the committee have been hard at work with all conference details including identifying and recruiting speakers to cover topics including animal assisted therapy, orthotics, kinesiotaping, fall prevention, crainosacral/reflex integration, dementia and other emerging practice areas. Elsesser recounts spending many hours at the keyboard and on the phone contacting people who may one day be prospective employers.
"I'm learning a lot about leadership and communication skills," said Elsesser. "Working on the conference is building my confidence and will make me a better OT assistant in the future."
"The student committee is taking on the job of professional conference planners by putting together this event," said Wysocki-Dubay. "They are embracing this challenge in addition to their school responsibilities, work duties and home life and are doing an outstanding job. It's impressive to witness."
The funds raised by the conference will go toward creating an endowed scholarship through the Macomb Community College Foundation for future OTA students. Over the past four conferences, the students have nearly reached their goal of $15,000.
After completing her associate degree, Elsesser plans to continue on to earn her bachelor's degree and hopes to work in pediatrics.
"Going to Macomb is the best experience I've had going through school," Elsesser said. "The teachers here really want you to succeed. A lot of times you go to school and go to class, and you're just a number. The teachers here really care and have helped me find what it is I love to do."
Macomb's occupational therapy assistant program combines lecture presentations, labs and supervised clinical fieldwork to instruct students in the occupational therapy process and its application. The program prepares students for the National Board for Certification in Occupational Therapy exam. 
Occupational therapy is a form of therapy developed for those recuperating from physical or mental illness that promotes rehabilitation through the performance of activities required in daily life. Common occupational therapy interventions include helping children with disabilities to participate fully in school and social situations, helping people recovering from injury to regain skills, and providing supports for older adults experiencing physical and cognitive changes.
Advocate & Educate 2017 will be held Sept. 15 and 16 on the Macomb Community College South Campus, K Building in Warren. For more information or to register, visit advocateandeducate.weebly.com.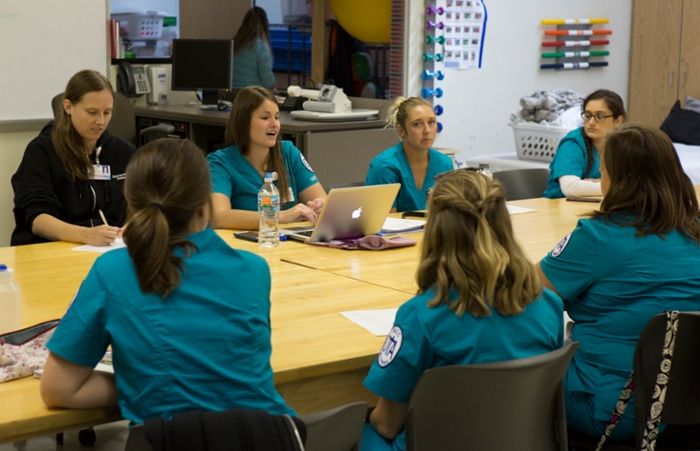 Pictured left to right are Macomb OTA students Erica Zukowski, Samantha Elsesser, Lauren McGuire, Catherine Habba
About Macomb Community College
Macomb Community College (www.macomb.edu) is one of the nation's leading community colleges, providing learning experiences to nearly 40,000 students annually. Macomb nationally ranks in the top two percent in the number of associate degrees awarded by community colleges and is the largest grantor of associate degrees in Michigan. The college's comprehensive educational programming includes pre-collegiate experiences, university transfer and career preparation programs, bachelor degree completion and graduate degree programs, workforce training, professional education and certification, and continuing education and enrichment opportunities.
Media Contact: Sean M. Patrick, 586.445.7271, patricks28@macomb.edu