Macomb, music and family are the ties that bind for Macomb Community College's new choral activities director
– Monday, August 21, 2017 9:00AM
For Todd Moses, the new music instructor and director of choral activities at Macomb Community College, you could say the college and the Macombers run in the family. Moses attended Macomb, earning an associate degree in music and a certificate in vocal performance. He met his wife while performing with the Macombers, the college's invitation-only show choir. And, now his daughter is following in her parents' footsteps and is attending Macomb and performing with the Macombers.
Moses, 49, of Chesterfield, grew up in Macomb County, graduating from Anchor Bay High School. During the summer after his junior year in high school, Moses attended Magic Company, a summer workshop at Macomb Community College for gifted performers and something magical happened.
"The Macombers were doing a sound check, and my eyes just kept following the girl in the green dress," said Moses. That girl turned out to be Elizabeth Ward, his future wife. Both followed their passion for music to Macomb. "We officially met the next year when I joined the Macombers, and we began dating. We finished our associate degrees at the same time and went off to the same college."
After Macomb, Moses and his soon-to-be wife transferred to Ball State University in Muncie, Indiana, to pursue degrees in music education. They were engaged after completing their bachelor degrees and married a year later. Since college, Moses has taught music at all levels including stints in Grosse Pointe, Romeo and Chippewa Valley schools. Moses also spent two years as an adjunct professor at Saginaw Valley State University. Elizabeth Moses has focused on elementary music education and is currently teaching general elementary and choral music in the Grosse Pointe Public Schools.
When their daughter wanted to pursue her passion for music education, Macomb was the natural choice. Adept at numerous musical instruments, Bethany, 19, is following in her mother and father's lead and is beginning her second year at the college and performing with the Macombers.
The Macombers first performance of the 2017-18 season was at the Selfridge Air National Guard Base 100th anniversary celebration on Aug. 18. The group performed the national anthem to open the outdoor concert following the gala event.
"We were very honored to perform at such an auspicious event," said Moses. "When I told the group we'd be performing in front of so many people, you could hear the gasps. But, they worked very hard to be ready."
The Macombers performs nostalgic and popular music as well as Broadway tunes accompanied by lively choreography. This year's group has 11 of the 17 members returning from last year. Beyond performing at various community events, the Macombers present two major performances each year at the Macomb Center for Performing Arts on the college's Center Campus in Clinton Township.  Details on the Fall and Spring Extravaganzas can be obtained by calling 586.286.2222.
"Music has been my life," says Moses. "There isn't any aspect of who I am or what I do that doesn't include music. It's my passion. There isn't anything else and Macomb Community College has played a very large part in helping me reach my musical goals."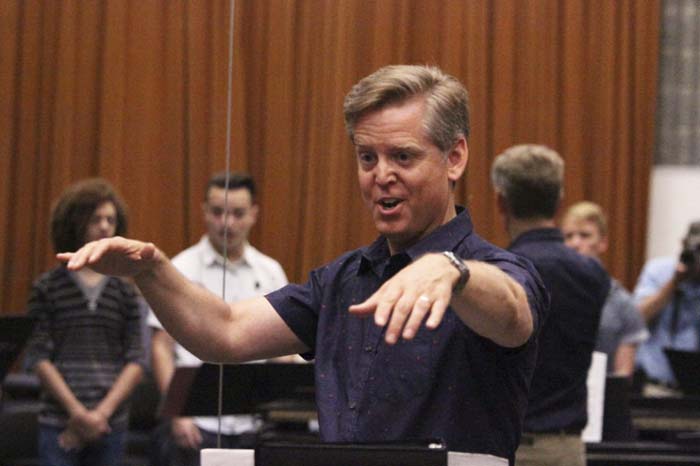 Todd Moses, director of choral activities, Macomb Community College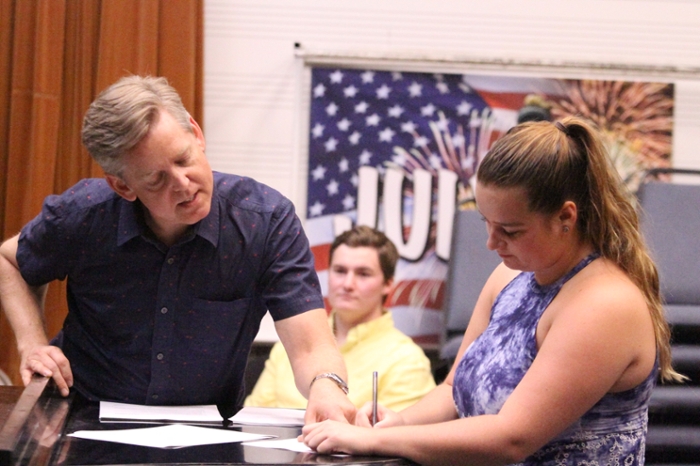 Moses works with student Liz Aversa. Brett Previdi pictured in background
About Macomb Community College
Macomb Community College (www.macomb.edu) is one of the nation's leading community colleges, providing learning experiences to nearly 40,000 students annually. Macomb nationally ranks in the top two percent in the number of associate degrees awarded by community colleges and is the largest grantor of associate degrees in Michigan. The college's comprehensive educational programming includes pre-collegiate experiences, university transfer and career preparation programs, bachelor degree completion and graduate degree programs, workforce training, professional education and certification, and continuing education and enrichment opportunities.
Media Contact: Sean M. Patrick, 586.445.7271, patricks28@macomb.edu