Macomb Community College's beekeeping club nets $2,500 grant to encourage forage for bees
– Monday, June 26, 2017 12:00AM
Bee club members to plant wildflowers and fruit trees
Wildflowers and fruit trees soon will be planted on an acre of land on Macomb Community College's Center Campus thanks to a $2,500 grant the MCC Bee Club received from Bayer Corporation's Feed a Bee forage initiative. The plot of land is adjacent to the Jean-Francois Faloppa Educational Apiary, which is overseen by the MCC Bee Club and students who attend the college's beekeeping classes.
The MCC Bee Club, formerly known as the Bee Squad, was organized in 2015 by the late Faloppa, a Macomb College culinary arts professor, to provide opportunity for students and community members to help maintain the local bee population. Upon Faloppa's death, Jim Ford, a Macomb culinary arts graduate and original Bee Squad member, took responsibility for running the club. He also teaches the popular beekeeping classes offered through the college's Workforce & Community Education Department. The college began offering the class in response to public interest generated by the bee club and has increased the class size and times offered to accommodate demand.
"The classes offer comprehensive information on how to start and maintain bee hives," said Ford. "We discuss the cost of setting up a hive and show how to use the equipment. The course is a combination of lecture and hands-on experience where students learn how to inspect the hives, learn pest management and eventually harvest honey. The planting of wildflowers and fruit trees nearby will assist in maintaining a strong bee population in our hives. Our goal is for the hives to survive through the winter."
The classes' popularity reflects a growing concern about the vitality of the honey bee population. National statistics show a decline in pollinators – including honey bees, birds, bats and butterflies – which are critical in the growth of fruits, nuts and vegetables.
Every year, honey bees pollinate $15 billion worth of crops, according to the United States Department of Agriculture (USDA). But, a 2016 survey conducted by the U.S. Department of Agriculture's National Agriculture Statistics Service (NASS) indicates there were almost 2.6 million, or eight percent, fewer honey bee colonies on Jan. 1, 2016, than a year earlier for its test group. NASS attributes the drop to a combination of stressors including loss of natural forage and inadequate diets, mite infestations and disease, loss of genetic diversity and exposure to certain pesticides.
A concern over the fate of the honey bee population is what prompted several area residents to take Macomb's beekeeping class.
"The decline in the bee population is worrisome. Bees are one of our major pollinators," said Carmen Dreim, whose family rents to farmers a portion of their 10 acres in Richmond. "I want to learn about beekeeping before I start anything."
Melody Hall, of Shelby Township, also is planning for the future.
"I live in a subdivision now, but if we move to a more rural area I would consider having bees," said Hall. "My concern is more for the environment. I want to help the bee population; they are vital to our crop and food source."
About Macomb Community College
Macomb Community College (www.macomb.edu) is one of the nation's leading community colleges, providing learning experiences to nearly 40,000 students annually. Macomb nationally ranks in the top two percent in the number of associate degrees awarded by community colleges and is the largest grantor of associate degrees in Michigan. The college's comprehensive educational programming includes pre-collegiate experiences, university transfer and career preparation programs, bachelor degree completion and graduate degree programs, workforce training, professional education and certification, and continuing education and enrichment opportunities.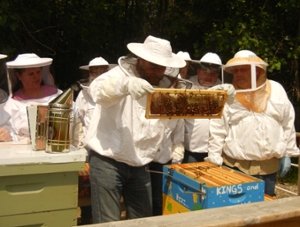 Students in Macomb Community College's beekeeping class inspect bee hives looking for good comb formation and bee activity.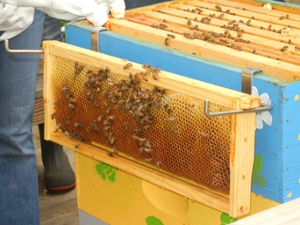 Six bee hives currently make up the Jean-Francois Faloppa Educational Apiary on Macomb Community College's Center Campus.
Media contact: Tish Wirth, 586.445.7560, wirthp@macomb.edu