Macomb Community College announces recipients of Kathy and Jerry Wood Foundation scholarships
– Wednesday, May 24, 2017 12:00PM
On Tuesday, May 23, during the launch of the public phase of Mission Macomb, the Macomb Community College Foundation's first philanthropic campaign, the college announced the 29 recipients of the Kathy and Jerry Wood Foundation Scholarships. These scholarships are designed to fund 100 percent of the estimated annual cost of tuition, fees and additional educational expenses for one student from each high school in Macomb County's public school districts.
The scholarship provides each student with approximately $3,000 per semester, with a total value of up to $12,000. In April 2017, the Kathy and Jerry Wood Foundation committed up to $360,000 to the Macomb Community College Foundation to fund the two-year scholarships to the college.
The recipients, their home towns and high schools are:
Simon Alnajjar, Macomb, Henry Ford II High School
Angelica Barrows, Richmond, Richmond High School
Grace Burke, Macomb, Eisenhower High School
Stephanie Burnham, Sterling Heights, Warren Mott High School
Mariah Castellano, Mount Clemens, Mount Clemens High School
Alexandra Douglas, Chesterfield, Anchor Bay High School
Holly Dzieciolowski, Sterling Heights, Utica Alternative Learning Center
Tadas Eirby, Eastpointe, East Detroit High School
Zachary Fuller, Harrison Township, L'Anse Creuse High School North
Jesse Gorham, New Baltimore, New Haven High School
Rachel Haire, Warren, Center Line High School
Brianna Hayes, Clinton Township, Lakeview High School
Hannah Hedo, Sterling Heights, Stevenson High School
Corey Houser, Warren, Lake Shore High School
Sukhpreet Kaur, Macomb, Dakota High School
Clara Knack, Warren, Warren Woods Tower High School
Brianna LeBlanc, Eastpointe, Roseville High School
Joseph LaPointe, Shelby Township, Utica High School
Samantha Lee, Armada, Armada High School
Susie Lee, Warren, Lincoln High School
Sydney Olsen, Sterling Heights, Sterling Heights High School
Maricela Fernanda Macias Ortiz, Washington Township, Romeo High School
Sydney Paige Pylar, Roseville, Clintondale High School
Holly Salome, St. Clair Shores, South Lake High School
Kelly Shock, Fraser, Fraser High School
Ryan Stout, Clinton Township, Chippewa Valley High School
Jenna Walters, Warren, Cousino High School
Leah Webber, Harrison Township, L'Anse Creuse High School
Robert Xiong, Warren, Fitzgerald High School
While each high school formed their own selection committee and chose a candidate for final consideration by the Macomb Community College Foundation, all those considered  had to meet the following criteria:
Be a graduating senior from a public high school in Macomb County,
Have a minimum grade point average of 2.5 at the time of their high school graduation,
Provide a letter of recommendation from a teacher, coach, employer, counselor or mentor,
Submit a 250-word (minimum) essay about their educational goals, financial need and how the scholarship will make a difference, and,
Showproof of acceptance at Macomb Community College.
The Wood Foundation Scholarship recipients must attend Macomb Community College full time (12 credit hours or more) and maintain a 2.5 grade point average.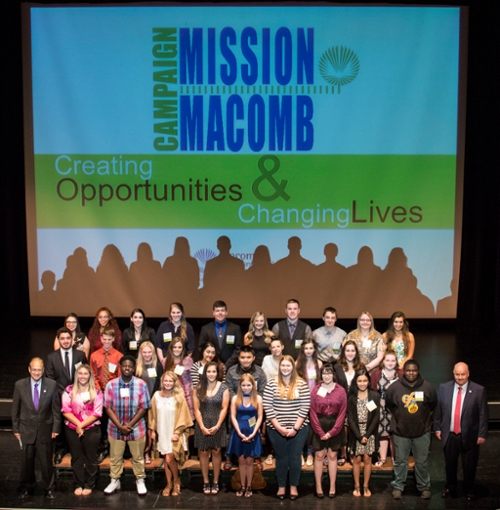 About the Kathy and Jerry Wood Foundation
The Kathy and Jerry Wood Foundation is a private, charitable foundation established through the wills of the late Kathy Wood and her husband, the late Jerry Wood.  The primary scope of the foundation is to aid and assist in charitable activities for the moral, mental, intellectual and physical development of American youth; establish or provide scholarships for deserving young U.S. citizens to attend American educational institutions; and found, assist, equip or provide for the maintenance of institutions or associations for the advancement of learning in the United States.
About Macomb Community College
Macomb Community College (www.macomb.edu) is one of the nation's leading community colleges, providing learning experiences to nearly 40,000 students annually. Macomb nationally ranks in the top two percent in the number of associate degrees awarded by community colleges and is the largest grantor of associate degrees in Michigan. The college's comprehensive educational programming includes pre-collegiate experiences, university transfer and career preparation programs, bachelor degree completion and graduate degree programs, workforce training, professional education and certification, and continuing education and enrichment opportunities.
Media Contact: Sean M. Patrick, 586.445.7271, patricks28@macomb.edu