Macomb Community College student Samantha Leonardi presented with 2017 Breaking Traditions Merit Award
– Thursday, May 11, 2017 9:00AM
Award recognizes student success in programs nontraditional for their gender
Samantha Leonardi, 19, Eastpointe, was presented with the State of Michigan Department of Education's 2017 Breaking Traditions Merit Award that recognizes those who have overcome obstacles and gender stereotypes to succeed in career and technical education programs. Leonardi is a student in Macomb Community College's GM Automotive Services Education program and is pursuing dual associate degrees in general studies and automotive technology. The award was granted today at a ceremony at the Library of Michigan in Lansing.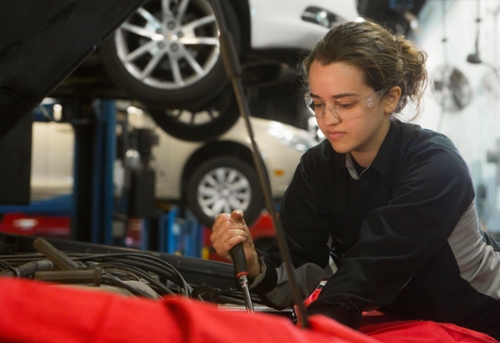 "One of my personal objectives is to break down stereotypes in this field," said Leonardi. "I was tired of people looking at me odd when I went into auto parts stores and such. I wanted to show them that a woman could do just as well as a man, maybe better."
The Breaking Traditions Merit Award recognizes students who have selected specific career and technical training based on their interests and abilities, have excelled in their studies and have not allowed gender to influence their career decision.
Leonardi is the only woman in her class.
"My first day of class was weird. At first the other students definitely looked at me differently," said Leonardi. "But quickly they saw I knew what I was doing and now we've become good friends. The other students and the teachers have all been very supportive."
Leonardi's interest in automobiles started at a young age, helping her father work on the family car. But it was in high school when her interest blossomed. Her high school automotive instructor encouraged her to follow her dream and got her the information about the Macomb program. Leonardi's never let gender misperceptions hold her back.
"Samantha is a hard worker," said Dan Claus, professor, automotive technology, and one of Leonardi's instructors. "She never let anything stand in her way, least of all her gender. She goes above and beyond and has impressed everyone in the program."
The GM Automotive Services Education program involves eight weeks in the classroom and 12 week paid internships at GM dealerships or AC Delco repair facilities. This schedule rotates for five semesters. During the internship, students continue to work and learn about the automotive repair process and other aspects like customer communication.
Upon completion of her program at Macomb, Leonardi plans to pursue a bachelor's degree in automotive management from Ferris State University.
About Macomb Community College
Macomb Community College (www.macomb.edu) is one of the nation's leading community colleges, providing learning experiences to nearly 40,000 students annually. Macomb nationally ranks in the top two percent in the number of associate degrees awarded by community colleges and is the largest grantor of associate degrees in Michigan. The college's comprehensive educational programming includes pre-collegiate experiences, university transfer and career preparation programs, bachelor degree completion and graduate degree programs, workforce training, professional education and certification, and continuing education and enrichment opportunities.
Media Contact: Sean M. Patrick, 586.445.7271, patricks28@macomb.edu