Macomb Community College Foundation launches its first comprehensive fundraising campaign, Mission Macomb
– Wednesday, May 24, 2017 12:00PM
The Macomb Community College Foundation kicked-off the public phase of Mission Macomb: Creating Opportunities & Changing Lives, the college's first comprehensive fundraising campaign, during an event Tuesday on the college's Center Campus in Clinton Township. More than $8 million of the $10 million goal has been raised during the silent phase of the campaign, which began in 2013.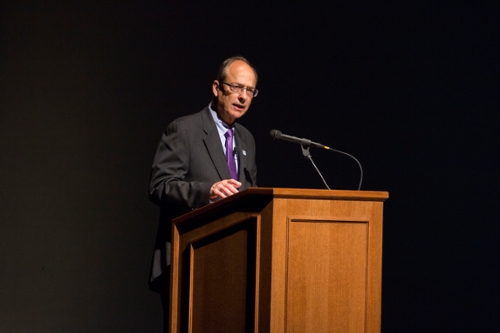 "The strength of Macomb Community College comes from the strength of the Macomb County community," said James Jacobs, president, Macomb Community College. "The passion of Macomb's supporters to work together to ensure the college has the resources necessary to connect our students and community with their potential is gratifying."
Mission Macomb is focused on three priority areas: student success, innovation and entrepreneurship, and arts and culture.  Some key firsts in fundraising that the campaign has experienced includes accepting the college's first million dollar gift from private philanthropy, receiving the college's largest gift to date from an individual donor – a $700,000 blended cash and planned gift, and the highest level of support from employee campaign.
Mary Kramer, a community director on the college's foundation board and group publisher, Crain's Detroit Business, emceed the Mission Macomb program, which included comments from James Flaherty, Macomb alumnus, and retired partner, Deloitte, as well as past chairman of the board, Deloitte & Touche, who credited his long-term success to his experiences at the college.
"I can say unequivocally that the commitment of and examples set by the Macomb Community College instructors, support staff and trustees not only prepared me academically, but also provided me opportunity and role models," said Flaherty.  "So I thank them and ask each and every one of you to join me in supporting them."
Recipients of the Kathy and Jerry Wood Foundation scholarships were also introduced at the event.  The 29 high school seniors from Macomb County public school districts were awarded two year scholarships designed to fund the cost of tuition, fees and additional educational expenses, estimated to be $3,000 per semester, with a total value of up to $12,000.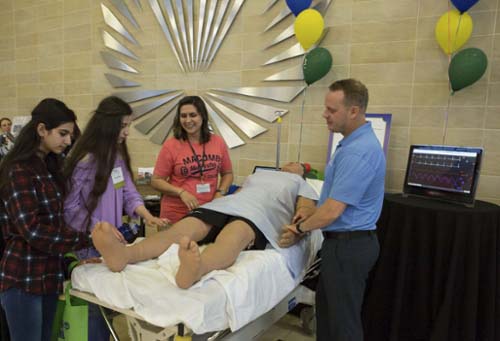 Following the presentations, attendees were invited to participate in more than 20 hands-on activities from a variety of college program areas, from engineering and advanced technology, nursing and allied health disciplines, Reading and Writing Studios through the Macomb Culinary Institute.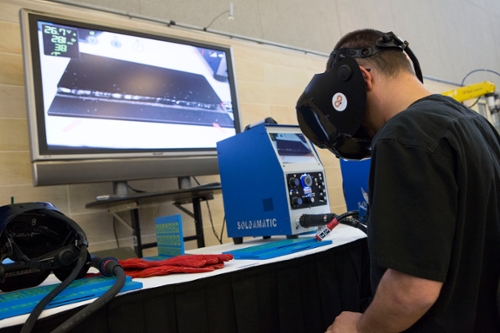 For more information about the campaign, watch the Mission Macomb video featuring donors and students, or contact the foundation at 586.445.7302 or by email at foundation@macomb.edu.
About the Macomb Community College Foundation
Established in 1999, the Macomb Community College Foundation is a 501(c)3 nonprofit organization that manages contributions from individuals, foundations and corporations for the educational purposes and objectives of the college.
About Macomb Community College
Macomb Community College (www.macomb.edu) is one of the nation's leading community colleges, providing learning experiences to nearly 40,000 students annually. Macomb nationally ranks in the top two percent in the number of associate degrees awarded by community colleges and is the largest grantor of associate degrees in Michigan. The college's comprehensive educational programming includes pre-collegiate experiences, university transfer and career preparation programs, bachelor degree completion and graduate degree programs, workforce training, professional education and certification, and continuing education and enrichment opportunities.
Media Contact: Sean M. Patrick, 586.445.7271, patricks28@macomb.edu