Macomb Community College Donor and Scholarship Celebration highlights new funding and student impact
– Sunday, April 9, 2017 11:00AM
$368,000 in scholarships made possible through donor generosity in 2016
The Macomb Community College Foundation's 2017 Donor and Scholarship Recipient Celebration, held April 6, brought together foundation donors and many of the students who benefitted from the resulting scholarships. More than 130 students and donors attended the celebration luncheon held at the University Center on the college's Center Campus in Clinton Township.
"Many of our students have to address obstacles in life that hold them back from taking advantage of the education and training that positions them for success," said James Sawyer, provost, Macomb Community College.  "Macomb is open to all who are interested in tapping the power of education and the Foundation and their scholarship programs make this possible even for the students with the most challenging circumstances."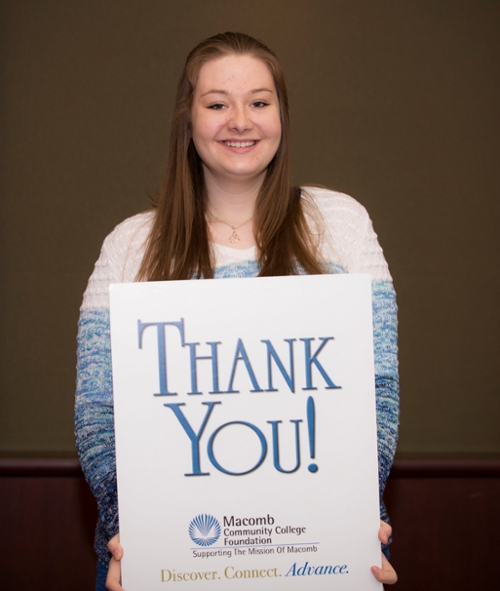 The Macomb Community College Foundation awarded more than $368,000 in scholarships to approximately 450 students during the 2015-2016 academic year. This is a 17 percent increase over the previous year.
Mallory Burr, 21, St. Clair Shores, spoke on behalf of scholarship recipients and thanked the attending donors for their support. Burr is a recipient of the Italian American Delegates Scholarship and is graduating in May with an associate degree in IT networking and programming at Macomb with plans to continue on to Wayne State University for a bachelor's degree in computer science. She stressed the importance of the scholarship she received and how it made her future possible.
"When I lost my mom in 2016, everything changed for me, and I was nearly forced to drop out of school because of growing financial pressures. But, before she passed, I promised my mom I would finish school, so I turned to the scholarship program for help," said Burr. "Without this scholarship, I would have never been able to keep that promise to my mom. I can't express how much this assistance means to me."
Donors Jay Oklu and Lisa Spagnuolo, creators of the Next Generation Endowed Scholarship for New American Citizens, wanted to help those who have immigrated to the U.S. and are looking to shape a better life.  Oklu, an immigrant himself, discussed the challenges new immigrants face and the importance of education in helping them progress in American society.
"Education helps those coming to America adjust to their new country and lays the foundation for a successful future," said Oklu. "We all come from immigrants who at one point reached out for help. We wanted our donation to be that helping hand so these new Americans can build a better life."
New scholarships include:
Brose Jefferson Scholarship provides financial support to qualifying Macomb students studying in the automotive systems technology, mechatronics, multi-skill technician or production operator programs.
Jack-Jack Taylor Pay It Forward Veterinary Technician Scholarship provides financial assistance to adult students returning to school in the veterinary technician program.
The Clinton Township Police Department Honor Guard Scholarship provides assistance to Macomb law enforcement students.
St. Clair Shores Community Choir – Music Major in Residence Scholarship offers assistance to Macomb students pursuing a transfer program to a four-year college with a major in music education, voice or performance.
Larry Zimmerman Memorial Scholarship provides assistance to Macomb students pursuing a career in the medical assistance program.
Leokadia Marshall Memorial Endowment Scholarship established in memory of Leokadia Marshall and provides financial assistance to qualified Macomb students.
The Ramza M. Macksoud Badge with Honor Scholarship provides support for qualifying law enforcement students entering the basic police academy at Macomb.
Clarence Ganheart Product Development Memorial Scholarship assists students enrolled in the product development associate degree program.
Dr. John and Jill DeGutis Endowed Memorial Police and Fire Scholarship offers financial assistance to students in the law enforcement and fire academies.
New program-related funds established in the 2016-2017 academic year include:
Chef Jean-Francois Faloppa Study Abroad Fund was created to encourage Macomb culinary students to travel outside the United States of America in order to deepen global understanding and broaden socio-cultural perspectives.
Robinson-Coleman Endowed Fund for Veterans and Military Services supports programs and services provided for veterans, active duty military members and their families.
Workforce and Continuing Education Engineering and Advance Technology Services Fund to provide assistance to students to ensure successful completion of their M-Tech programs.
The Dean of Engineering and Advanced Technology Endowed Program Fund provides funding to be used as needed by Macomb's advanced technology program.
For more information about scholarships and making donations to the college's foundation, call 586.445.7302.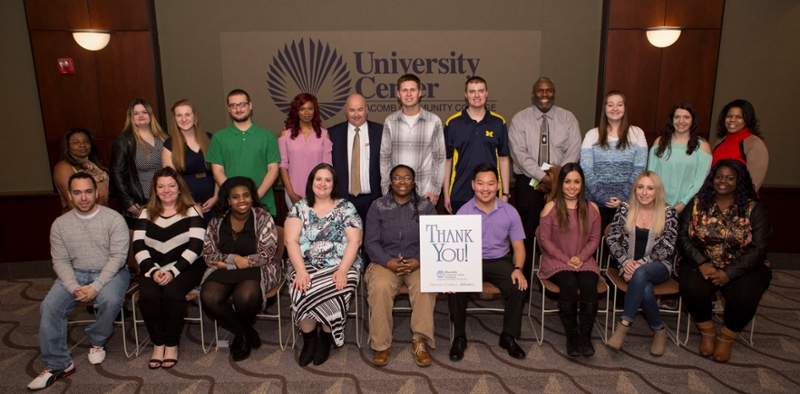 About the Macomb Community College Foundation
Established in 1999, the Macomb Community College Foundation is a 501(c)3 nonprofit organization that manages contributions from individuals, foundations and corporations for the educational purposes and objectives of the college.
About Macomb Community College
Macomb Community College (www.macomb.edu) is one of the nation's leading community colleges, providing learning experiences to nearly 40,000 students annually. Macomb nationally ranks in the top two percent in the number of associate degrees awarded by community colleges and is the largest grantor of associate degrees in Michigan. The college's comprehensive educational programming includes pre-collegiate experiences, university transfer and career preparation programs, bachelor degree completion and graduate degree programs, workforce training, professional education and certification, and continuing education and enrichment opportunities.
Media Contact: Sean M. Patrick, 586.445.7271, patricks28@macomb.edu