Veterans' furry friends received special care during Macomb Community College's Military Veterans Pet Wellness Project
– Tuesday, April 25, 2017 9:00AM
Students from Macomb Community College's veterinary technician program helped local veterans keep their four-legged companions happy and healthy through a special Military Veterans Pet Wellness Project.  They held eight clinics over the fall and winter semesters offering a variety of services free of charge to give the participating veteran peace-of-mind about the long-term health of their service animals or household pets. More than 50 veterans participated during the project.
"We conducted these clinics to honor our veterans and help make sure that their companions are with them for a long time to come," said Lori Renda-Francis, director, of Macomb's veterinary technician program.  "It also gave our students practical experience in a real-life clinical setting, giving them experience in client communication, outpatient protocols and additional clinical skills."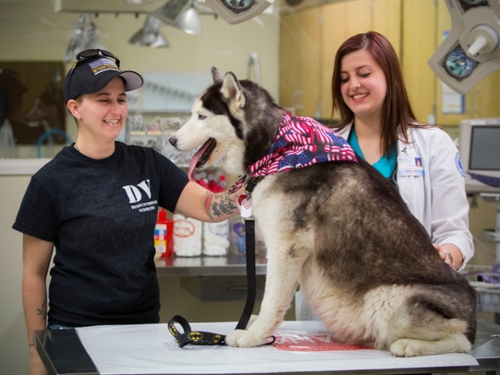 Army veteran Nicole Sanderson brought Nala, her Husky, to the final clinic on April 19 for her regular wellness check. Sanderson rescued Nala from an uncertain fate and credits the dog for doing the same for her.
"When I got back from Afghanistan, I was really lost and had a very difficult time reintegrating into regular society," said Sanderson. "Nala gave me purpose. I don't know what I would have done without her.
"The services provided by Macomb Community College have been very significant in protecting Nala's long-term health and mine," continued Sanderson. "A lot of veterans have financial issues and can't get the services they need for their pets that are so instrumental to their recovery from the stresses of military service. This program has played a very large part in my successful transition."
Veterans were referred to the clinic through the college's Office of Veteran and Military Services and through word of mouth.
Besides the veterans, the students in the veterinarian technician program have also benefitted from the Military Veterans Pet Wellness Project. Jessica White, 21, Harrison Township, boasts about the program and the impact it has had on her educational experience.
"Being part of the veterans program has been one of the most rewarding parts of my educational experience here at Macomb," said White. "You can learn from books all day, but to engage with owners and their furry family members is an experience you just can't teach. This amazing program has made me want to be the best veterinarian technician I can be."
White will be graduating this semester with dreams of working in a small animal practice and a focus on emergency treatment.
In addition to Macomb's senior veterinary technician students, experienced veterinary technician staff and an attending veterinarian staffed the project's eight clinics. Services offered included physical exams, vaccines, heartworm tests for dogs, feline leukemia screening, nail trims, ear cleaning and heartworm and flea prevention. Pets older than seven years old were also the subject of comprehensive blood work.
About Macomb's Veterinary Technician Program
Accredited by the American Veterinary Association and the American Animal Hospital Association, Macomb's degree program teaches students about animal handling and restraint, conducting examinations, collecting and analyzing specimens, assisting in surgeries, administering anesthesia and pre- and post-operative care. Graduates of the program consistently exceed the national average on the Veterinary Technician National Examination.
About Macomb Community College
Macomb Community College (www.macomb.edu) is one of the nation's leading community colleges, providing learning experiences to nearly 40,000 students annually. Macomb nationally ranks in the top two percent in the number of associate degrees awarded by community colleges and is the largest grantor of associate degrees in Michigan. The college's comprehensive educational programming includes pre-collegiate experiences, university transfer and career preparation programs, bachelor degree completion and graduate degree programs, workforce training, professional education and certification, and continuing education and enrichment opportunities.
Media Contact: Sean M. Patrick, 586.445.7271, patricks28@macomb.edu