Lorenzo Cultural Center announces winners of Tall Tales and Folklore art contest
– Wednesday, March 1, 2017 11:00AM
Artwork being displayed at cultural center through May 6
Jessica Gawinski, Clinton Township, was awarded first prize in the Lorenzo Cultural Center's first-ever art contest, held in conjunction with the Tall Tales and Folklore: Exploring Michigan's Traditional Stories, opening March 1 and running until  May 6. Gawinski took home the $250 top prize for her piece entitled Paul Bunyan, a colorful digital print on canvas.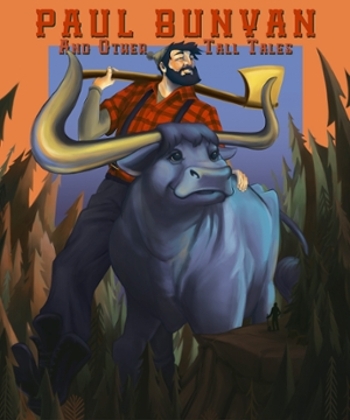 "Something about Paul Bunyan's nonchalant way of shaping the landscape has always stood out to me," said Gawinski. "When the giant logger carved the Great Lakes to provide a watering hole for his favorite blue ox, he shaped part of Michigan's identity. Tall tales don't get much taller than America's most beloved lumberjack."
Second prize went to Darleen Urbanek, Sterling Heights, for her painting The Tale of Sleeping Bear Dunes, which depicted the story of the origin of Sleep Bear Dunes National Landshore. Third prize was awarded to Camille Vitale, Macomb, for Wendigo Native American Legend, a colored pencil drawing.  
"The artwork we received demonstrated the artists' love for Michigan and the stories that have formed our cultural heritage," said William Wood, cultural affairs director, Macomb Community College. "Each artist took their personal interpretation of a Michigan tale and translated it in creative and beautiful ways. We are proud to have these pieces of art as part of the Tall Tales and Folklore exhibit."
Tall Tales and Folklore at the Lorenzo Cultural Center will give audiences a look into Michigan's heritage with presentations and exhibits on subjects ranging from investigations into the wreck of the Edmund Fitzgerald, songs from Michigan lumber camps, to a look at the mysterious disappearance of Jimmy Hoffa. Exhibits include a traveling display from Michigan State University and artifacts from other museums and local collectors.  The cultural center is located on the college's Center Campus in Clinton Township.
The presentations and exhibits are open to the public at no charge, but preregistration is required for presentations by calling 586.445.7348 or by emailing culturalcenter@macomb.edu.  No registration is required to view the exhibits.  The cultural center is open Wednesday through Saturday, 10 a.m. to 4 p.m., with extended hours on Thursday to 8 p.m.
A complete listing of Tall Tales and Folklore programming is available at: http://www.lorenzoculturalcenter.com/programming/how-to-register.html
About the Lorenzo Cultural Center
The Lorenzo Cultural Center (www.lorenzoculturalcenter.com) provides interactive learning opportunities for all ages, extending student discovery beyond classroom walls and creating multi-faceted experiences for community members to explore the influences and experiences that shape our community's heritage.
About Macomb Community College
Macomb Community College (www.macomb.edu) is one of the nation's leading community colleges, providing learning experiences to nearly 44,000 students annually. Macomb nationally ranks in the top two percent in the number of associate degrees awarded by community colleges and is the largest grantor of associate degrees in Michigan. The college's comprehensive educational programming includes pre-collegiate experiences, university transfer and career preparation programs, bachelor degree completion and graduate degree programs, workforce training, professional education and certification, and continuing education and enrichment opportunities.
Media Contact: Sean M. Patrick, 586.445.7271, patricks28@macomb.edu