Macomb Professor Brooke Allen honored by American Political Science Association for teaching innovation
– Monday, February 13, 2017 9:00AM
Brooke Allen, a political science professor at Macomb Community College, was honored by the American Political Science Association with the CQ Press Award for Teaching Innovation at its annual Teaching and Learning Conference held Feb.  10-12, 2017. Allen was recognized for a project, Gerrymandering as Art, that she developed to introduce first-year political science students to the intricacies of congressional redistricting.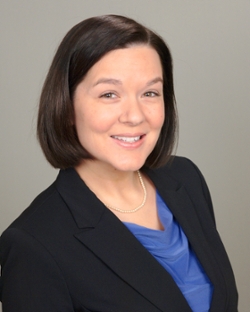 "It is gratifying to see Professor Allen recognized for the creativity she employs in her classroom," said James Sawyer, provost, Macomb Community College. "Through meaningful and interesting projects, Allen helps her students develop a better understanding of their coursework and how it applies to the real world."
Allen's project asked her students to research gerrymandering and its impacts. Each student chose a specific recently redistricted congressional district, learned about applicable redistricting laws, researched influencing factors such as political party affiliations and demographics, and determined who benefitted from the change. The students wrote a paper on their findings and were asked to also create poster board art that imaginatively depicted the new districts. One team's project portrayed two districts as closely resembling Donald Duck and Goofy, which were colored to represent the characters as well as the demographics of the area.
"I'm a strong believer in active learning," said Allen. "I try to introduce a project every semester to help my students think outside of the normal learning environment to discover the information in a fun and hands-on manner. I find this approach engages the students more fully and helps them understand complex issues."
Other projects Allen has developed for her classes include exit polling during the 2016 presidential election, a post-election videoconference discussion with her students and a group of students from UC Berkley, and a Supreme Court simulation.
Clinton Township resident Allen has taught at Macomb Community College since 2012. She received her PhD in political science from the University of Michigan in Ann Arbor and her master's degree from McMaster University in Hamilton, Ontario. 
About the American Political Science Association
Founded in 1903, the American Political Science Association is the leading professional organization for the study of political science and serves more than 13,000 members in more than 80 countries. With a range of programs and services for individuals, departments, and institutions, APSA brings together political scientists from all fields of inquiry, regions, and occupational endeavors within and outside academe to deepen our understanding of politics, democracy, and citizenship throughout the world.
About Macomb Community College
Macomb Community College (www.macomb.edu) is one of the nation's leading community colleges, providing learning experiences to nearly 44,000 students annually. Macomb nationally ranks in the top two percent in the number of associate degrees awarded by community colleges and is the largest grantor of associate degrees in Michigan. The college's comprehensive educational programming includes pre-collegiate experiences, university transfer and career preparation programs, bachelor degree completion and graduate degree programs, workforce training, professional education and certification, and continuing education and enrichment opportunities.
Media contact: Sean M. Patrick, 586.445.7271, patricks28@macomb.edu