New trustees sworn in, new officers elected by Macomb Community College board of trustees
– Thursday, January 19, 2017 12:00AM
Newly elected trustees Kristi Dean and Katherine Bracey Lorenzo were sworn in as members of the Macomb Community College Board of Trustees on Wednesday, Jan. 18. They were elected during the Nov. 8, 2016, general election and join the college's seven-member board of trustees.
Sworn in by Ray Dean, her father, Dean has been a Macomb County resident for more than 20 years and is a data manager with Blue Cross Blue Shield of Michigan. She earned her doctorate in organizational business from Capella University, master's degree in international business administration from Central Michigan University (CMU) and bachelor's degree in business administration from the Detroit College of Business. She has more than 12 years of teaching experience in the classroom, online and internationally, and is currently a professor of computer science at CMU. A Shelby Township resident, Dean is a precinct delegate and swim official with the Michigan High School Athletic Association.
Sworn in by Judge Joseph Toia, Macomb County Circuit Court, Lorenzo is a lifetime resident of the county and Macomb Community College professor emeritus of psychology, having served more than 35 years as a administrator and faculty member at the college. A graduate of Macomb, she completed her bachelor's and master's degrees, as well as post graduate work, at Wayne State University.  Much of her academic work focused on health psychology and complementary medicine. Lorenzo lives in Clinton Township and is a licensed professional counselor, motivational speaker, published author and charitable volunteer. 
The board also held their organizational meeting on Jan. 18, electing officers to serve for the upcoming two years. Jennifer Haase, Richmond, was elected as chair, having previously served as secretary. A member of the college's board since 2015, she is a former elementary school teacher and also served in the Michigan House of Representatives for one term. Frank Cusumano, Macomb Township, was elected as vice chair.  He has been a member of the college's board since 2012 and is a licensed attorney practicing primarily in Macomb County. Katherine Bracey Lorenzo, Clinton Township, was elected as secretary.  Roseanne DiMaria, Eastpointe, was re-elected as treasurer, an office she has held since 2012. DiMaria has served on the board since 1999 and is a retired surgical technician. Trustees Joseph DeSantis, Sterling Heights, and Vincent Viviano, Shelby Township, round out the seven-member board. Macomb Community College Trustees are elected through a nonpartisan, countywide election and serve six-year terms without compensation.  The board sets fiscal and operational policy, and serves as a direct link between the college and community.

About Macomb Community College
Macomb Community College (www.macomb.edu) is one of the nation's leading community colleges, providing learning experiences to nearly 44,000 students annually.  Macomb nationally ranks in the top two percent in the number of associate degrees awarded by community colleges and is the largest grantor of associate degrees in Michigan. The college's comprehensive educational programming includes pre-collegiate experiences, university transfer and career preparation programs, bachelor degree completion and graduate degree programs, workforce training, professional education and certification, and continuing education and enrichment opportunities.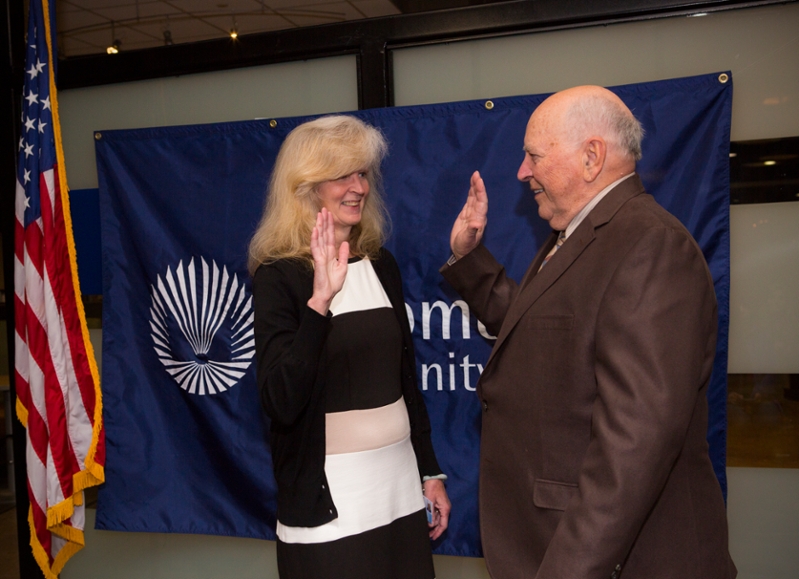 Kristi Dean, Shelby Township, is sworn in as a Macomb Community College trustee by
her father, Ray Dean.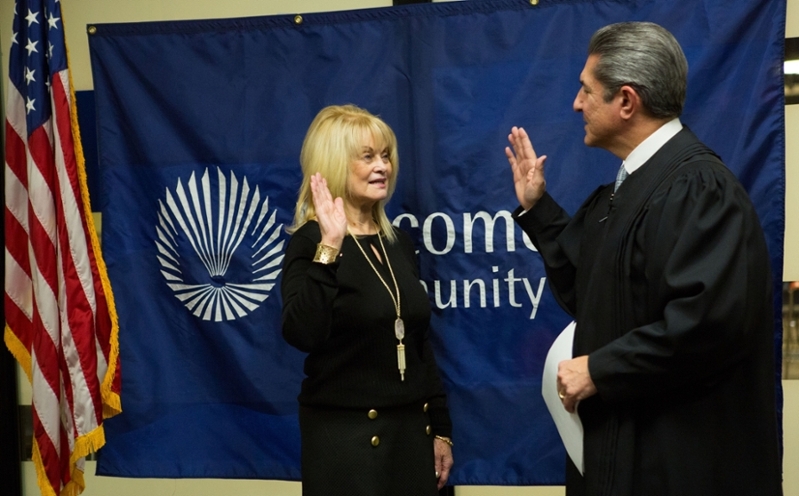 Katherine Bracey Lorenzo, Clinton Township, is sworn in by
Judge Joseph Toia, Macomb County Circuit Court.
Media Contact: Jeanne Nicol, 586.445.7204, nicolj@macomb.edu