Clinton Township's Festival of Senses Dog Parade on Sept. 24 supports Macomb Community College's foster kitten program
– Monday, September 19, 2016 12:00AM
'Dogs helping cats' event has helped to fund the vet tech program's efforts in fostering more than 200 kittens to date
Psst! Don't tell the dogs, but the funds raised from Clinton Township's Festival of the Senses Dog Parade benefit Macomb Community College's Foster Kitten Fund. At the same time, it is a fun kick-off to the annual festival, with dogs (and some owners) dressing in costume, a pet/owner look-a-like contest and best trick competitions.
This year's parade begins at 10:15 a.m., Saturday, Sept. 24, at the Clinton Township Civic Center on Romeo Plank Road. There is a $5 fee to participate in the parade, and registration can be made by contacting Lori Renda-Francis at 586.286.2096 or francisl@macomb.edu.
"The kittens stay in our 'kitten nursery' and are cared for and socialized by our students, faculty and staff," said Renda-Francis, professor and veterinary technician program director, Macomb Community College. "We raise them until they are old enough to be vaccinated and spayed/neutered. At that point, they're ready for adoption into forever homes."
Macomb became involved in the Festival of Senses five years ago when the township asked Renda-Francis for help in planning a kick-off event for the festival that at the same time would benefit a college program. Macomb's veterinary technician program had just begun a pilot to foster kittens from the Macomb Animal Shelter, so the opportunity came at the perfect time to provide funding to continue the effort.  In addition to the parade, Macomb veterinary technician students host a booth and answer residents' questions regarding pet care.
The 2016 Festival of the Senses will be held Sept. 24 - 25 from 10 a.m. to 5 p.m. at the Clinton Township Civic Center Grounds, 40700 Romeo Plank in Clinton Township. The event includes arts, music, food, history, children's activities and more.
About Macomb Community College
Macomb Community College (www.macomb.edu) is one of the nation's leading community colleges, providing learning experiences to nearly 44,000 students annually. Macomb nationally ranks in the top two percent in the number of associate degrees awarded by community colleges and is the largest grantor of associate degrees in Michigan. The college's comprehensive educational programming includes pre-collegiate experiences, university transfer and career preparation programs, bachelor degree completion and graduate degree programs, workforce training, professional education and certification, and continuing education and enrichment opportunities.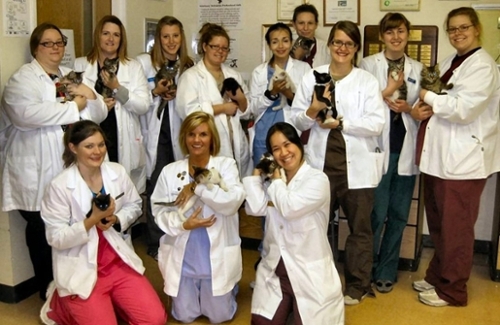 Lori Renda-Francis (center, kneeling), Macomb Community College veterinary technician program director, and vet tech students have been providing foster care for kittens from the Macomb County Animal Shelter for the past five years.
Media contact: Tish Wirth: 586.445.7560; wirthp@macomb.edu