Davenport University becomes newest partner at Macomb Community College's University Center
– Wednesday, May 4, 2016 12:00AM
Davenport will offer three degree programs this spring, adding another in the fall
Davenport University will become the newest partner to offer classes at Macomb Community College's University Center, which is located on the college's Center Campus in Clinton Township.  

"We are very excited about our new partnership with Macomb Community College," said Dr. Richard Pappas, president of Davenport University. "Students benefit from new programs that will be developed by the two institutions and from the first-class facilities and services offered by Macomb, as well as Davenport's own student services and academic programs."
This spring, Davenport will offer its medical case management and project technology management bachelor's degree programs and its technology management master's degree program at the University Center. This fall, it will begin offering its accounting fraud investigation bachelor's program at the center.
"Davenport University's partnership with the Macomb adds another valuable educational option to Macomb County residents to earn advanced degrees close to home," said Dr. James Jacobs, president, Macomb Community College. "We're gratified that Davenport has joined in our commitment to ensure that our community members have the education necessary for success in the New Economy."
Davenport joins 11 other colleges and universities offering bachelor degree completion and graduate degree programs at the Macomb University Center.  The University Center, which opened in 1991, currently offers approximately  75 programs to more than 3,000 students in partnership with Central Michigan University, Ferris State University, Madonna University, Michigan State University College of Osteopathic Medicine,  Northwood University, Oakland University, Rochester College, University of Detroit Mercy, Walsh College, Wayne State University and Western Michigan University.
About Davenport University
Founded in 1866, Davenport is a private, non-profit university serving about 8,500 students at campuses across Michigan and online. With tuition among the lowest of all private universities in the state, Davenport provides high academic quality, small class sizes, conveniently located campuses, faculty with real-world experience, and nearly 60 dynamic undergraduate and graduate programs addressing in-demand careers in business, technology, health professions and urban education. More information is available at www.davenport.edu.
About Macomb Community College
Macomb Community College (www.macomb.edu) is one of the nation's leading community colleges, providing learning experiences to nearly 48,000 students annually. Macomb nationally ranks in the top two percent in the number of associate degrees awarded by community colleges and is the largest grantor of associate degrees in Michigan. The college's comprehensive educational programming includes pre-collegiate experiences, university transfer and career preparation programs, bachelor degree completion and graduate degree programs, workforce training, professional education and certification, and continuing education and enrichment opportunities.
Media Contact: James Melton, 586.445.7271, meltonj@macomb.edu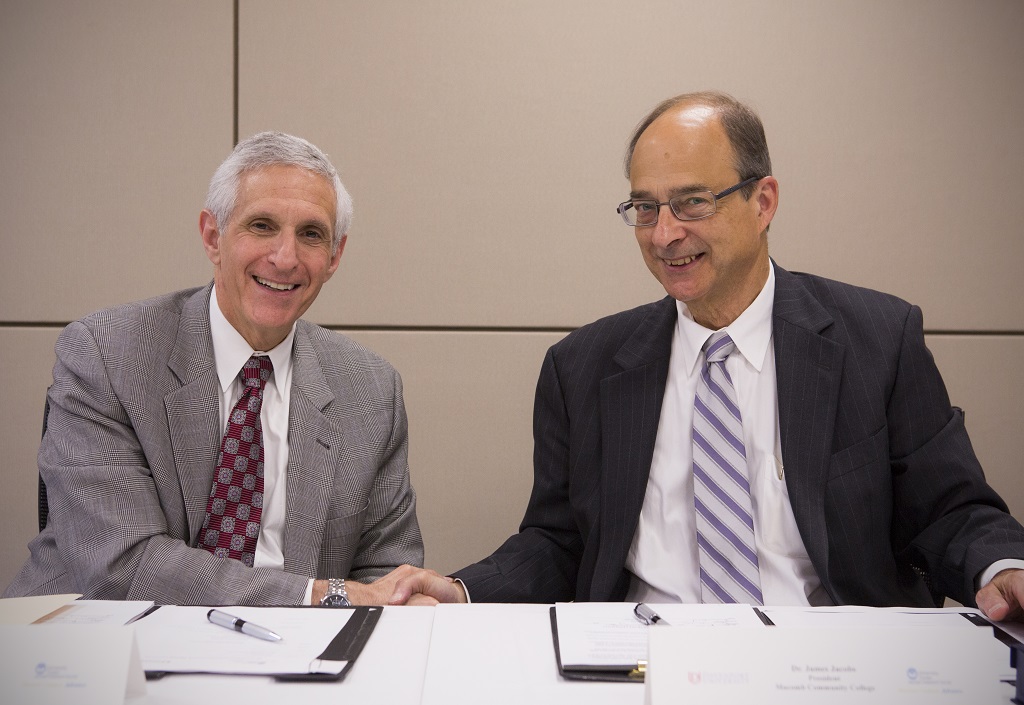 Photo information: 
Dr. Richard Pappas, president of Davenport University (left), and Dr. James Jacobs, 
president, Macomb Community College, signed an agreement on May 3 making Davenport
the newest partner to offer classes at Macomb Community College's University Center.