Macomb Community College faculty award annual scholarships
– Thursday, October 1, 2015 12:00AM
The Macomb Community College Faculty Organization (MCCFO) has awarded scholarships to four Macomb students nominated by faculty members. The faculty scholarship program has been in place for 39 years and is primarily funded by donations from faculty, although friends and family have contributed in the memory of faculty members. To date, MCCFO has awarded 179 scholarships.
To be eligible for one of the scholarships, students must attend Macomb full time, have completed a minimum of 24 credit hours and maintained a 3.5 grade point average.
This year's recipients of the $1,500 scholarships are:
Domenico Consiglio, Shelby Township, Arts and Science Award for Center Campus
Monique Roberts, Warren, Andy Drotar Award for Occupational Education for South Campus
Israth Rahman, Warren, Lloyd Raskin Award for Arts and Sciences for South Campus
Katie William-Campbell, Chesterfield Township, Occupational Education for Center Campus
About Macomb Community College
Macomb Community College (www.macomb.edu) is one of the nation's leading community colleges, providing learning experiences to nearly 48,000 students annually. Macomb nationally ranks in the top two percent in the number of associate degrees awarded by community colleges and is the largest grantor of associate degrees in Michigan. The college's comprehensive educational programming includes pre-collegiate experiences, university transfer and career preparation programs, bachelor degree completion and graduate degree programs, workforce training, professional education and certification, and continuing education and enrichment opportunities.
Media contact: Tish Wirth: 586.445.7560; wirthp@macomb.edu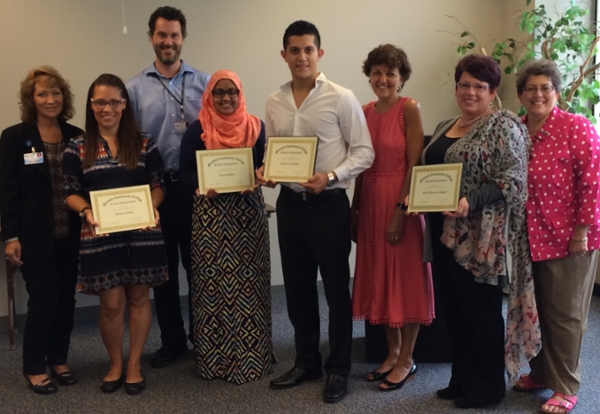 The MCCFO scholarship recipients, standing next to their nominating faculty member, are (l to r): Laurie Niemer, respiratory therapy instructor; Monique Roberts, Matthew Cross, political science professor;  Israth Rahman; Domenico Consiglio, Mona Wahby, chemistry professor; Katie Williams-Campbell and Donna Domanke-Nuytten, health and human services professor.