Three Macomb Community College faculty members receive award for excellence in teaching
– Thursday, May 14, 2015 12:00AM
Three Macomb Community College faculty members are recipients of the 2015 National Institute for Staff and Organizational Development (NISOD) Excellence Award, which recognizes community and technical college educators who have demonstrated an outstanding commitment and contribution to their students and colleagues.
Macomb faculty receiving the awards are  Janice Grant, of Shelby Township, an adjunct instructor in applied technology, automotive and technical education; Joseph Michalewicz, of Macomb Township, biology professor; and Susanna Williams, of Grosse Pointe Park, a foreign language professor.
To be eligible, faculty members must submit an essay detailing their teaching philosophy and receive a recommendation from the dean in their academic area. Nominations are then sent to NISOD, which is a membership organization committed to promoting and celebrating excellence in teaching, learning and leadership at community and technical colleges.
Macomb has participated in the NISOD Excellence Awards since 1992. Since then, 124 awards have been granted to Macomb faculty.  This year, 803 educators nationwide were recognized with NISOD Excellence Awards.
About NISOD
The National Institute for Staff and Organizational Development, based in Austin, Texas, is a consortium of community and technical colleges that share a philosophical commitment to support excellence in teaching, learning, and leadership. NISOD's activities and programs are based on the premise that teaching excellence is a result of concerned and focused leadership, increased awareness and use of adult learning principles strengthened by exemplary teaching practices and technologies, and a profound commitment to teaching excellence and student success.
About Macomb Community College
Macomb Community College (www.macomb.edu) is one of the nation's leading community colleges, providing learning experiences to nearly 48,000 students annually. Macomb nationally ranks in the top two percent in the number of associate degrees awarded by community colleges. The college's comprehensive educational programming includes pre-collegiate experiences, university transfer and career preparation programs, bachelor degree completion and graduate degree programs, workforce training, professional education and certification, and continuing education and enrichment opportunities.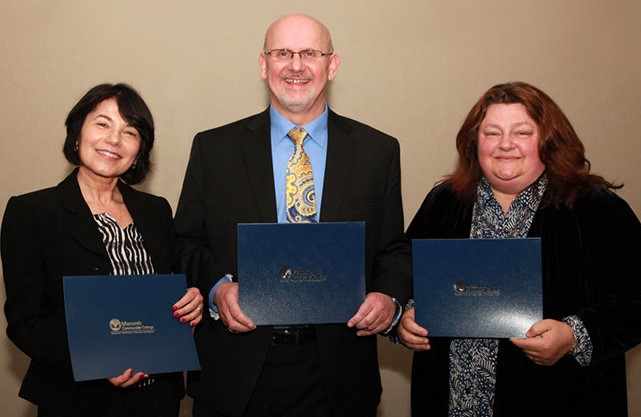 Macomb Community College faculty members who recently received
the NISOD Excellence Awards  (l to r) Susanna Williams, Joseph Michalewicz
and Janice Grant.
Media Contact: Tish Wirth: 586.445.7560; wirthp@macomb.edu