Macomb Community College partners with industry to help resurrect a dying "art" critical to automakers
– Monday, April 27, 2015 12:00AM
College's new digital sculptor program features training in hard-to-find clay modeling skills  
A lot has changed since the days when automotive design legends Harley J. Earl and Frank Hershey put tail fins on Cadillacs. But while the demand for clay modeling – the art of making three-dimensional design prototypes from malleable industrial plasticine – ebbed initially in favor of digital rendering, it has come roaring back.
"Computer-aided design has revolutionized design in amazing ways," said Joseph Petrosky, Macomb Community College dean, engineering and advanced technology. "But, in some instances, nothing beats the ability to look at, walk around, touch, and fine-tune the curves and angles on a clay model. Employers need staff with skills in both areas. Macomb's new digital sculptor program will help fill a talent pipeline that has been neglected for a generation."
Finding skilled digital sculptors with clay modeling experience has become a challenge for automakers, auto suppliers and other employers because few design programs teach these skills. To help meet the demand, Macomb's new digital sculptor associate degree program will be launched in August. It will be the only two-year degree program in southeast Michigan to include clay modeling in addition to digital design and milling.
The program was designed with industry input to ensure graduates possess the knowledge and skills required for entry-level positions in industrial design studios. Those who are both technical and creative are best suited for the field.  According to the college's research, the average local entry level salary for graduates of a digital sculptor associate degree is expected to be $67,500.
While Macomb's new program has been structured to develop skills needed by the auto industry, clay modeling is also in demand in many industries and in Hollywood.

'From art to part'
Locally, General Motors Co. employs about 400 clay and digital sculptors at its Technical Center in Warren. With normal attrition, the company needs to hire an average of about 20 clay and digital sculptors per year for that facility alone, said William Mattana, senior manager, creative sculpting at GM. The company also uses clay and digital sculptors at a design studio in North Hollywood, Calif., and several facilities around the world.
Mattana, a journeyman model  maker who has been a creative clay sculptor and supervisor of clay sculptors for 31 years, helped develop Macomb's curriculum, calling on his experience teaching a clay modeling certificate program for about 10 years at Detroit's College for Creative Studies. He sees GM's involvement with Macomb as good for students and the company. In addition to helping develop the program, GM is donating the clay that will be used in the clay-modeling classes. 
"GM is always interested in giving back to the community," Mattana said. "We also think the program will be good for our business. Every aesthetic component of a car is designed on computers and modeled in clay prior to the creation of a prototype. We look for people who can support the design process from art to part."
Mattana said Macomb's digital sculptor program will help fill the talent pipeline more quickly than four-year programs. It also will train the kind of "triple threat" workers GM looks for – those able to do computer modeling, clay sculpting and also operate the computer-controlled milling machines used to create forms that are then refined by hand.  
ASC Inc. provides space and expertise
The clay modeling portion of the degree program will be taught at the Warren headquarters of transportation design firm ASC Inc., which hosted a pilot clay modeling course for Macomb in 2014. At ASC, students will be taught by Macomb instructors with participation and mentoring from ASC professionals who have been getting plasticine clay on their hands for decades.

Joseph M. Bione, president and CEO of ASC, said the Macomb program fills a need because many of the best clay modelers are nearing the end of their careers. In some cases, companies depend on craftsmen who are past the traditional retirement age and often willing to work only part time.
"We see this partnership as a way to utilize some of our highly skilled artisans in ways that will serve our industry, the students, our clients and ourselves in a powerful way," Bione said. "By working with Macomb Community College, we can help keep clay modeling alive, enhance the company's reputation as an industry leader and enhance the career prospects of talented students."
A hybrid skills approach
Lloyd VandenBrink, a Ford Motor Co. modeling manager who has been with the company for more than 20 years, was among those who helped develop curriculum for the digital sculptor degree. He said Ford has been enthusiastic about Macomb's program from the beginning. Only a handful of schools currently teach clay modeling, he said, in part because of the perception that it would be replaced by digital processes.
"The pendulum has swung back and settled into a hybrid of digital and clay modeling," VandenBrink said. "Some things are better if they are done digitally. Others are better if they are done with clay."
VandenBrink said Ford's Design Center currently employs between 100 and 200 modelers, including both physical and digital modeling.
From classroom to studio

Ariana Patriquin of Macomb Township, 22, one of five Macomb students who participated in the pilot clay modeling class last year, said the experience "was a wonderful opportunity for me" and that her education at Macomb – which also included courses in 3-D animation and vehicle design – has already opened up new opportunities for her. 
Since last July, Patriquin has been employed full-time as a creative digital sculptor in GM's Cadillac exterior design studio.  She believes the work she completed in the clay modeling course "gave my portfolio an extra edge" and probably helped her land the position.
Based on her experience, Patriquin said she is "very much interested" in enrolling in Macomb's new degree program.
"The interaction with staff at ASC was truly wonderful … " Patriquin said.  "In addition, the Macomb instructors were grade 'A' awesome. They are in industry and have the most accurate knowledge of how the skills being taught would be transferred within real-world scenarios."

Macomb's digital sculptor associate degree program is designed to directly prepare graduates for work industrial design studios. The 64-credit program, which will be offered beginning the fall 2015 semester, focuses on the development of both technical and creative proficiencies, preparing graduates for jobs such as digital sculptor, industrial designer and clay modeler.  Students will learn skills including: rendering, basic and advanced clay modeling, basic and advanced Alias software, computer-numerical-controls (CNC) and presentation techniques. 
Local employers expect demand for digital sculptors to continue to increase over the next five years – locally as well as statewide and nationally. This program will offer an exciting, well-paying new career option for people with technical ability and a strong creative side. It also will also help respond to the automakers' need for highly skilled employees with clay modeling skills.
 
About Macomb Community College
Macomb Community College (www.macomb.edu) is one of the nation's leading community colleges, providing learning experiences to nearly 48,000 students annually.  Macomb nationally ranks in the top two percent in the number of associate degrees awarded by community colleges.  The college's comprehensive educational programming includes pre-collegiate experiences, university transfer and career preparation programs, bachelor degree completion and graduate degree programs, workforce training, professional education and certification, and continuing education and enrichment opportunities.
 Media Contact: James Melton, 586.445.7271, meltonj@macomb.edu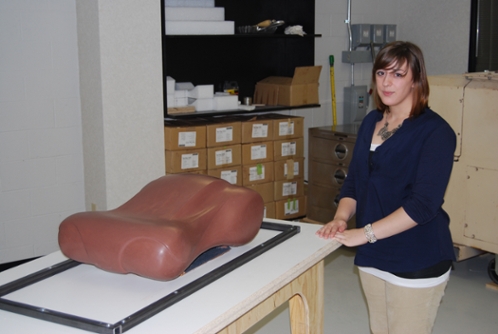 Macomb Community College student Ariana Patriquin in the
college's pilot clay modeling class taught at the Warren headquarters 
of ASC Inc.