Frank Cusumano, Jennifer Haase and Vince Viviano sworn in as Macomb Community College Trustees
– Monday, January 12, 2015 12:00AM
Re-elected trustee Frank Cusumano and newly elected trustees Jennifer Haase and Vince Viviano were sworn in as members of Macomb Community College's Board of Trustees on Tuesday, Jan. 6, by Michigan Supreme Court Justice David F. Viviano.  The three trustees were elected during the Nov. 4, 2014, general election and join the college's seven-member board of trustees.   
A Macomb Township resident since 1989, Cusumano is a licensed attorney, practicing primarily in Macomb County, and is a sole practitioner whose work focuses on everyday people with everyday legal problems.  He earned his law degree from University of Detroit Mercy and holds a bachelor of arts degree in political science and philosophy from the University of Michigan. Cusumano is president of the Columbus Day Celebration Committee and president of the Altermatt Farms Subdivision Association in Macomb Township.  He is married and has five children, three of whom attend Utica Community Schools.  The swearing-in ceremony was attended by Cusumano's two eldest daughters, Roma, who attends Michigan State University, and Francesca, who attends the University of Michigan.  
A lifelong resident of Macomb County, Haase earned a bachelor's degree in elementary education from Alma College, master's degree in reading and language arts from Oakland University and is a certified reading specialist.  She taught elementary school in Warren Woods Public Schools for 10 years.  She was elected to the Michigan House of Representatives in 2008 and served on the Education, Ethics and Elections, Agriculture, Commerce and Health Policy committees during her two-year term.  Haase currently serves on the Lois Wagner Memorial Library Board of Trustees in Richmond, where she lives with her husband and two young children.  
Shelby Township resident Viviano, a community relations and park coordinator for the Macomb County Department of Roads, has more than 20 years experience in the banking and financial services industry, focused on community development. A lifelong Macomb County resident, he has served as a marine safety reserve officer for the Macomb County Sheriff's Office for the past 10 years and is actively involved in a number of civic and philanthropic causes, including Turning Point domestic violence shelter, Henry Ford Macomb Hospitals Ambassador Club and Philanthropy Council, Athletes with Disabilities, Italian American Chamber of Commerce, Italian American Cultural Center and Fraternal Order of Police, Lodge 112.  
Macomb Community College's Board of Trustees is composed of seven trustees who are selected through a nonpartisan, countywide election and serve six-year terms without compensation.  Cusumano, Haase and Viviano are joining currently serving trustees Christine Bonkowski, Clinton Township; Joseph DeSantis, Sterling Heights; Roseanne DiMaria, Eastpointe; and James F. Kelly, Eastpointe. The board approves budgets, develops policies in accordance with education needs and serves as a direct link between the college and community.  
About Macomb Community College
Macomb Community College (www.macomb.edu) is one of the nation's leading community colleges, providing learning experiences to nearly 48,000 students annually.  Macomb nationally ranks in the top two percent in the number of associate degrees awarded by community colleges.  The college's comprehensive educational programming includes pre-collegiate experiences, university transfer and career preparation programs, bachelor degree completion and graduate degree programs, workforce training, professional education and certification, and continuing education and enrichment opportunities.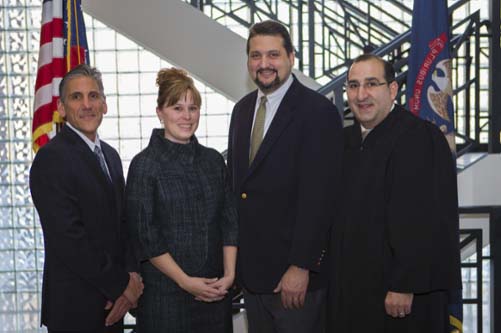 Newly elected trustees (from left) Vince Viviano and Jennifer Haase and re-elected trustee Frank Cusumano were sworn in as members of Macomb Community College's Board of Trustees by Michigan Supreme Court Justice David F. Viviano on Tuesday, Jan. 6.   

Media Contact:  Jeanne M. Nicol, nicolj@macomb.edu, 586.445.7204