Macomb Community College Board of Trustees elects officers
– Thursday, January 22, 2015 12:00AM
On January 20, the Macomb Community College Board of Trustees elected officers to serve for the upcoming two years.   
James F. Kelly, Eastpointe, was re-elected as chair.  A member of the college's board since 2005, this is Kelly's third consecutive term as chair.  He is a former mayor and council member for the City of Eastpointe and works in the field of human services.
Christine Bonkowski, Clinton Township, was re-elected as vice chair.  She was first elected to the college's board in 1984 and has served as vice chair since 2010.  Bonkowski is a retired customer service representative for General Motors Acceptance Corporation (now Ally Financial).
Roseanne DiMaria, Eastpointe, was re-elected as treasurer, a position she has held since 2012.  DiMaria has served on the board since 1999 and is a retired surgical technician.  
Jennifer Haase, Richmond, was elected as secretary.  She is beginning her first term on the board.  Haase is a former elementary school teacher and also served in the Michigan House of Representatives for one term.  
Trustees Frank Cusumano, Macomb Township; Joseph DeSantis, Sterling Heights, and Vince Viviano, Shelby Township, round out the seven-member Macomb Community College Board of Trustees, who are selected through a nonpartisan, countywide election and serve six-year terms without compensation.  The board sets fiscal and operational policy, and serves as a direct link between the college and community.


About Macomb Community College
Macomb Community College (www.macomb.edu) is one of the nation's leading community colleges, providing learning experiences to nearly 48,000 students annually.  Macomb nationally ranks in the top two percent in the number of associate degrees awarded by community colleges.  The college's comprehensive educational programming includes pre-collegiate experiences, university transfer and career preparation programs, bachelor degree completion and graduate degree programs, workforce training, professional education and certification, and continuing education and enrichment opportunities.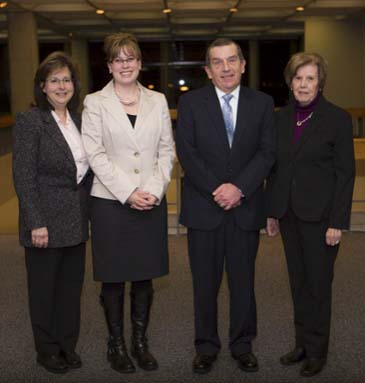 Macomb Community College Board of Trustees officers (from left):
Roseanne DiMaria, treasurer;Jennifer Haase, secretary; James F. Kelly, chair;
and Christine Bonkowski, vice chair.
Media Contact: Jeanne M. Nicol, 586.445.7204, nicolj@macomb.edu