Macomb Community College honors a law-enforcement professional with four legs
– Thursday, December 11, 2014 12:00AM
Drug-sniffing dog joined 34 police academy graduates at Dec. 10 ceremony

The 34 police cadets who graduated from Macomb Community College's  Police Academy on Dec. 10 were joined by an honoree who will never carry a gun or drive a squad car, but is a trained law-enforcement professional in his own way.
Bandit, a recently certified drug-sniffing dog  owned and trained by newly graduated cadet Maria Lindstrom, was presented with an honorary associate degree in recognition of his participation in the college's law enforcement degree program. Over the past year, Lindstrom brought Bandit to a number of the classes she took to complete her associate degree, demonstrating how dogs are used in police work. That made the year-old black Labrador retriever an informal mascot. 
"Bandit became a beloved member of Macomb's law enforcement program," said Carl Seitz, director, Macomb Public Service Institute, which includes the Macomb Police Academy.  "We thought it was fitting to recognize Bandit's contributions to the training and education of our students."

The academy's graduation ceremony was held at the Macomb Center for the Performing Arts, located on Macomb's Center Campus in Clinton Township. The Macomb Public Service Institute is located on the college's East Campus, which is in northeast Clinton Township.
In addition to graduating from the academy, Lindstrom has also earned her associate degree in law enforcement from Macomb. She was hired as an officer for the New Baltimore Police Department and will be formally sworn in Jan. 4. Lindstrom hopes to eventually become a canine officer like her father, New Baltimore Police Officer Tim Lindstrom.
Lindstrom said her training at Macomb was physically and academically challenging and makes her feel well prepared for her law enforcement career.
"I pushed myself a lot," Lindstrom said. But along with the hard work came good friendships with her fellow cadets, a strong bond with the instructors at Macomb – and a job.
Including Lindstrom, at least 10 of the cadets who graduated from the Macomb Police Academy on Dec. 10 have job offers. 
"Career opportunities for aspiring police officers are better than they have been in several years, thanks in part to an improving economy and a surge in police retirements," Seitz said. "Macomb's graduates are sought after because of the comprehensive training we offer. Our academy exceeds state-mandated standards and includes training with the latest law-enforcement technology and equipment."
For the past several years, about 70 percent of Macomb's cadets have been employed in law enforcement within a year of their graduation from the academy. 

One of 17 regional police academies within the State of Michigan, the Macomb Police Academy provides cadets access to the latest law enforcement technology and equipment, including fully equipped late-model training vehicles, firearms, related firearm accessories, radios and body armor. In addition, the Macomb Police Academy offers academic support and job placement assistance to all cadets.
Every police department in Oakland and Macomb counties employs Macomb graduates, as well as many departments in Wayne and St. Clair counties.  Macomb graduates also serve in the police departments of Wayne State University, Oakland University, and Michigan State University, along with the Border Patrol, the Grand Traverse County Sheriff's Office and many other law-enforcement organizations.

About Macomb Community College
Macomb Community College (www.macomb.edu) is one of the nation's leading community colleges, providing learning experiences to nearly 48,000 students annually.  Macomb nationally ranks in the top two percent in the number of associate degrees awarded by community colleges.  The college's comprehensive educational programming includes pre-collegiate experiences, university transfer and career preparation programs, bachelor degree completion and graduate degree programs, workforce training, professional education and certification, and continuing education and enrichment opportunities.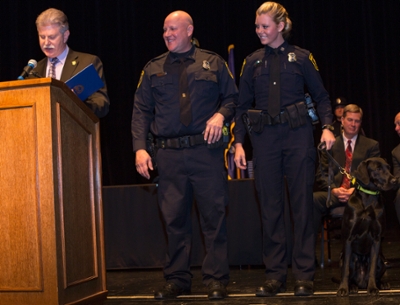 A Labrador retriever named Bandit was awarded an honorary associate degree at the Dec. 10
Macomb Community College Police Academy graduation ceremony. From left: Carl Seitz, director,
Macomb Public Service Institute; New Baltimore Police Officer Tim Lindstrom; New Baltimore Police
Officer Maria Lindstrom; and Bandit.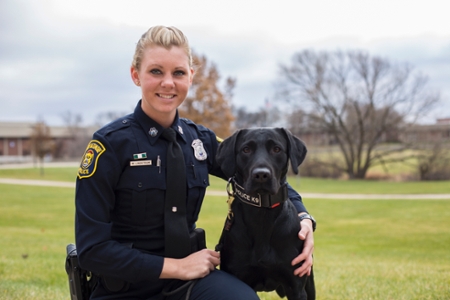 New Baltimore Police Officer Maria Lindstrom and her dog, Bandit. Lindstrom, who trained
Bandit as a drug-sniffing dog, brought him to law-enforcement classes at Macomb Community
College, making him an informal mascot.
Media Contact: James Melton, 586.445.7271, meltonj@macomb.edu