Macomb Community College professor plans annual springtime trip to the home of Big Ben and Buckingham Palace
– Friday, September 5, 2014 12:00AM
For the 29th consecutive year, Philip Barrons, Macomb Community College professor of humanities, will lead a weeklong trip to London, England, open to Macomb students, alumni, faculty and staff, as well as the public. The college-sponsored trip coincides with the college's spring break, March 6 to 14, 2015.
"Part of the college mission is provide enrichment opportunities," said Barrons. "We've had more than 1,000 travelers join us since we first offered this opportunity in 1986, and nothing brings me greater joy than when I hear someone say that the experience has opened the world to them."
Barrons designs the trip to be an opportunity for self-discovery, allowing plenty of time for travelers to pursue their own interests. He provides guidance and direction.
The cost is $1,900 per person and includes round-trip airfare, lodging for seven nights at a central London hotel, bus transfer between the airport and hotel, and a half-day guided sightseeing bus tour. Reservations for the trip will be accepted beginning Wednesday, Oct. 1, with a deposit of $380. Subsequent payments of $380 are due on Nov. 15, Dec. 15, Jan. 15 and Feb. 1.  The first payment must be made in person at the college's South Campus cashier's office, Building G, Room 302. Travelers must be at least 18 years or traveling with a parent. 
For more information about the trip, call Barrons at 586.445.7354 or 586.445.7018.
About Macomb Community College
Macomb Community College (www.macomb.edu)  is one of the nation's leading community colleges, providing learning experiences to nearly 48,000 students annually.  Macomb nationally ranks in the top two percent in the number of associate degrees awarded by community colleges. The college's comprehensive educational programming includes pre-collegiate experiences, university transfer and career preparation programs, bachelor degree completion and graduate degree programs, workforce training, professional education and certification, and continuing education and enrichment opportunities.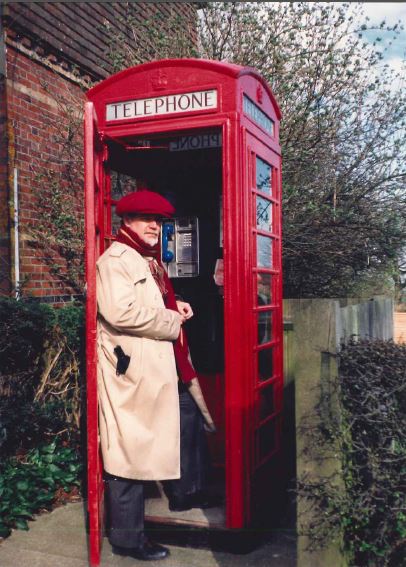 Phil Barrons, professor of humanities at Macomb Community College, steps into a classic British phone booth during one of his annual trips to London. He is leading his 29th consecutive college-sponsored trip to London in March.
###



Media Contact:  Tish Wirth, 586.445.7560, wirthp@macomb.edu