Macomb Community College's M-TEC plays key role in modernization of Warren manufacturing facility
– Thursday, June 5, 2014 12:00AM
The Fordsell Machine Products plant is cleaner, leaner and more competitive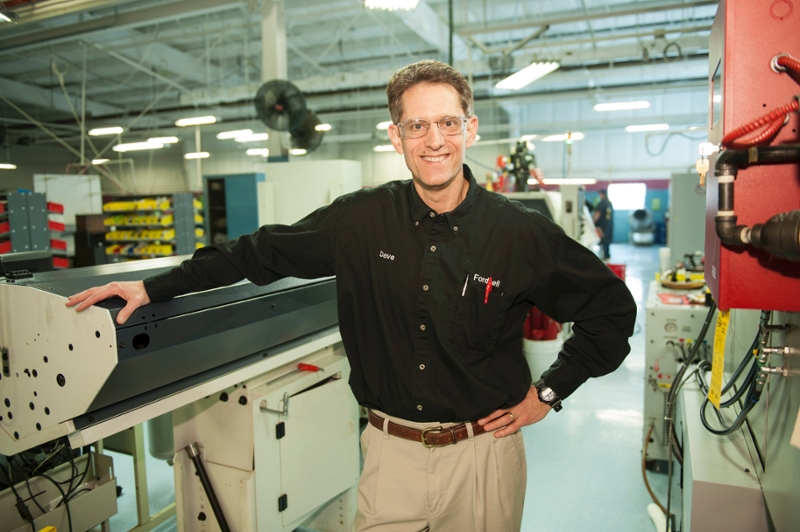 In 2013, the owners of Warren-based Fordsell Machine Products Co., a manufacturer of custom, precision-turned parts and assemblies, had a vision for growth. It started with transforming the company's plant on Ryan Road into a cleaner, better-lit and more modern environment. The rehab project would turn out to be more than a facelift. It would facilitate other changes, ultimately making the entire operation more efficient, more productive and a better place to work.
Achieving those goals required expertise Fordsell did not have in-house, but affordable help was available. Thanks in part to advice from the Macomb County Department of Planning and Economic Development, Fordsell found the support it needed at Macomb Community College's Michigan Technical Education Center (M-TECsm). M-TEC offered valuable support for what became a sweeping transformation of Fordsell's plant, which has operated since 1946.
In less than a year, Fordsell's plant was updated to meet the company's current needs and take advantage of modern lean manufacturing concepts.
"It was their project," said Holger Ekanger, Macomb's director of Workforce and Continuing Education, Engineering and Advanced Technology. "Fordsell knew what itsgoals were. What we did was bring in the right resources to help them figure out how to get from where they were to where they needed to be."
David Redfield, president and co-owner of Fordsell, said the decision to modernize the facility started with the need to meet the stringent cleanliness requirements of a specific customer. That, in turn, led management to think more broadly about how the plant should look and operate. 
"Our challenge began as a need to supply clean parts to our customer that builds hydraulic valves," Redfield said. "Their technical requirements became the building block and guiding principle. However, we envisioned a much larger company initiative: To provide a clean, modern, well-lit environment for our customers' parts, our current and future employees and our electronic equipment. We wanted our physical environment to be more supportive of the level of complexity of our work."
M-TEC brought in two consultants to help analyze Fordsell's requirements and make recommendations for a new plant layout. The first consultant helped Fordsell implement lean manufacturing principles, which included a SWOT (strengths, weaknesses, opportunities and threats) analysis of the current and future layout of the facility. That work also involved value-stream mapping, which analyzes the flows of materials and information, and a "spaghetti diagram," a tool used by engineers to help them visualize the flow of material and information and propose possible improvements. The second consultant then used the recommendations of the lean consultant and Fordsell's management team to create the new plant layout in a computer-aided design (CAD) drawing.
Redfield said M-TEC's help was "critical" to Fordsell's project. "It was clearly an enabling set of services," Redfield said. "We could not have accomplished our objective without the expertise of Macomb Community College."
That process of remaking Fordsell's facility started in March 2013, was completed in January 2014 and involved four staff members from Macomb.
Once the plan was made with M-TEC's help, the rehab of the plant included investments by Fordsell in new parts-cleaning equipment and a complete reconfiguration of all production and support equipment in the plant. Building improvements included painting the entire interior of the plant and the application of a commercial-grade epoxy on the floor, making the production area easier to keep clean.
The transformation is striking. Not only does the Fordsell plant look better, it also operates better and provides a more pleasant environment for the employees, Redfield said. A video about the project is available here: http://youtu.be/unw7oKJLmYY .
About Fordsell
Fordsell Machine Products, founded in 1946, is a Warren-based manufacturer of custom, precision turned parts and assemblies, serving hydraulic, pneumatic and medical equipment customers. Fordsell is registered ISO 9001:2008 and is a member of leading industry associations including the Precision Machined Products Association and the National Fluid Power Association.
About the Macomb M-TEC
Macomb Community College's Michigan Technical Education Center (M-TEC) is the college's headquarters for its engineering and advanced technology workforce and continuing education team. M-TEC works with businesses from small startups through large corporations, providing consulting services, and workforce training and education solutions. M-TEC is a 40,600 square foot facility providing education and training in advanced integrated manufacturing, automated systems and robotics. M-TEC works across multiple industry sectors and in collaboration with employers to develop and deliver customized solutions addressing the technical talent pipeline at every level of an organization or industry sector.

About Macomb Community College
Macomb Community College (www.macomb.edu) is one of the nation's leading community colleges, providing learning experiences to nearly 48,000 students annually. Macomb nationally ranks in the top two percent in the number of associate degrees awarded by community colleges and as the largest grantor of associate degrees in Michigan. The college's comprehensive educational programming includes pre-collegiate experiences, university transfer and career preparation programs, bachelor degree completion and graduate degree programs, workforce training, professional education and certification, and continuing education and enrichment opportunities.
# # #
Media Contact: James Melton, 586.445.7271, meltonj@macomb.edu