Macomb Community College receives $10,000 donation from AT&T to help fund summer career academies
– Friday, June 27, 2014 12:00AM
The academies offer teens the chance to explore careers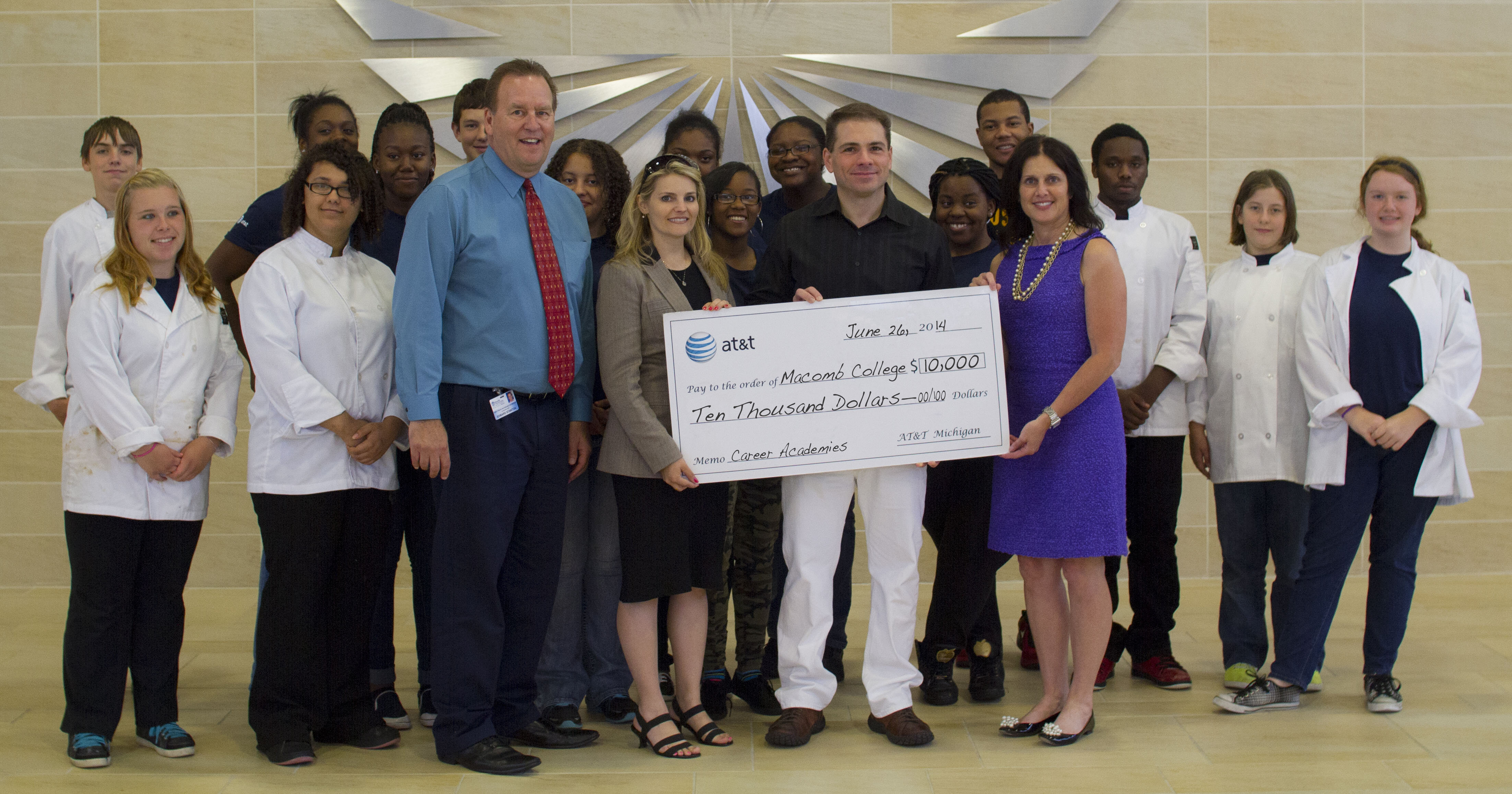 AT&T was joined by state Sen. Tory Rocca (R-Sterling Heights) yesterday to present a donation for $10,000 to Macomb Community College to help fund the school's summer career academies, which offer area high-school students a chance to explore potential careers through hands-on learning experiences guided by professionals in those fields.
"AT&T is excited to come alongside high school students who are considering their career path, as we continue to build 
the 21st Century economy," said AT&T Michigan President Jim Murray. "Macomb Community College is a tremendous partner, and we are proud to work with them to make a difference in students' lives."
This year, approximately 145 students ages 14 and up are participating in the eight career academies that Macomb is offering: Law Enforcement, Fire and EMT; Culinary/Pastry Arts; Media and Communication Arts; Robotics; Hybrid Electric Vehicles; Veterinary Technician; Biotechnology; and I.T. Gaming.
Thanks to the AT&T grant, the fee for many of the programs was reduced by nearly half from last year's rates. In addition, the college was able to offer the Hybrid Electric Vehicle Career Academy at no charge, supported both by the AT&T grant and the college's National Science Foundation-funded Center for Advanced Automotive Technology.
"High school students in Macomb County have an incredible opportunity to explore the careers of tomorrow because of the partnership between Macomb Community College and AT&T," said Sen. Rocca. "We've taken some positive steps towards turning Michigan's economy around, and with exciting programs like these, the future only looks brighter."
James Jacobs, president of Macomb Community College, said AT&T's gift helped make a difference to students at a crucial stage of their lives.
"Providing affordable educational opportunities is one of the most important ways businesses can make a positive impact on the community," Jacobs said. "Macomb's summer career academies are set up not only to teach, but also to be a catalyst for further education after high school. By interacting with people actually in those fields, students see first-hand how education and training can be a pathway to a good, rewarding job."
 About AT&T
AT&T Inc. (NYSE:T) is a premier communications holding company and one of the most honored companies in the world. Its subsidiaries and affiliates – AT&T operating companies – are the providers of AT&T services in the United States and internationally. With a powerful array of network resources that includes the nation's most reliable 4G LTE network, AT&T is a leading provider of wireless, Wi-Fi, high-speed Internet, voice and cloud-based services. A leader in mobile Internet, AT&T also offers the best wireless coverage worldwide of any U.S. carrier, offering the most wireless phones that work in the most countries. It also offers advanced TV service with the AT&T U-verse® brand. The company's suite of IP-based business communications services is one of the most advanced in the world. Additional information about AT&T Inc. and the products and services provided by AT&T subsidiaries and affiliates is available at http://www.att.com/aboutus. On social media, follow AT&T
 on Twitter at @ATT, on Facebook at http://www.facebook.com/att and YouTube at http://www.youtube.com/att.

About Macomb Community College
Macomb Community College (www.macomb.edu) is one of the nation's leading community colleges, providing learning experiences to nearly 48,000 students annually. Macomb nationally ranks in the top two percent in the number of associate degrees awarded by community colleges and as the largest grantor of associate degrees in Michigan. The college's comprehensive educational programming includes pre-collegi
ate experiences, university transfer and career preparation programs, bachelor degree completion and graduate degree programs, workforce training, professional education and certification, and continuing education and enrichment opportunities.
Media Contact: James Melton, 586.445.7271, meltonj@macomb.edu
#  #  #

PHOTO INFORMATION:
From left to right: Ed Stanton, director of admissions and outreach, Macomb Community College; Casandra Ulbrich, vice president for college advancement and community relations, Macomb; state Sen. Tory Rocca; and Lori Doughty, director of external affairs, AT&T.