Medical Assistant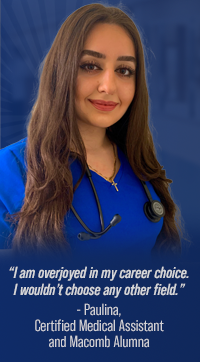 In this program, you will learn anatomy and physiology, medical office procedures, diagnostic procedures and laboratory procedures, including urinalysis, hematology, microbiology and blood chemistry. You will learn how to complete medical insurance forms; calculate, prepare and administer pharmaceuticals; and practice the basic skills of phlebotomy, as you prepare to assist physicians and health care providers, including physician assistants and nurse practitioners, in medical facilities and clinics. The minimum expectation is to prepare competent entry-level medical assistants in the cognitive (knowledge), psychomotor (skills), and affective (behavior) learning domains.
The program prepares you to be eligible to take the CMA (AAMA) certification examination to become a Certified Medical Assistant (AAMA) or CMA (AAMA).
Program Outcomes:
| Date | Retention | Job Placement | Exam Passage |
| --- | --- | --- | --- |
| 2018 | 69.23% | 62.50% | 91.67% |
Top 3 Reasons to Choose Macomb for Medical Assistant
The five-year satisfaction rate of both graduates and employers in this program was 100% in the most recent survey
Learn from faculty with real-world experience
Nearly 250 private and transfer scholarships available
Medical Assistant Courses at Macomb
Medical Terminology
Effective Communication for the Medical Office
Legal and Ethical Considerations in the Medical Office
Administrative Medical Business Practices
Financial Medical Business Practices
Citizen Emergency Preparedness for Medical Assistants
Infection Control Practices
Medical Assistant Careers
Pharmacology for Medical Assistants

Body Systems
Applied Math for Medical Assistants
Laboratory Procedures
Medical Assistant Administration Practicum
Medical Assistant Phlebotomy
Fundamental Clinical Office Skills
Fundamental Nutrition and Medical Dietary Needs
Medical Assistant Clinical Practicum
Medical Assistant Refresher/Review
Career Opportunities in Medical Assistant
Macomb has teamed up with Burning Glass Technologies to provide you with the most up-to-date information on the careers that you will be qualified for upon successful completion of this program.
Job-posting data can give you insights about employers seeking job applicants, where those jobs are located, and the average salary being offered. Use the Career Insights Tool to see national, state or metropolitan area information.
Data are provided by Burning Glass Technologies and drawn from large area samples. Data are not drawn from Macomb Community College-specific student or program outcomes.
Career Services
Macomb's Career Services is your bridge from education to employment. It offers a variety of free resources, including skill and interest assessments, resume building, success workshops, job placement and more.
Transfer Pathways
The credits earned in this program transfer to many colleges and universities in Michigan and can be applied toward a bachelor's degree.
If you intend to transfer and pursue a bachelor's degree, speak with a Macomb counselor or academic advisor as soon as possible after you have applied to Macomb to plan the best pathway.
Accreditation
The Medical Assistant Certificate Program is accredited by the Commission on Accreditation of Allied Health Education Programs (www.caahep.org) upon the recommendation of Medical Assisting Education Review Board (MAERB).
Commission on Accreditation of Allied Health Education Programs
9355 - 113th St. N, #7709
Seminole, FL 33775
Phone: 727.210.2350
Website: www.caahep.org
Technical Standards for Admission, Progression and Graduation
The goal of the Health and Public Services Division is to prepare every student to think critically and practice competently and compassionately in rapidly changing environments. All efforts are designed to build knowledge, enhance practical skills, and promote patient and the population's safety. Furthermore, the program is designed to foster professional integrity and ultimately improve the health outcomes and protection of patients, families, and communities across the continuum of care and practice. Students must possess certain functional abilities, essential for the delivery of safe, effective clinical care and protection of the public during clinical and internship training activities in the field. Therefore, the faculty has determined that certain technical standards are required for admission to, progression in, and graduation from the Health and Public Services (HPS) programs.
In addition to classroom learning, clinical and internship learning occurs throughout the HPS programs and involves considerations (such as patient and population safety and clinical and internship facility safety) that are not present in classroom accommodations. Applicants or students interested in HPS programs who seek accommodations prior to or immediately after enrolling in the college are highly encouraged to also request an assessment of the types of reasonable accommodations needed for the clinical and or internship components of the program.
An individual must be able to independently, with or without reasonable accommodation, meet the following technical standards of general abilities: (1) observation;
(2) communication; (3) motor skills; (4) intellectual, conceptual, and quantitative abilities; (5) essential behavioral and social attributes; and (6) ability to manage stressful situations. Individuals unable to meet these technical standards, with or without reasonable accommodation will not be able to complete the programs and are counseled to pursue alternative careers.
SPECIAL SERVICES STATEMENT: Students may individually discuss the essential functions and technical standards with a college counselor from our Special Services department. In compliance with Section 504 of the Rehabilitation Act of 1973 and the American Disability Act of 1991, academic accommodations may be provided to students who have a documented disability.
For further information, visit Special Services.
How do I find out more about Macomb's Medical Assistant program?
For more information, contact the program coordinator: Professor Janet Cellitti, 586.286.2004.
Gainful Employment Disclosure
For information about program cost, typical student debt, and other important information, visit: