Out-of-State Students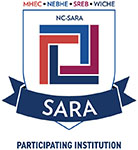 State Authorization for Out-of-State Online Students
Macomb Community College has been approved by Michigan to participate in the National Council for State Authorization Reciprocity Agreements. NC-SARA is a voluntary, regional approach to state oversight of postsecondary distance education. Students are able to take online classes while residing in the states listed for approval through NC-SARA.
State Authorization allows Macomb Community College to offer postsecondary distance education and on-ground educational activities across state lines. The State Authorization Reciprocity Agreement (SARA) is agreement between two or more States that authorizes an institution located and legally authorized in a State covered by the agreement to provide postsecondary education through distance education or correspondence courses to students located in other States covered by the agreement and cannot prohibit any member State of the agreement from enforcing its own general-purpose State laws and regulations outside of the State authorization of distance education. Institutions participating in SARA can offer postsecondary educational opportunities in all 49 SARA member states - including the District of Columbia, U.S. Virgin Islands and Puerto Rico - without having to seek separate approval. All states other than California participate in SARA (as an accredited public institution, Macomb Community College is exempt from approval by the California Bureau of Private Postsecondary Education). Participation in SARA is voluntary and is intended to simplify the process for students who desire to take online courses offered by postsecondary institutions in another state.
Macomb Community College is a participating member of SARA, and therefore authorized to offer postsecondary distance education to persons residing in member states in accordance with SARA established policies and standards.
Complaint Process for Out-of-State Students
Macomb Community College is committed to student success. As a student, you have access to many student success services. The Policies on Rights and Responsibilities is one resource for students. Should you need assistance to resolve a complaint or concern, please review this document first. If you are unable to satisfactorily resolve your issue, you may contact The Office of the Dean of Student Success for further assistance at deanofstudents@macomb.edu. If you live in a state other than Michigan and are taking a Macomb online class, you may also contact the appropriate office in your state that deals with student issues. Contact information is provided in the following List of State Offices. If you need additional assistance, you may contact our accrediting agency, the Higher Learning Commission.