Home   »   Future Students   »   Choose a Program   »   Online Learning   »   Out-of-State Students
Out-of-State Students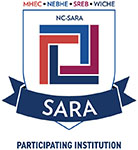 State Authorization for Out-of-State Online Students
Macomb Community College has been approved by Michigan to participate in the National Council for State Authorization Reciprocity Agreements. NC-SARA is a voluntary, regional approach to state oversight of postsecondary distance education. Students are able to take online classes while residing in the states listed for approval through NC-SARA.
Complaint Process for Out-of-State Students
Macomb Community College is committed to student success. As a student, you have access to many student success services. The Policies on Rights and Responsibilities is one resource for students. Should you need assistance to resolve a complaint or concern, please review this document first. If you are unable to satisfactorily resolve your issue, you may contact The Office of the Dean of Student Success for further assistance at deanofstudents@macomb.edu. If you live in a state other than Michigan and are taking a Macomb online class, you may also contact the appropriate office in your state that deals with student issues. Contact information is provided in the following List of State Offices. If you need additional assistance, you may contact our accrediting agency, the Higher Learning Commission.