Continuing Education Admissions
New and ready to sign up for classes? No application required!
(New students are those who have never applied to Macomb or completed any credit or non-credit courses)

Register online:
Click the button above to be taken to the registration page.
Click "Search and Register for Continuing Education Classes."
After successful registration, a class acknowledgement email will be sent to you. This email contains course information, your User ID, and directions for My Macomb. You will need to activate and access My Macomb to register for courses in the future.

Currently, services are available by phone and/or email. Our faculty and staff are committed to helping you in ways that meet your needs. If your question requires immediate attention, it may be best to call us at 586.445.7999. Should you choose to email us at records@macomb.edu, please know emails are processed in the order received and our goal is to respond to emails within two business days.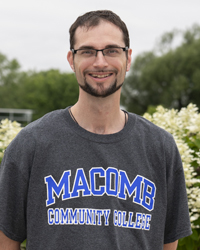 Welcome to Continuing Education at Macomb! There is no application required to take continuing education courses.

Our recruiter, Patrick Jacobs, can assist you throughout the course/program selection and registration process.

Whether you are interested in exploring a personal interest, advancing in your current career or finding short-term training that leads to immediate employment, he will point you in the right direction! Contact Patrick at 586.498.4126 or continuinged@macomb.edu.