Preventative care at reduced costs
We provide a variety of preventative services at reduced costs to the general public with additional discounts for senior citizens, military veterans and Macomb students.
Dental insurance is not required or billed.
We provide:
Dental Cleanings
Fluoride Treatments
Athletic Guards
X-rays
Teeth Whitening
Sealants
Gum Disease Treatments
Referrals can be made for emergency and other dental procedures.

Make an appointment at 586.445.7161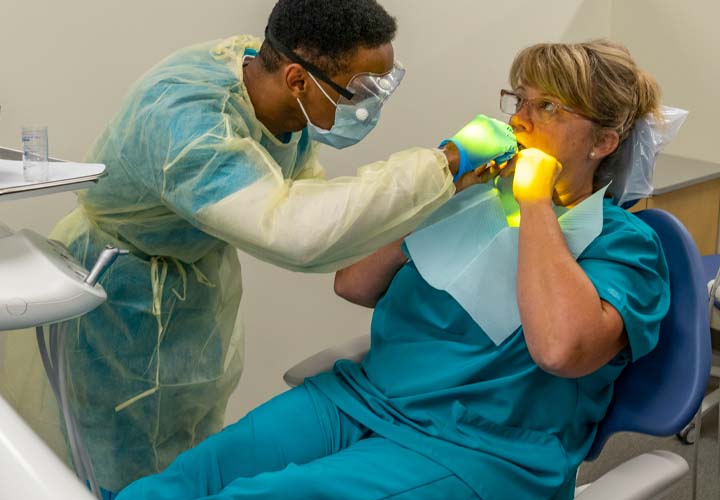 Licensed professionals
All services are performed by dental hygiene students under the supervision of licensed dental professionals.
Fees for Services
Adult: $30
Children, 3-14: $20
Seniors 62 and older: $20
*Veterans: $10
*Macomb Community College Students: $10
*ID is required.
Full Mouth: $25
Four Bitewings: $10
Two Bitewings: $5
Vertical Bitewings: $10
Panoramic: $25
Single X-ray: $2
Fluoride Treatments: $5
Sealants: $5 per tooth
Nitrous Oxide: $20 per visit
Arestin (gum disease treatment): $20 per site
Whitening Kit: $75
Whitening Tubes: $25
Whitening Tray: $25
Athletic Guards: $25
Locations, Hours and Contact Information
Winter semester: Jan. 30, 2023–May 4, 2023
Mondays & Wednesdays 1–5pm
Tuesdays & Thursdays 8am–12pm
No appointments during Spring Break (3/6–3/12)
Summer semester: May 22, 2023–Aug. 10, 2023
Mondays & Wednesdays: 8am–12:30pm
Tuesdays & Thursdays" 12–4:30pm
No appointments on Memorial Day (5/29) or July 4th
Fall semester: Aug. 21, 2023–Dec. 16, 2023
Mondays & Wednesdays: 8am–12pm, 1–5pm
Tuesdays & Thursdays:  8am–12pm, 1–5pm, 5:30–9pm
No appointments on Labor Day (9/4) or during Thanksgiving Break (11/22–11/23)
End of accordion #2
Location and Appointments
The Dental Hygiene Clinic at Macomb Community College is located at 27956 College Park, Warren.
Make an Appointment (see Clinic Hours) at 586.445.7161.