College Police Authority and Jurisdiction
The Macomb Community College Police Department is a professional, full-service law enforcement agency with responsibility to provide police services to all areas of our campus community. Its sworn officers include a captain, lieutenants, sergeants, uniformed police officers, and public service officers. Civilian support personnel consist of public service officers who provide security, fire protection and some dispatch support. Additional personnel include administrative assistants and communications/dispatch operators.
Certified officers of the Macomb Community College Police Department have complete police authority to apprehend and arrest anyone involved in illegal acts on campus. All criminal offenses, as well as violations of college rules and regulations that are committed by college students, are reported to the Dean of Students for possible disciplinary action or sanctions.
All criminal offenses are investigated by the College Police Department. Assistance may be requested from outside police agencies, as needed. Officers within the police department have received additional training and have been certified as evidence technicians. Evidence collected is turned over to the Michigan State Police crime laboratory for analysis. Upon completion of a criminal investigation, warrant requests are submitted to the Macomb County Prosecutor's Office for review.
The Macomb Community College Police work closely with local, state, and federal police agencies and have direct radio communications with surrounding police departments. By mutual agreement with state and federal agencies, the Macomb Community College Police maintains LEIN (Law Enforcement Information Network) terminals at each College Police station. Through this system, police personnel can access the National Crime Information Computer and retrieve database information from the Michigan State Police and Michigan Secretary of State.
Macomb Community College Police do not monitor criminal student actions off campus and do not have agreements in place for such monitoring. College Police officials maintain a close working relationship with all surrounding police agencies and will be advised of student criminal activity that may cause a safety concern on campus. This information will also be turned over to the Dean of Students for review and possible disciplinary action.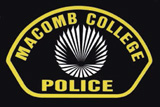 James Matheney
Chief of Police
CONTACT US
College Police - South Campus
14500 E. 12 Mile Rd. - K340
Warren, MI 48088
Phone: 586.445.7135
Fax: 586.445.7128
College Police - Center Campus
44575 Garfield Rd. - I103
Clinton Township, MI 48038
Phone: 586.286.2123
Fax: 586.263.6518
* Dial "0" from any college phone

police@macomb.edu

Lost and Found located at both Police locations.