Crime Prevention Information
General Crime Prevention:
The Macomb Community College Police Department is continually involved in researching methods to improve all aspects of police work. These include utilization of digital video cameras, electronic door alarms, emergency telephones, public awareness crime prevention seminars and distribution of related brochures.
Dissemination of current crime trends, incidents and statistics are brought to the campus communities' attention by printing them in student publications, including the Schedule of Classes. Composite drawings of suspects involved in campus crime incidents, with accompanying articles, are published in the local newspapers, posted on bulletin boards, and entered into the college electronic mail system if the seriousness of the incident warrants.
Each semester, the Macomb Community College Police Department makes available crime prevention literature and safety information in the form of pamphlets and video display. Seminars or presentations can be requested by student or staff groups and can be tailored to cover specific information related to crime prevention. This may include prevention of assault, robbery, sex crime, date rape, stalking, carjacking, vehicle theft, identity theft, active shooter, weather emergencies, and general crime prevention.
In addition to crime prevention, other services such as lost and found procedures, handicap parking information, after-hour building access, and procedures concerning emergency weather and fire are provided. Direction for help in attaining alcohol and drug abuse assistance, spouse or child abuse, and emergency shelter information is available. Assistance will also be provided in locating towing companies for vehicle service.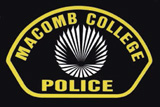 James Matheney
Chief of Police
CONTACT US
College Police - South Campus
14500 E. 12 Mile Rd. - K340
Warren, MI 48088
Phone: 586.445.7135
Fax: 586.445.7128
College Police - Center Campus
44575 Garfield Rd. - I103
Clinton Township, MI 48038
Phone: 586.286.2123
Fax: 586.263.6518
* Dial "0" from any college phone

police@macomb.edu

Lost and Found located at both Police locations.