Assessment Plans
Assessment is an ongoing process. The cycle of assessment includes planning the assessment, collecting the evidence, examining the evidence, determining an improvement strategy, implementing the strategy, and beginning reassessment to determine if the improvement strategy has helped increase student learning.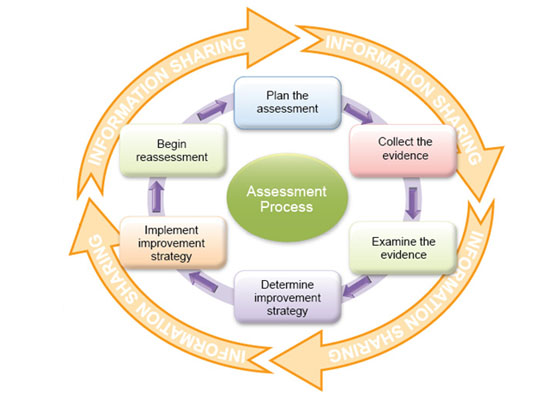 Macomb Community College faculty assess student attainment of course and program outcomes and report findings on course and program assessment action plans. These assessment action plans are housed in the Curriculum Warehouse. In addition to general demographic information, the action plans include descriptions of the evidence collected, the assessment tool used, an overview of assessment findings, the proposed improvement strategy, and the information dissemination plan.
Highlighted Assessment Projects
Common Degree Outcomes
The Community College Survey of Student Engagement (CCSSE) collects data on student engagement and five benchmarks of effective education: active and collaborative learning, student effort, academic challenge, student faculty interaction, and support for learners. The CCSSE data is collected every 3 years, with the first collection being done in the Winter 2007 semester. The Program Assessment Team aligned applicable items on the CCSSE to Macomb's Common Degree Outcomes (CDOs) for an indirect assessment of CDOs. The Office of Institutional Research created a report that maps students' perception of involvement in activities identified in CCSSE to the five Common Degree Outcomes. The report indicated that students perceived they are involved in the activities that are identified in CCSSE and are mapped to Common Degree Outcomes. The report also indicatedthat this involvement has increased over time.
Official course syllabi indicate which CDOs students are exposed to in each course. Using this information, a CDO graduation report was created to indicate graduating students' level of exposure to each CDO. This indirect assessment is used to determine the extent to which graduating students have taken courses that align to each of the CDOs.
Program Level Student Learning Outcomes
The Office of Academic Development collected information across disciplines on program level outcomes and assessment activities. The information is housed in the Curriculum Warehouse. There are approximately 80 programs that lead to degrees as well as many transfer plans, certificate options, and areas of study at Macomb. Each of our career area programs have advisory boards and many have outside accreditation bodies in addition to the North Central Association's Higher Learning Commission accreditation. The lead faculty member in the career area program ensures that the program outcomes and content meet the accreditation bodies' standards and align to national/state examinations and certifications.
Top 30
An ongoing assessment initiative is the Top 30 project. A Top 30 course is one that either has the most sections offered and highest student enrollment and/or is a course most often taken by students who earn a degree at Macomb. Since the beginning of the Top 30 project in 2010 all courses have either assessed or currently in process.