Martin Luther King Jr. Day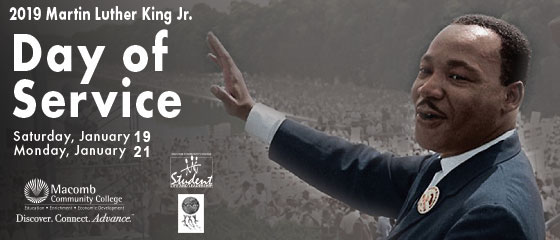 The MLK Day of Service is the college's largest volunteer event.  Each year, several hundred faculty, staff and students choose to "make it a day on, not a day off" by volunteering in their communities on this national day of service through the opportunities provided by Macomb Community College.
On Monday, January 19, 2015, please join us at 8:00 am as we celebrate MLK Day with a welcome from the college president, Dr. James Jacobs, followed by the presentation of the MLK Essay Contest winner. Light refreshments will be provided and are sponsored by the Hub. Please bring non-perishable food items to donate to the Student Food Pantry.
Registration is now closed, all sites have reached capacity.  Thank you!
---
Congratulations to our MLK Student Essay Contest Winner, Dakota Jackson!  Dakota will read his essay at the MLK Day kickoff event on January 19th at 8am, South Campus, K-301.  Runner-up winners are Elizabeth Powell & Robert Berry.  You may click on the student's names to read their essays.  Thank you to all students that entered the contest! 
To see the impact of just one volunteer site for MLK Day, read the thank you below from Gleaners Food Bank about our volunteers!
Thank you so much for organizing such a wonderful group of volunteers from Macomb College.  We are so grateful for the hard work provided by groups like yours.  Through your efforts, 2,500 Stamp Out Hunger bags were managed!  Great job!
Your support makes it possible for us to distribute more than 45 million pounds of food to our hungry neighbors in southeastern Michigan, including the 40% of our recipients who are children.  Thank you again for caring.
Warm regards,
Karen Rogensues
Volunteer Coordinator          

Our "Food for Thought" student food pantry provides aid year round at Macomb Community College.  Annually, the pantry helps approximately 300 students and their family members with basic food staples and other household goods.  Please consider bringing in non-perishable food staples, grocery store gift cards, or a monetary donation whenever possible.  The pantries are located at both student centers (South Campus, K Bldg and Center Campus, P Bldg).
If you have any questions about Macomb Community College's MLK Day of Service, please email mlkday@macomb.edu  For information on the life and legacy of Dr. Martin Luther King Jr., please visit this link to The King Center at http://www.thekingcenter.org/
For additional volunteer opportunities throughout the year, please contact the Office of Student Life and Leadership on either campus:
South Campus: 586.445.7446 or email at: sasouth@macomb.edu
Center Campus: 586.286.2242 or email at: sacenter@macomb.edu