2017 Martin Luther King Jr. Day of Service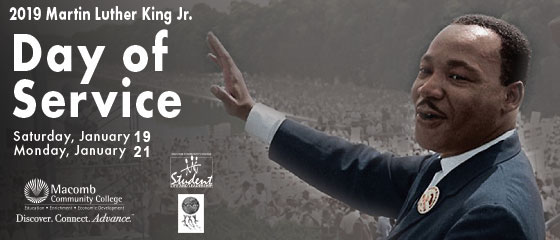 The MLK Day of Service is the college's largest volunteer event.  Each year, several hundred faculty, staff and students choose to "make it a day on, not a day off" by volunteering in their communities on this national day of service through the opportunities provided by Macomb Community College.
The 2017 event and registration information will be available in mid-November.  The MLK Student Essay Contest will return for 2017. Download entry form here.
If you have any questions about Macomb Community College's MLK Day of Service, please email mlkday@macomb.edu  For information on the life and legacy of Dr. Martin Luther King Jr., please visit this link to The King Center at http://www.thekingcenter.org/
For additional volunteer opportunities throughout the year, please contact the Office of Student Life and Leadership on either campus:
South Campus: 586.445.7446 or email at: sasouth@macomb.edu
Center Campus: 586.286.2242 or email at: sacenter@macomb.edu