2016 Martin Luther King Jr. Day of Service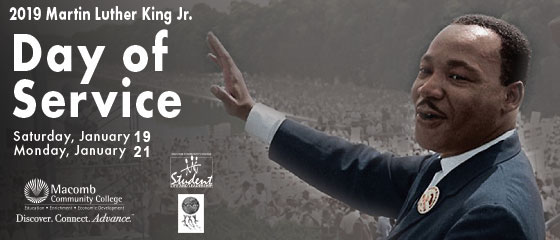 The MLK Day of Service is the college's largest volunteer event.  Each year, several hundred faculty, staff and students choose to "make it a day on, not a day off" by volunteering in their communities on this national day of service through the opportunities provided by Macomb Community College.
On Monday, January 18, 2016, please join us at 8:00 am as we celebrate MLK Day with a welcome from the college president, Dr. James Jacobs, followed by the presentation of the MLK Essay Contest winner. Light refreshments will be provided and are sponsored by the Hub. Please bring non-perishable food items to donate to the Student Food Pantry.
Registration is now available for the 2016 MLK Day of Service events.  Select the date below that you wish to register for:
Please click on the pdf file of the brochure here for additional volunteer site information

Attention Students! The MLK Essay Contest is now open until December 1, 2015! You may pick up an entry form at the Student Life and Leadership offices (South and Center Campuses) or download the PDF file here for contest rules.

Thank you to all of the participants in our first MLK T-shirt design contest!  A panel of judges has selected the winning entry submitted by student Daniel Stephens that will be the design for the 2016 event t-shirt: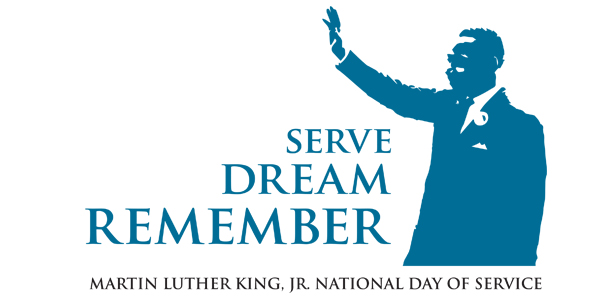 Two runner-up winners have also been selected: Kristina Jovanoski and Tabitha Zabik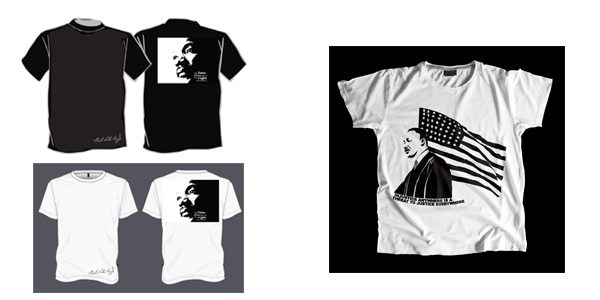 Congratulations to our winners!
---
If you have any questions about Macomb Community College's MLK Day of Service, please email mlkday@macomb.edu  For information on the life and legacy of Dr. Martin Luther King Jr., please visit this link to The King Center at http://www.thekingcenter.org/
For additional volunteer opportunities throughout the year, please contact the Office of Student Life and Leadership on either campus:
South Campus: 586.445.7446 or email at: sasouth@macomb.edu
Center Campus: 586.286.2242 or email at: sacenter@macomb.edu